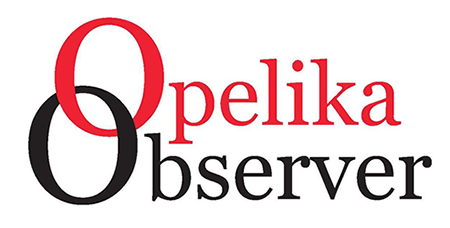 CONTRIBUTED BY DOUG SMITH
Doug "New Blue" Smith qualified for governor at Democratic Headquarters in Montgomery and said, "There are two killers stalking the land: Hyper-inflation and the Covid-19 Pandemic, and Kay Ivey's Administration cannot handle either of them. She has blood on her hands for letting the pandemic into the state in the first place. Alabama now has 17,000 tragic deaths that were unnecessary, a population equal to the entire size of Leeds, Alabama. She has also fed the fires of hyper-inflation by allowing our productivity to fall 9%.
"Less productivity means fewer goods produced," the school-trained, developmental economist/retired corporate attorney explained. "And fewer goods empower inflation. At the same time, Governor Ivey jacked up gas prices at the pump by raising taxes, and this put more fuel on the fire for hyper-inflation which we have not seen since 1983. This pressure comes on top of Alabama's real wage falling since Bob Riley became governor in 2002 and brought with him what economists call neo-liberalism. But Riley flipped it over and called it 'conservatism,' but it still failed, and Alabama has had a decade of real GDP growth of 0.84% or less than a third of the national rate.
"In 2020 The Culverhouse Data Center at the University of Alabama said Alabama's GDP actually fell 2.7%, and hyper-inflation's corrosive effects have been especially pernicious. Our producer price index is already over 10%, and Alabama's consumer price index is at 7.8%, way above the national rate according to the Bureau of Labor Statistics, and it is accelerating at such a speed that it will be over 10% by July 4th.
"Hyper-inflation is so insidious that it forces a humiliated mother to demand a child return a toy or a candy to the shelf at Walmart that the child has grown accustomed to having. Hyper-inflation put the item out of reach of the mother's budget. The mother leaves the store with the child crying."
PREDICTS A CRASH IS ON THE WAY
"Governor Ivey has helped create the Mother of All Bubbles. Just look at home prices if you have not been to the grocery store. The sad part is she hasn't a clue and no plausible economic plan like I do to deal with it. I have been telling the good people of Alabama since 2006 what was coming, and I have taken a lot of good-hearted ribbings about my charts and graphs. But now 'the chickens have come home to roost' as we say in Barbour County where I am from," Smith said.
"Gov. Ivey's miss-steps have been joined by a Federal Reserve that has produced 37% of all the dollars in circulation during the last two years, and the increase in dollars plus the 9% fall in productivity that Ivey allowed to occur was a toxic mix. The lower productivity meant fewer goods were produced, and 37% more dollars in circulation means more dollars chasing fewer goods which equals inflation. We have a giant bubble in assets as a result and we have never had a so-called soft landing. So look out below," he added.
WELCOMES DEMOCRATIC NEWCOMER AND WELCOMES FIRST POLL
Smith said he welcomed newcomer Yolander Flowers into the race with her biblical interpretation of politics. He added, "Too many times Democrats are silent about their religion and leave the field to Republicans." Smith himself has taught Sunday School for over 50 years at First Methodist Church, but believes the Good Book's admonition not to flaunt your piousness. Scripture says go into your closet to pray; the Publicans who pray openly in the marketplace have their reward. Smith laughs and says Publicans is bible shorthand for Republicans.
Smith says with Flowers supporting a theocratic government, and Ivey spending the last four years supporting an autocratic government intent on removing the right to vote, it should make for an interesting race.
Smith said he was grateful for the first poll of the contest that is floating around the internet showing he is comfortably ahead of Countryman who was expected to be his main competition in the Primary. Smith led the poll 71 to 29%. Countryman failed to qualify, probably as a result of the poll, leaving Smith as the favorite in the Democratic Primary. None of the other candidates even scratched in the poll.
BACKGROUND
Smith graduated from college with concentrations in economics and math then hop-scotched from graduate school to graduate school piecing together the new discipline of developmental economics that was only emerging in the 50s and 60s, following President Truman's Marshall Plan to revitalize Europe and save it from communism after the devastation of World War II.
Smith went to work for his congressman who was a ranking member of the US House Appropriations Committee, and he found himself the only staffer who was a developmental economist. This was a valuable asset because the congressman sat on the small USAID Subcommittee that had oversight of the new United States foreign aid program under President Kennedy. Smith cut his teeth critiquing programs in Columbia and Ecuador and then assisted with the development of the Asian Tigers (Taiwan, Hong Kong, South Korea and Singapore). On the defense subcommittee he helped Adm. Hyman Rickover develop the Polaris 2 missile for submarines, and was the aid that guided Warner von Braun through the Appropriations process for the Saturn rocket at Huntsville that took the first men to the moon. Smith ghost-wrote von Braun's "Moon Speech to the Congress."
Smith compiled the first catalogue of federal programs that were pouring out of President Johnson's Great Society, and the president asked Smith to work with Vice President Hubert Humphry to make the catalogue permanent. It still is printed by the Government Publishing Office annually and now lists over 1,400 grants-in-aid to states, counties and cities. Smith says this is proof in itself that our federal system needs to be reformed when a mayor has to file for 16 grants for a complete first responder unit.
Smith formed the Office of Intergovernmental Relations in the congressman's office to help the state, counties and cities with the new grant procedures. He also started reverse lobbying the Fortune 500 CEOs calling on the Appropriations Committee, and he quickly recruited three paper mills for Alabama with the help of Alabama Power and Norfolk Southern Railway.
Gov. Lurleen asked Smith to join her new Cabinet as Chief of Federal Programs since she knew Smith wanted to attend law school at night, but soon Smith was moved into the office next to the governor as chief assistant (now called Chief of Staff). When the governor became bedridden with cancer and she left Smith with the authority to affix her signature from a signature duplicating machine, Smith virtually ran the state as secretary of the cabinet, the recording secretary (who makes over 5,700 political appointments), chief of federal programs, director of ADO which he started (now the Dept. of Commerce), director of ADECA which he started (AL Dept. of Economic(s) and Community Affairs, coordinator of the Regional Planning and Economic Development Commissions (which he started), the governor's alternate to the Appalachian Regional Commission (which he organized), sometimes acting finance director and sometimes acting press secretary, all with the help of Legal Assistant Hugh Maddox and the governor's staff.
RESULTS
Smith's setting policies for Governors Lurleen and Albert Brewer resulted in the development of an economic model of growth designed specifically for Alabama called semi-dirigisme capitalism with Alabama characteristics – capitalism on steroids. It produced a net of over 360,000 well-paying jobs and more than tripled the average hourly wage. It brought in such industries as Mercedes Benz, Boeing, Lockheed Martin, Honda, 3-M, Toyota, Airbus, Hyundai and Sikorsky. The system worked well for nearly 40 years until 2002 when Bob Riley, Robert Bentley and Kay Ivey brought in neo-liberal economics that have been discredited by mainstream economists for the last 30 or so years.
Under Smith's economic model, Alabama's median household income grew from 62% of the nation's median household income to 89% in 2002 when Bob Riley came to power, and it started to go backwards. By 2019, the latest complete year available from the US Census, Alabama had fallen to 73% of the national median household income. And Kay Ivey had the brazen audacity to tell Eddie Burkhaulter of the Alabama Political Reporter that Alabama's economy was leading the nation. Liar, liar pants on fire.
Neo-liberal economics is the Washington Consensus economics that the IMF and World Bank used to produce what President Donald Trump called "shit-hole" nations in Africa, and Kay Ivey's policies of neo-liberal economics are doing the same for Alabama.
RECOMMENDATIONS
Smith's slogan for his campaign is like the Indy 500's, "Ladies and Gentlemen, start your engines!" Only Smith means Alabamians should restart the seven major economic engines he built for the Alabama economy which Governors Bob Riley, Robert 'Boobie' Bentley and Kay Ivey took apart. Smith also wants one new engine added: a Bank for New Small Businesses. Research at Stanford and the Kaufman Foundation found that new small businesses create from 60 to 80% of all new jobs.
In the distribution of the Stimulus funds, Smith said the Legislature should have allocated a large chunk to responsible entrepreneurial start-up funds like those run by Alabama Powers' EDPA Launch Pad and the Charles Barkley fund. They could target a new small business like the new USFL in Birmingham to insure Fox Sports makes Alabama its permanent headquarters that will grow from a small business of less than 500 jobs into thousands of jobs over time.
Smith has been advocating a Bank for New Small Business since 2006 when his research showed economic storm clouds gathering for the sub-prime mortgage meltdown. Harvard economist Carmen Reinhardt has documented financial crises back to the industrial revolution, and they last on average 14 years. That would place the capitulation phase of the present crisis at 2022-2023. "We do not have any time to lose," Smith said.
PERSONAL
– Developmental economist/retired corporate attorney
– Married to the late Janice Phillips Smith 43 years; two children, Sarah Smith Pirali who runs a factory with her husband outside Baltimore, and Evelyn Smith Smith who has an architectural design studio on Capitol Hill in DC and whose husband is a NASA engineer manager on the Mars Rover and Webb Telescope projects
– Managed the MAC Corp. over 40 years and built and owned 18 cable TV systems, two TV stations and an AML system. Consultant to Ted Turner to put WTBS on the satellite and start the cable TV multi-multi channel revolution. Consultant to Barry Diller to start Fox TV network, the fourth major network (not Fox News).
– Past President Alabama Cable TV Association
– Past President American Low Power TV Association
– Commander in Headquarters, Headquarters Company, Alabama National Guard
– Executive Officer Civil Affairs Command US Army Reserve
– Started two Sunday School classes and taught for over 50 years at First United Methodist Church Montgomery, Alabama
– Started the Courage Crusade that raised the first $15,000,000 to build the Comprehensive Cancer Center at UAB in Birmingham now with a capital improvement of over a quarter of a billion
– Started the Lister Hill Health Clinic that today is the River Region Health Clinic with 16 clinics all over Middle Alabama
– Drafted and pushed through the Alabama Constitutional Revision Act that started the modern movement to improve Alabama's cumbersome Constitution. Made way for such economic development amendments as 772 and removed racist language that kept industry out of our state
– Drafted and pushed through the Alabama Development Office Act (which was changed to the Dept of Commerce—ADECA was included)
– Drafted and pushed through the Regional Planning and Economic Development Commission Act
– Drafted and pushed through the US Veterinary Medical Act in Congress to build new vet schools at Auburn and Tuskegee for a total of 38 new schools nationwide to provide enough inspectors for our meat and poultry supply that was making people sick
– Promises to run a purely democratic campaign as much as possible, accepting no personal, corporate or PAC contributions and only spending personal money for incidentals like travel and cards.
Doug "New Blue" Smith
Montgomery, AL