BY GREG MARKLEY
FOR THE OBSERVER
OPINION —
A common sight at university history departments for 25-30 years has been students wearing T-shirts that read: "Well-behaved women seldom make history." I recently recalled that I saw those often at Auburn University (2005-2008) in Thach Hall. It relates to developing these columns.
The columns feature the only female U.S. Senators from Alabama. Both served for less than five months, but nevertheless cracked a glass ceiling. It had stopped women's ascent since the state's founding in 1819. Dixie Bibb Graves was the first woman appointed to the Senate, on Aug. 20, 1937.
"For women born at the end of the 19th century or early in the 20th century, many of the old social and institutional improvements seemed irrelevant and antiquated," wrote Dr. Wayne Flynt, emeritus professor of history at AU, in his book, "Alabama in the Twentieth Century."
"Their rebellion was more rooted in personal liberation than in social change."
Dixie Bibb Graves was born on a family plantation in Montgomery, Alabama, in 1882. She became the first woman appointed a U.S. senator from Alabama. The state's first lady then, she was appointed to the Senate by her husband, Gov. Bibb Graves Graves when U.S. Sen. Hugo Black resigned to join the U.S. Supreme Court.
In finding a replacement for Black until a special election, Bibb Graves displayed a politician's wit and Machiavellian schemes. Bibb had many pols that would go gladly to the Senate on an interim basis, but most of those were Bibb Graves supporters. Placing his wife Dixie in the slot would not undercut him with politicians whose leadership he needed at the Legislature.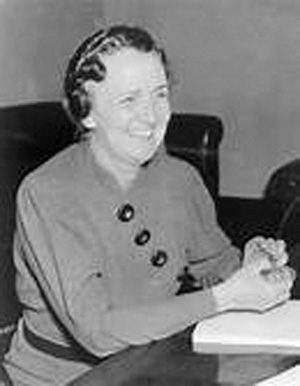 The appointment had both supporters and detractors among newspaper editorialists and citizens, according to Sandra Behel in the Encylopedia of Alabama.
"Some were very pleased and thought she (Dixie Bibb Graves) would do a better job as senator than her husband was doing as governor. Others denounced the appointment as a political move by the governor to control events not only in the capitol building and the state legislature, but also the U.S. Senate."
Small in size, well-mannered and charming, Dixie quickly impressed many people. The Montgomery Advertiser noted her "keen intelligence and amazing grasp of national problems, shown in the service she has rendered."
A leader in women's associations in Central Alabama, she received honorary degrees from Bob Jones College, 1935, and the Alabama College of Montevallo (University of Montevallo), 1936.
Dixie served as a U.S. senator from Aug. 20, 1937, through Jan. 10, 1938. She was the first married woman to serve in the Senate (all the other women had been widows). Early into her venture in Washington, D.C. she proposed a "Peace Bill" for drafting both men and women in wartime. Her bill said that when war existed or was imminent, personnel, funds and materials should be available for unlimited use, without profit. The bill was not approved.
When the Senate was debating an anti-lynching bill, Dixie offered passionate remarks.
Encyclopedia of Alabama notes, "Her response was notable because it was the first time that a woman gave a speech on the Senate floor and attracted much attention. Lawmakers returned to their seats and other attendees filled the gallery to listen intently to her words."
She hated lynching, but opposed the bill because it forced states to surrender some sovereignty, or rights.
A few weeks later, Vice President John Nance Garner asked Dixie to chair the Senate, believed to be a first for women. Later, she voted in support of New Deal programs tied to agriculture, crop control and labor policy. She resigned her position when Lister Hill became U.S. Senator, and was cheered by Senate colleagues for her five months' service.
Research outfit GovTrack.us found that Dixie missed just three of 25 roll call votes, or 12%, over two months. The median is 17% among lifetime records of senators serving in January 1938. It was reported that "She reverted back from senator to first lady of Alabama with the greatest of ease; cutting ribbons at grand openings of pilgrimages and public gardens and speaking at various functions."
In his 2004 book, Flynt disclosed that Dixie Bibb Graves "proved her mettle in 1937 not by serving as the state's first female U.S. senator but by besting her husband on a hunt (she bagged a deer while he had to content himself with shooting a wildcat)."
Next week: Maryon Pittman Allen, who told Gov. George Wallace to "shut up" and thus torpedoed her election to a six-year term.
Greg Markley first moved to Lee County in 1996. He has master's degrees in education and history. He taught politics as an adjunct in Georgia and Alabama. An award-winning writer in the Army and civilian life, he has contributed to the Observer for 13 years. gm.markley@charter.net.