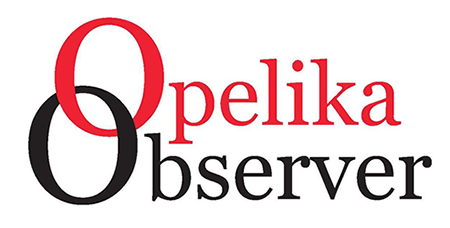 BY HANNAH LESTER
HLESTER@OPELIKAOBSERVER.COM
LEE COUNTY —
The Lee County Commission approved its annual evaluation for County Engineer Justin Hardee Monday night.
Hardee has served as the county engineer for 10 years, serving as assistant county engineer for 10 years before that in Lee County.
Each of the commissioners spoke well on his behalf Monday night, except for newly-appointed District 2 Commissioner Ross Morris, who has only recently stepped into the position.
The individual evaluations completed by commissioners were not shared with Hardee or the public during the meeting.
District 1 Commissioner Doug Cannon spoke first and proposed a pay raise for Hardee.
"Justin, I'd like to say I appreciate what you've done over the years I've been here and based on my evaluation, I think we should give you a 5% pay increase," he said.
This sentiment was echoed by the other commissioners and approved by vote.
"I agree," said District 3 Commissioner Gary Long. "Justin has done an incredible job as our engineer. He's got an incredible staff, but you know, it's more than just that. Justin is willing to do whatever he has to do to make this county better."
Long asked Hardee if he had missed any planning commission meetings, to which Hardee responded that he'd only missed one.
"It's more than just what he's doing as our engineer, it's what he does outside, he gives up his time to serve this county," Long said.
District 4 Commissioner Robert Ham said he believes Hardee made the county a better place.
District 5 Commissioner Richard LaGrand said Hardee is almost always available when LaGrand has asked him to take a look at a county problem.
Probate Judge Bill English added that when Hardee was hired, there were concerns about his age, at the time.
"I had some question about his youth and his relative lack of experience, and boy … [you] proved me wrong," English said. "I don't like to say I'm wrong in public very often; boy I was wrong on you, you've done great."
OTHER BUSINESS:
– The commissioner appointed a new planning commissioner for District 2.
– The commission approved the Magnolia Ridge II Subdivision for maintenance.
– The commission approved an Adopt-A-Mile application for Lee Road 086.
– The commission approved a speed limit reduction on Lee Road 123.
– The commission approved a speed limit reduction on Lee Road 878.
– The commission approved a special events license application for Greenawalt Hospitality LLC.
– The commission approved the lease renewal for the 2022 Auburn Satellite Office.
– The commission voted to recluse the deputy director position from un-exempt to exempt.