By Wil Crews
SportsCrews@OpelikaObserver.com
Editor's Note: This information is correct as of the morning of Aug. 11; it is subject to change.
For years, SEC fans have been clamoring for more in-conference games. Be careful what you wish for. It was announced last week that the SEC would move to a 10-game, conference-only schedule. Your wish was granted, but at what cost?
Well, for teams such as Florida and South Carolina, it means missing out on key inter-conference rivalry games against Florida State and Clemson, respectively. For others, losing marquee early season non-conference matchups and the removal of a couple of cupcake games is a small price to pay to have a football season.
In SEC Commissioner Greg Sankey's statement, the SEC announced that the start date of the season has been pushed back to Sept. 26 and the conference championship game has been rescheduled from the original Dec. 5 date to Dec. 19.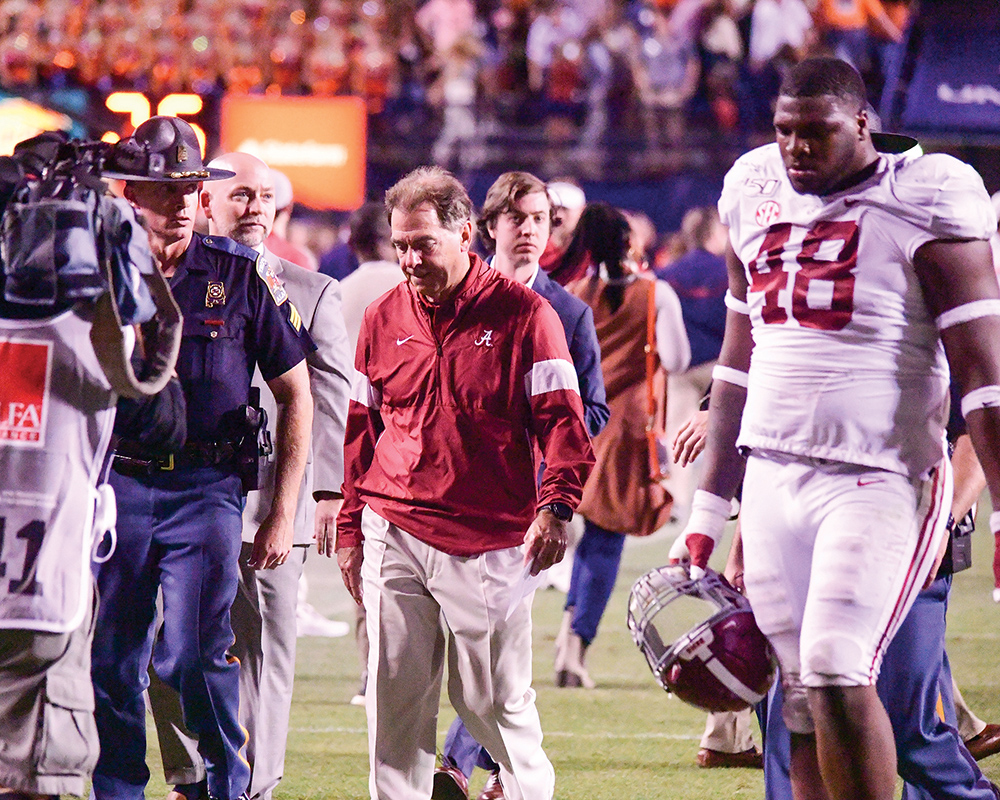 Last Tuesday, the NCAA announced that the first day of preseason football practice for SEC schools will be Aug. 17. According to the news release, schools are allowed to have up to 14 hours per week of strength and conditioning, meetings and walkthroughs. From Aug. 17 until the start of the season, schools are allowed to have 25 practices with a maximum of 20 hours of practice per week. On Friday, the SEC released a medical guidance document outlining, among other things, protocols for twice-a-week testing, in-game social distancing practices and conditions that could cause the cancellations of games. The document can be found at http://a.espncdn.com/sec/media/2020/SEC%20Task%20Force%20Recommendations%20Fall.pdf.
Covering how these changes affect each SEC team would be more tedious than a Nick Saban press conference and longer than a Gus Malzahn drive that features 10 run plays. So, let's keep it in state. What does all this mean for Auburn and Alabama?
Auburn Tigers: The obvious blow to the preseason hype comes from losing the week two nonconference game in Atlanta against North Carolina. Every Auburn fan knows Bo Nix was the SEC Freshman of the Year, but North Carolina had a star freshman quarterback too; Sam Howell. Both quarterbacks were named to this year's Maxwell Award preseason watch list – an award given out to the collegiate player of the year. According to USA Today, canceling the neutral site matchup between the two top-20 teams will result in Auburn missing out on $5 million in revenue.
The positive result from the schedule change is the loss of cupcake games. For the Tigers, that means originally scheduled games against Alcorn State, Southern Miss and UMass will not be played. According to al.com, Auburn will save $4.225 million by the decision to remove those games from the schedule.
Additionally, it was announced Friday by the SEC that Auburn will play against two more SEC East opponents to fill out the 10-game schedule. The Tiger's two extra non-divisional opponents will be Tennessee at home and South Carolina away.
Alabama Crimson Tide: For the Tigers' in state rivals, it's a similar story. The Tide were scheduled to open their season against USC in Arlington, Texas. According to USA Today, Alabama is set to miss out on a potential $6 million payday by canceling their out-of-conference opener. However, the Tide's second game, at home against Georgia State, and home games against both Kent State and UT Martin were also eliminated from the schedule. Without those three games, Alabama could save $3.5 million.
Like Auburn, The Tide will also have to play two non-divisional conference games against SEC East opponents. The Tide added a trip to Missouri and a home game against Kentucky to an already tough schedule that includes the first regular season matchup against Georgia since 2015. Alabama head coach Nick Saban has long been a proponent of more conference games. Maybe this will put a smile on the face of the typically austere head coach. "We are pleased to have a plan in place for the Southeastern Conference this season," Saban released in a statement. "We believe it is the best option to keep players and staff safe and still maintain the integrity of the season."
Now, with the Big 12 announcing changes to their schedule on Aug. 3, all Power 5 conferences have modified, primarily in-conference schedules. However, on a disheartening note, the first FBS school and FBS league announced the cancellations of their football seasons last week. On Wednesday, The University of Connecticut cancelled their season. A rational decision given UConn is an independent and couldn't make up a schedule with primarily conference-only games being played this year. Furthermore, the NCAA cancelled all Division ll and lll fall football championships on that same day, but it wasn't until Saturday when the Mid-American Conference became the first in Division l football conference to cancel their season entirely. Commissioner Jon Steinbrencher called it a "miserable decision." Monday, the Mountain West became the second Division 1 conference to cancel. The MAC and the Mountain West's cancellation comes with a long list of repercussions to the 2020 football season but, at the least, it fails to provide any providential encouragement for the fate of Division l this year.
Still, there are ongoing discussions from the Power 5 conferences to go ahead with the season – although most signs point to cancellation. There are still many questions to be answered. Will fans be allowed into the stadiums? If the season does get cancelled, how will that affect recruiting and eligibility? Do Division 1 college students have better immune systems than Division ll and lll? One thing's for sure: nothing is for sure. Nevertheless, college football fans everywhere will remain hopeful for any semblance of a season – as long as it can be done safely. And that applies tenfold to SEC fans. As we know, it just means more.
Power 5 Conference Schedule Update:
ACC: 11-game season with 10 conference games and one non-conference game that "must be played in the home state of the ACC institution." Notably, the ACC is adding FBS independent Notre Dame as a conference member for the 2020 season
Big 12: 10-game season with nine conference games and one home game outside of league play
Big Ten: 10-game in-conference schedule
Pac-12: 10-game season with nine conference games and one home game outside of league play
SEC: 10-game in-conference schedule