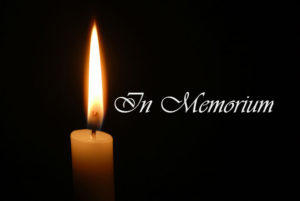 Carrie Paschal Brooks
Carrie Paschal Brooks went to be at her true home, on Thursday, January 24, 2019. She would have been 105 years old on April 26, 2019.
Mrs. Brooks was preceded in death by Joe Paschal, J. W. Brooks; Liz Paschal, daughter; and Michael H. Edwards, grandson.
She is survived by Robert (Robbie) Paschal, son; Lisa Dees Paschal, daughter-in-law; great grandchildren, Haley McGee, Candice Paschal, Morgan Paschal, and Leslie Paschal, Carrie Edwards, Ann Edwards, and Gerald Edwards; great-great grandchildren, Zachary Ladd, Lucy-Mae Bailey, and Charlotte Bailey.
Carrie's life was primarily characterized by a relationship with a Father God that provided peace and security through the work of His Son, Jesus of Nazareth, and the ever-present gift of their Spirit and the fellowship of His people. She served her family and others faithfully. Her career as a nurse was exemplary of her concern for people. The life she had with her family in Pepperell Village, with Pepperell Baptist Church, and other families of faith, was also illustrative of dedication to the care for others.
As her earthly life extended beyond fourscore, Carrie became stronger in the conviction of truth according to the Bible, and of her eternal destiny. In spite of physical infirmities and difficulties that would depress and defeat many, Carrie maintained a determined commitment to her faithful Father who continuously reminded her of His protection and future destination.
Carrie always expressed gratitude for those who served her and gave thanks for every physical provision given to her. On many occasions, she would let others know she appreciated the care she received from the Arbor Springs staff. This Spirit of thankfulness was a prominent characteristic of her life.
Visitation was held January 28, 2019 from 12:00 noon until 12:50 p.m. in the Parlor at Frederick-Dean Funeral Home.
Funeral service was held in the Chapel at Frederick-Dean Funeral Home January 28, 2019 at 1:00 p.m. with Reverend Tom Tippett officiating. Interment followed at Garden Hills Cemetery.
Family and friends have become accustomed to Carrie always being with us. Our lives will not be the same without her. We will greatly miss her. She will be waiting for her resurrected body when Jesus of Nazareth returns to rule the world in righteousness and truth.
"Her children rise up and bless her . . . Charm is deceitful and beauty is vain, but a woman who fears the LORD, she shall be praise."
Frederick-Dean Funeral Home directed.