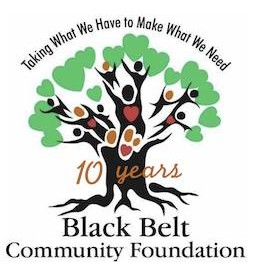 Special to the
Opeliak Observer
For the third year in a row, the Black Belt Community Foundation (BBCF) is conducting its "Throw & Go Contest" – an annual fundraiser created by the BBCF's Associates to support the Black Belt Leadership Development Program, Young Men and Boys of Color Initiative, the Black Belt Believe and Achieve Education Initiative and the Community Grants Program.
A contest prize for participants is something well-sought after in the state of Alabama, a pair of tickets to the 2018 Iron Bowl (Alabama vs. Auburn football game) to be played at Bryant-Denny Stadium in Tuscaloosa Nov. 24. This pair was given by a donor to BBCF for the specific purposes of this effort.
BBCF President Felecia Lucky states, "One of the few things that can compete with Alabama's love of football is its spirit of giving and helping neighbors. We are excited to launch this successful campaign for the third year in a row. Putting our team spirit to work by investing resources back into our communities is helping to uplift and transform the Black Belt for a bright future," said BBCF President Felecia Lucky.
How to participate?
Potential participants will be asked to give a $5.00 donation for a ticket which creates an entry for them into the prize drawing. All the tickets will be placed in a container, and one of BBCF's Board of Directors will be randomly selected to pull one ticket from the container Nov. 16. The name that is pulled out will be the individual selected to participate in the Black Belt Community Foundation "Throw & Go Contest." This drawing will be captured by video and shared to the media and public via social media for transparency.
The BBCF Community Associate Program Officer or BBCF President will contact the contestant Nov. 16 immediately following the drawing. The Community Associate Program Officer will schedule the "Throw & Go Skills Contest" prior to the date of the Alabama and Auburn Football Game.
For the "Throw & Go Skills Contest," the contestant will have three tries to complete a 12- yard pass to a BBCF Staff Member. The 12 yards are symbolic of the number of counties that are in the Black Belt Community Foundation's service area. Again, the skills contest will be captured by video for transparency and documentation of the integrity of the contest.
For any questions related to Throw & Go, contact Christopher Spencer at the BBCF office: 334-874-1126.
Find out more about the BBCF and "Throw & Go" through www.blackbeltfound.org
Join our Social Media Community and follow "Throw & Go" live updates at: www.facebook.com/BBCF2004/.