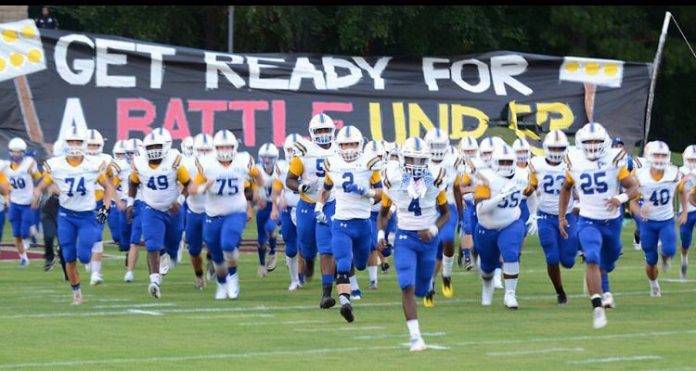 By D. Mark Mitchell
Sports Writer
The Beauregard Hornets (0-2) lost their home opener 42-26 to Eufaula last Friday at Hornet Stadium.
Eufaula running back J. Green rushed for 274 yards, including a 63-yard run on the first play from scrimmage for an early TD. BHS answered with a 56 yard drive but turned the ball over inside the Tigers' 10-yard line. Qua Seroyer ran 13 yards on the next Hornet possession, for a touchdown.
Eufaula stormed back in less than 90 seconds, Green scored his second five TDs after running 24 yards for the end zone.
Eufaula scored two touchdowns in the second quarter, while the Hornets added one TD. EHS running back J. Green scored on 7 and 70-yard runs while Hornet wide receiver Seyorer caught a 13-yard pass for a touchdown from Isaiah McKissic.
Both teams scored two TDs apiece in the second half. The Hornets Ashton Moss caught a seven yard pass and Sam Harris caught a 34-yard pass from McKissic for a score. Eufaula scored on Green's two yard run and a 33 yard run from Xavier Pweterson.
The Hornets finished with 567 total yards offense, with 347 through the air and 220 on the ground.
Ashton Moss led all Beauregard rushers with six carries for 68 yards. McKissic torched the Tigers secondary with eight reception for 149 yards and two TDs.
The Hornets open Region play Friday at Valley, 7pm kickoff. You can listen to the Valley radio crew on 100.9 the Bull or the Beauregard Broadcast team on 95.9 fm.