The Opelika Chamber of Commerce held a ribbon cutting last Friday with Boonie Hat Coffee and Market Street Paint Shop. A grand opening for the two business, plus a third business, Just the Right Touch Interior Design with Aspen, was held the following day. The coffee shop is located at 116. S. 8th St. in Opelika and offers a variety of coffee drinks and also roasts all their coffee in house.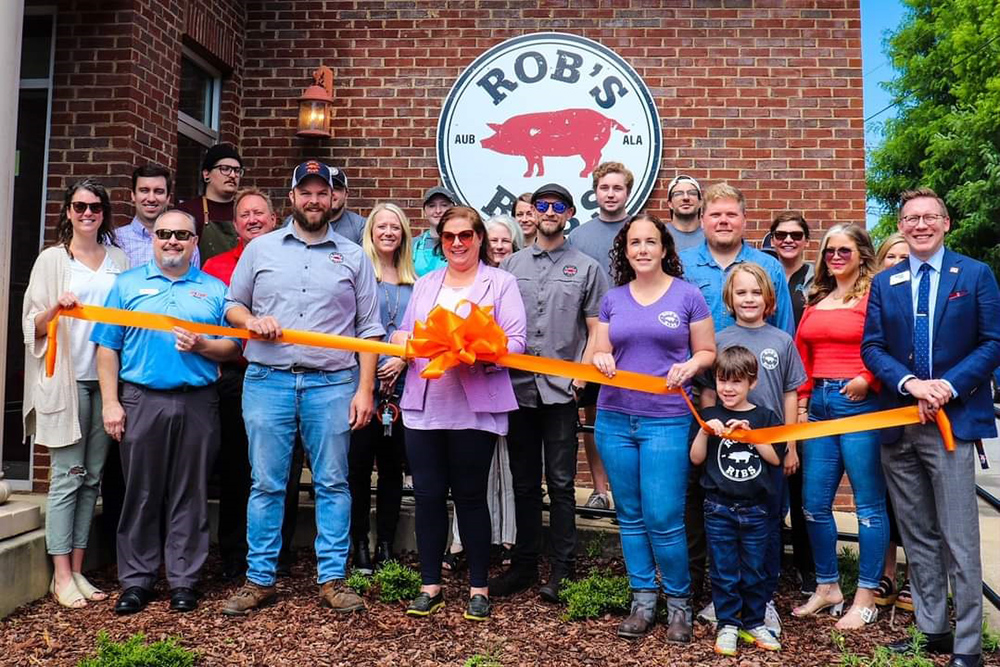 Last Wednesday, May 12, the city of Auburn celebrated the grand opening of Stone Martin's model home in Camden West with At Home with Prestige Realty. Situated in the quaint woodlands of North Auburn, Camden Ridge offers a perfect lifestyle for everyone. It is located off North Donahue Drive, close to Highway 280 and Highway 72, making commuting or traveling a breeze. The model home is located at 1900 Trail Ridge Road.
On Thursday, May 13, the city of Auburn celebrated Rob's Ribs. A sister company of Butcher Paper BBQ, Rob's Ribs is a locally owned BBQ restaurant that focuses on BBQ cooked on a brick pit – the traditional way to cook BBQ in our area. Everyone on the management team has deep ties to Auburn and worked hard to create a space where every member of the community feels welcome, and all Auburn natives can be proud. With photos and memorabilia that harken back to old Auburn, traditional pit-cooked BBQ and its own modern twists, Rob's Ribs has something to offer everyone. Enjoy their large outdoor patio, comfortable indoor dining and spirits from John Emerald Distilling Company, along with several rotating craft beers. Rob's Ribs is located at 307 N. College.