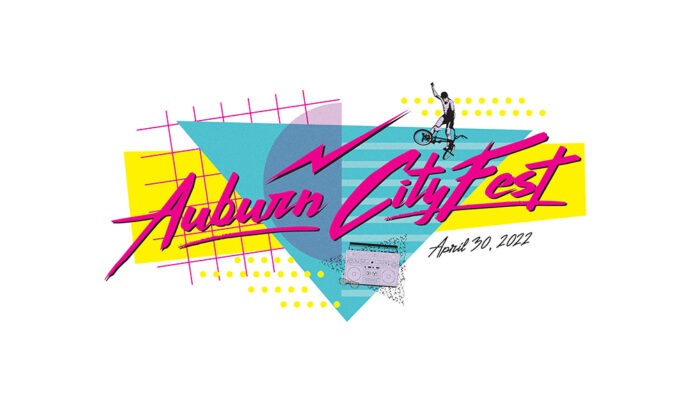 AUBURN —
The 21st annual Auburn CityFest will take place Saturday, April 30, from 9 a.m. to 4 p.m. at Kiesel Park. Local residents, students and community members of all ages are invited to spend the day shopping from more than 100 arts and crafts, food and nonprofit vendors, enjoying live music and participating in a variety of interactive events and performances.
This year's theme is "Totally Excellent '80s" with headlining entertainment provided by Dialed Action Sports Team, which will be showing off its incredible athletic skills with BMX stunts.
The Children's Imagination Station will feature stilt walker Todd Key, the Bama Air Dogs, the Kreher Preserve and Nature Center, Boy Scouts of America, AU Raptor Center and Auburn's very own Batman. In between these fun appearances, children can enjoy crafts at the ArtFest tent sponsored by Auburn Parks and Recreation. Auburn Therapy and Learning Center will also provide a Sense Tent for people with sensory processing disorders to make Auburn CityFest enjoyable for all guests.
CityFest attendees will also have the pleasure of enjoying music from several artists throughout the day at the pavilion. Mac Cone, a local acoustic artist, will be playing everyone's favorite tunes and local rock band Outside the Inside will be rocking out Kiesel Park too. In addition, attendees will get to hear music from Auburn University's Jazz Band.
The Auburn CityFest Committee is grateful to all sponsors for making this year's event possible, including Community Sponsor: Max Credit Union, Media Sponsor: Opelika-Auburn News, Official Sponsors: Praise 88.7, ShirtWorks, Auburn Arts Association, Kate 99.9 FM, Dixie Electric, iHeartRadio, WSFA News, Alabama Power Foundation, Wings 94.3, Jeffcoat Trant, Auburn-Opelika Tourism, On the Mark, Smartcitti and ALFA Insurance and Patron Sponsors: AuburnBank, Starwalk Enterprises, Tailgate Guys, JLD Enterprises and Grab-a-Cart. Auburn CityFest Committee also thanks Auburn VCOM for sponsoring the official first aid tent.
Auburn CityFest is free to the public and is a rain or shine event. For more information about this year's event, visit auburncityfest.com.