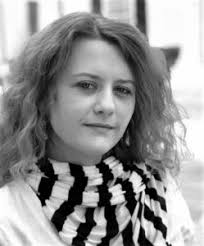 By Sarah West
Leaves of gold, line the trail along Brandywine. At the end of their descent, rich blackened soil laces these mosaics. They form a yellow brick road, through the balmy current toward the millstone. Quiet footsteps lead fruitful meditation, as I retrace many a master's path.
I gaze across the river basin. Stark light casts ember glow o'er a meadow filled with knee-high grasses.
Trees bow to the autumn breeze, as a storm passes briskly. The dewy air blankets shrubs and herbaceous borders; rendering moister visible on thatched rooftops and museum façade. I pass a cherry tree, its fruit in full bloom. On my way toward the entryway, I discover the local artisan's promenade.
Quilts, and wooden crafted goods fill the marketplace, inviting all to browse, appreciate and treasure hunt.
A tremendous array of Hudson River School paintings are exhibited in the museum's New Acquisitions
Gallery. I'm thrilled to find myself amid a discussion over the artist's varying styles, approach to light, along with colour. The work of La Farge enthralls me most, and Martin Johnson Heade's –Salt Marsh evokes extensive contemplation. This being my initial visit to Chadds Ford, I take my time. I pause for luncheon at the café and savor an early afternoon tea before venturing into the nature-scape. This trip corresponds with my studies at the Pennsylvania Academy of Fine Arts, and poetically ties together my relationship with parklands and nature conservancy.
The sunlight strengthens, and I explore the many pathways near Kuerner Farm and the creekside banks.
I find an alcove along a tranquil pathway and begin en plein air oil sketches, representational of the day and place. There is much ponder in a state of mind as earthly as this. My thoughts are filled with history, prolific artworks and a grand sense of presence.
The fording naturescape is sharp, calm and composed. I feel, I am able to grasp a clearer understanding of Wyeth's work, when seen where he lived. General Washington's headquarters is located only a stone's throw away, at Brandywine Battlefield (the site of the army's 1777 encampment.) Howard Pyle's Painter's Folly and the Wyeth studios are nearby also. The painted image of Andrew's nude, the Virgin, stays with me still. Wyeth's illustrations harken back to a time of illuminated stories on paper. There is venerate tone towards heritage; it is common and deeply rooted, a strength derived from the land and works surface. Stand in one place for any length of time and you'll find your own roots reflection in the work of those who forged paths before you.
West serves the Opelika Observer as a contributing columnist, with written works of cultural arts relevance and prose. She is a preservation and conservation advocate, activist and visual artist of American Illustration with a focus on regional narrative painting. She is the founder of the Sarah West Gallery of Fine Art, a center for cultural arts, Smiths Station's premier fine-arts destination. She mentors students of every age through weekly classes at her studio located in the heart of Smiths Station. To learn more about her work and activism, visit www.thesarahwestgalleryoffineart.com.