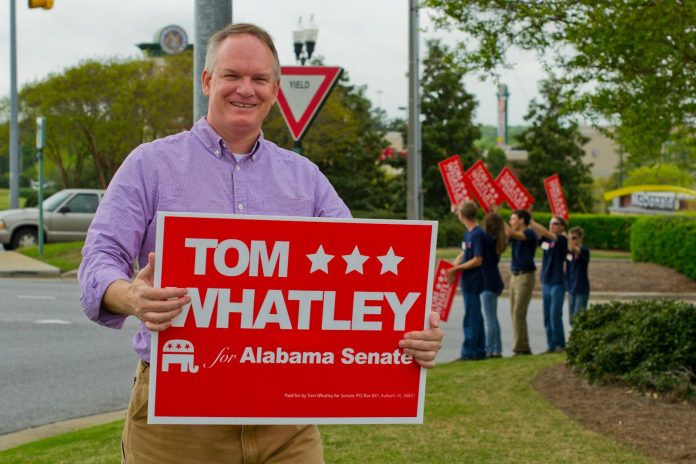 By Morgan Bryce
Associate Editor
Improving infrastructure, maintaining a balanced budget and promoting a higher quality of education in Lee, Russell and Tallapoosa counties is the goal of Tom Whatley, Republican nominee for Alabama's Senate District 27.
First elected to the seat in 2010, Whatley is seeking a third term in office to further the implementation of his conservative, constituent-first approach to Alabama politics.
Following is a brief biography on Whatley and overview of his accomplishments during his eight-year tenure.
Background
A lifelong Lee County resident, Whatley grew up on his family's dairy farm and attended Beauregard High School, where he graduated from in 1988.
After graduating from high school, Whatley joined the U.S. Army through the Alabama National Guard. He recently attained the status of colonel and benchmark of 30 years of military service, which includes two deployments abroad.
Whatley attended college at Auburn University, obtaining a bachelor's degree in Public Administration before receiving his juris doctorate in 1998 from the Thomas Goode Jones School of Law. In 1999, he was granted admittance to the Alabama State Bar.
Through his experience as a Chief of Staff with the Alabama Supreme Court and work with the U.S. Embassy in Bucharest, Romania, Whatley said he gleaned valuable insights and lessons that would lend well toward a political career.
After years of practicing law locally, Whatley's first splash into politics was a successful one, upending longtime incumbent Senate 27 Democrat Ted Little in the November 2010 midterm elections by a 55-45 percentage-point margin.
In 2014, Whatley defeated Democratic challenger Haylee Moss by a 31.2 percentage-point margin in his bid for a second term.
This November, Whatley's challenger will be Auburn resident and Democratic nominee Nancy Carlton Bendinger.
Achievements
During his tenure, Whatley cites his co-sponsorship of the Sadie Grace Andrews Act, push for bill ensuring insurance coverage for families with children who have autism and leading the charge on the recent Moore's Mill bridge-widening project as examples of his commitment and dedication to the people he serves within his district.
"I'm a fiscally minded conservative who believes that the best way to grow our economy is to create jobs with boosted wages while having lower taxes. Having money that goes to a research institution like Auburn University also helps create jobs in the Lee, Russell and Tallapoosa area," Whatley said. "When you create jobs, you increase the quality of life, you create a tax base that can help boost its infrastructure."
Whatley was also a key proponent of a bill last year that would have allowed Opelika Power Services to offer rural residents broadband internet service. Despite its failed passage, he said the conversations from that movement have led to major cable providers leading a push for expanded internet services in rural areas across the district.
An expansion of I-85 from four to six lanes is next on Whatley's agenda.
For more information on Whatley and his platforms, visit www.tomwhatleyforsenate.com or following him on Facebook, Instagram or Twitter.