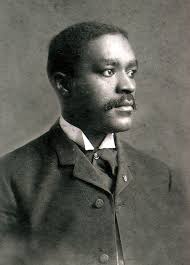 By Ann Cipperly
For the Opelika
Observer
As Dr. John Darden began a long day of calling on patients in the early 1900s, he traveled along dusty, dirt roads throughout Opelika and the countryside. The young doctor's wife, Maude Jean, often rode along to keep him company and would wait in the buggy while he provided medical care to his patients.
Born in 1876 in Wilson, North Carolina, John Wesley Darden was the eldest of 13 children. At 13 years old, John decided to become a medical doctor when he was unable to find a physician for his unconscious sister. While she survived, John never forgot the experience and had a driving determination to become a physician.
His father was the first black undertaker in the state of North Carolina and also owned a general store that sold fresh produce and his homemade wine. The community held him in such high esteem that the first black high school was named in his honor, the Charles H. Darden High School.
The Dardens were determined to give all their children an education. When John was 13, his parents sent him to high school in Salisbury, North Carolina, where he worked his way through Livingstone College (now Shaw University), and received a medical internship in Long Island, New York.
Since his hometown already had black medical service, John began searching for a place where his services were needed. A college friend, who was a physician in Tuskegee, recommended the small town of Opelika.
Dr. Darden moved to Opelika in 1903 and became the first black physician in a 30-mile radius and began working 18-hour days.
For a short time he occupied a house on South Third Street, which was also used as his office. He purchased a building on Jefferson Street (later named Avenue A in 1912) where he opened a clinic and drugstore. One of his brothers, J.B., who had recently received a degree in pharmacy, became his partner at the drugstore.
After moving his practice, he converted the house on Third Street to an infirmary for black people where he performed surgeries.
Darden met Maude Jean Logan when his church choir was invited to perform at her church in Montgomery.
John, with his beautiful baritone voice, was the soloist, and Maude Jean, who taught school, was the pianist.
John and Maude Jean married in 1905. Maude would make calls with her husband in his horse and buggy.
The young doctor had purchased land on Auburn Street in 1904. He hired two black contractors who attended their church to build the two-story house in 1906 for their home.
Along with dispensing prescriptions, the drugstore sold homemade ice cream. On Sunday afternoons, many strolled down to Dr. Darden's drugstore for his special ice cream. Vanilla and chocolate were staples, with new flavors frequently offered, including a spicy ice cream fragrant with cinnamon and nutmeg, along with fig and strawberry flavors.
After John's mother died, his youngest brother, 9-year-old Walter "Bud" came to Opelika to live with John and Maude. Bud grew up in Opelika and worked at the soda fountain.
Maude's sister Fannie married Dr. John Clark under an arbor in their garden. Clark opened his dental office upstairs at the Darden clinic. Darden also served as a conscription doctor and treated inmates at Lee County Jail.
While his main practice was in Opelika, he also provided medical assistance to rural areas and Auburn. At times he consulted with Dr. Jim Bruce on some cases.
Maude cultivated a flower garden, gave piano lessons and taught Sunday school at the Thompson Chapel AME Zion Church. She became the director of Christian education, while John was on the board of trustees for many years.
She enjoyed entertaining and having guests in their home on Auburn Street. Guests would stop by for a cup of tea and cookies. She was civic minded and taught young girls lessons on etiquette and manners.
The Dardens were active in both religious and social life. Prominent visitors to their home included Booker T. Washington, George Washington Carver and A. G. Gaston.
As Darden became older, he began treating patients in his home. In 1944 he moved a large part of his practice to the house. Some changes were made on the house to accommodate patient visits. A section of the porch was enclosed to serve as a waiting room, and a room inside was converted into an examining area.
He practiced for two years at his house until his death Jan. 10, 1949.
When the new black high school opened in Opelika in 1951, it was named in his honor. The school merged with Opelika High School in 1971.
Although the Dardens did not have children, Maude Jean said later in life that teaching Sunday school for 60 years had given her hundreds of children. She continued living in the house until her death in 1976.
The house was rented for a couple of years and then became vacant. In 1980 Darden heirs sold the house, which was later foreclosed. It stood vacant for many years.
As the house deteriorated, it was scheduled for demolition. In 1999, the J.W. Darden High School Alumni Association was organized and formed the Darden Foundation in 2001. The foundation purchased the property with donations from former Darden High School students.
After being restored, the house was listed on the Alabama Register of Landmarks and on the National Register of Historic Places in 2009.
The Darden home continues to be the site of healthcare today. The J.W. Darden Wellness Center, located in the former Darden homestead, offers health screening and education every Wednesday from 9 a.m. – noon. A collaborative effort of the J.W. Darden Foundation, Inc., the EAMC Faith Community Nurse Program, and the Auburn University School of Nursing, the center offers expert health information free of charge.
Many things have changed since John and Maude traveled the streets in a horse and buggy. Darden's hospital and drugstore have been torn down and replaced with a parking lot.
However, the Dardens' legacy and influence have continued with those who sat in Sunday school classes, were treated by a dedicated doctor and passed on stories of a couple who gave their life to improve the lives of others.
The J.W. Foundation will hold the 7th annual "Black Tie Legacy" Gala Feb. 2 at the Auburn-Opelika Marriott at Grand National. Proceeds from the gala provide scholarships and funding for the upkeep of Darden's historical home at 1323 Auburn St.
The work of Dr. J. Dell Crosby from Auburn's Mercy Medical Clinic to provide uninsured citizens with access to affordable healthcare will be recognized during the event. For tickets, contact Peggy Hansen at 334-663-1833 or Jeanette Peters at 334-745-6578.
Sources: "Spoonbread and Strawberry Wine" by Norma Jean and Carole Darden, whose father, Bud Darden, moved from Opelika and became a physician in Newark, N.J.; The Heritage of Lee County, Alabama, the J.W. Darden Foundation and others.