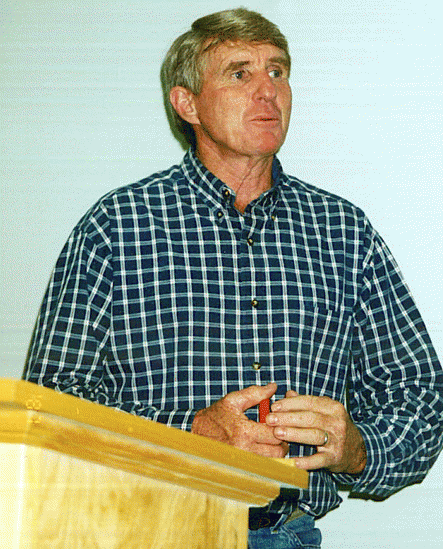 By Fred Woods
Tom Lovell, long-time Opelika resident who died recently, was, in addition to being a highly successful cattle breeder, an internationally respected fisheries nutrition expert and one of the several fisheries scholars who made Auburn University Fisheries known for its excellence all over the world. This tribute to Lovell was written by four of his former graduate students.
In Memory of Our Beloved Professor/Mentor Dr. Richard Thomas "Tom" Lovell
On November 7, 2017, the world aquaculture and fish nutrition community lost an icon – Dr. Richard Thomas "Tom" Lovell who was a highly respected, world renowned scientist and educator that many consider to be the Father of Catfish Nutrition. Dr. Lovell was born on February 21, 1934 in Lockesburg, Arkansas, USA. He received his Associate's Degree from Southern State University (now Southern Arkansas University) in Magnolia, Arkansas. He obtained his B.S. and M.S. Degrees, both in Animal Nutrition, from Oklahoma State University, and his Ph.D. in Dairy Science from Louisiana State University (LSU). He served as an Assistant Professor in the Food Science Department at LSU for two years before accepting a position in 1969 as an Associate Professor and later promoted to Professor in the Department of Fisheries and Allied Aquacultures (now the School of Fisheries, Aquaculture and Aquatic Sciences) at Auburn University where he remained until his retirement in 1998. Upon retirement, he was granted Professor Emeritus at the school. During his 30-year career at Auburn, he received many awards and honors, including the National Science Foundation Career Award, Southern Arkansas University's Outstanding Alumni Award, and Distinguished University Professor of Auburn University. He published two books, numerous scientific journal articles, book chapters, and popular articles. He was the chairman of the committee for preparing the 1993 National Research Council's book on Nutrient Requirements of Fish. He was one of the pioneers of catfish nutrition research conducting much of the work on catfish nutrient requirements and diet evaluations that served as the basis of modern catfish feeds.
His major achievements include identifying the cause of broken back syndrome (vitamin C deficiency) and off-flavor in channel catfish and establishing nutritionally complete diets for catfish, paving the way for the production of protein-rich food in developing countries around the world. The three most important things to Dr. Lovell were family, career (particularly his graduate students), and cattle farming.
Dr. Lovell was a family man. He was married to Jo Lovell for 54 years and together they raised two successful sons. He was very proud of his children's success and of their families, and enjoyed spending time with his four grandchildren. He found joy in watching and commenting on Auburn football with his sons.
Dr. Lovell touched the lives of many, especially his graduate students. He took pride and joy in supervising/mentoring over 100 graduate students and in their accomplishments. He also served on committees for many other graduate students. He demonstrated his appreciation of his students in many ways but in particular by dedicating his two fish nutrition books to them. Dr. Lovell spent considerable time and effort assisting students with their research projects, theses, and dissertations. In addition, he was instrumental in finding positions for students upon graduation.
Dr. Lovell enjoyed interacting with his graduate students and on occasion would share an amusing anecdote with them. One of his favorite stories was that he was to be gone for a couple of days and asked two of his graduate students to help feed the cattle on his farm.
On his return he was chatting with the owner of a neighboring farm who told him that a strange thing happened − when the neighbor went to feed his cows that morning someone had already fed them. Dr. Lovell realized that his cattle had not been fed while he was away and got quite a chuckle out of it.
Though he found humor in the situation, he was serious about raising cattle. Daily after work he would drive to his farm to attend to the cattle, working into the night if necessary. He was an award-winning Angus cattle breeder and produced top quality bulls, receiving many awards including Alabama Outstanding Purebred Angus Breeder. After retirement from Auburn, he continued farming cattle.
Those of us who visited him on the farm could see the pride that he took and the enjoyment he got from raising cattle. He asked one of his graduate students to help tag and immunize calves and neuter the males.
After spending ten hours wrestling 100-pound calves, this student has never once complained about seining endless numbers of ponds during his career. Dr. Lovell was a great man and mentor, and his students loved and respected him.
We were blessed and proud to be his students. Thanks, Dr. Lovell! You will be forever missed.