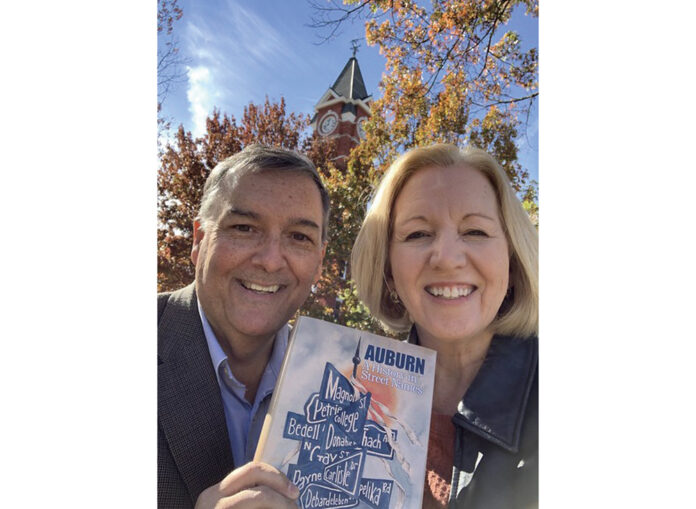 Contributed By
Auburn University
How did Auburn, Alabama, get its name, and why is it referred to as "the loveliest village?" A new book, "Auburn: A History in Street Names," authored by Sam Hendrix, provides a comprehensive history of the city of Auburn and so much more. The book tells the stories of the "village" and its people, street by street, act by act, over nearly two centuries.
To commemorate the book's debut, the public is invited to a book talk with author Sam Hendrix on Thursday, Dec. 2, at 4 p.m. at the Caroline Marshall Draughon Center for the Arts & Humanities at Pebble Hill, located at 101 S. Debardeleben Street in Auburn.
By telling the history of Auburn, the volume creates future opportunities for today's youth to tell stories of camp experiences. Proceeds from book sales will fund an endowment at Auburn University to provide academic camp scholarships for Auburn Youth Programs, or AYP. The "camperships," which cover costs of registration, on-campus lodging and meals, provide the opportunity for local youth to attend week-long academic summer camps at Auburn University.
"It's important to me that youth in Auburn get to experience life on campus," Hendrix said. "There are so many bright young people who live near the university or pass by it each day, but don't see attending college as a possibility. Academic camperships aim to change the dynamic for our underrepresented youth and lead these sharp, curious individuals to discover undreamt-of careers and carve new futures."
The endowment was made possible through a campaign by the Auburn Heritage Association, which raised more than $21,000 to fully cover the costs associated with the printing process.
"With printing costs covered up front, every penny will go to support academic camperships," Hendrix said.
Each year, Auburn Youth Programs, offered through the Office of Professional and Continuing Education, or OPCE, serves thousands of youth who travel from around the globe to attend one or more of the 60-plus summer camps and programs offered on Auburn University's campus. Academic camps are offered in partnership with schools and colleges across campus, including the College of Veterinary Medicine; College of Architecture, Design and Construction, Planning and Landscape Architecture; MRI Research Center; Harrison School of Pharmacy; School of Nursing and the Department of Aviation. Programs are led by Auburn professors and faculty members and provide campers the opportunity to explore potential majors.
AYP is proud to work with its campus partners to offer academic camps and programs, consistent with the mission of OPCE to make available the educational resources of Auburn University.
"We are beyond grateful for the generosity of Mr. and Mrs. Hendrix. The camperships will allow us to serve area youth who may not otherwise be able to attend our camps," said Jim Franklin, OPCE assistant director for Auburn Youth Programs. "It's great to see how the stories that tell the history of our city can impact the future of its youth."
"Auburn: A History in Street Names" uniquely chronicles the city's past as it tells hundreds of stories of its people and the events that unfolded on its very streets. From Academy Drive to Zellars Avenue, the 735-page hardback book includes 400 alphabetical street name entries and 65 stand-alone essays, along with photos and illustrations throughout. Its first printing, now available, is limited to 1,500 copies.
Books can be purchased online and locally at area events and select bookstores. For a schedule of events or to purchase online, visit aub.ie/auburnstreetnames.
Author Sam Hendrix is an Arab, Alabama, native and graduate of Auburn University. Hendrix spent most of his career with Auburn University as a public relations and development professional. He authored a history of the Auburn Church of Christ and a biography of founding Veterinary Medicine Dean Dr. Charles Allen Cary before publishing "Auburn: A History in Street Names." He resides with his wife, Mary Ellen, in Auburn.
Auburn Youth Programs, a program area within OPCE, is an extension of University Outreach that sponsors and executes a variety of summer programs designed to educate and inspire youth. To learn more about Auburn Youth Programs, visit auburn.edu/summercamps.
Auburn University is a nationally ranked land grant institution recognized for its commitment to world-class scholarship, interdisciplinary research with an elite, top-tier Carnegie R1 classification, life-changing outreach with Carnegie's Community Engagement designation and an undergraduate education experience second to none. Auburn is home to more than 30,000 students, and its faculty and research partners collaborate to develop and deliver meaningful scholarship, science and technology-based advancements that meet pressing regional, national and global needs. Auburn's commitment to active student engagement, professional success and public/private partnership drives a growing reputation for outreach and extension that delivers broad economic, health and societal impact.