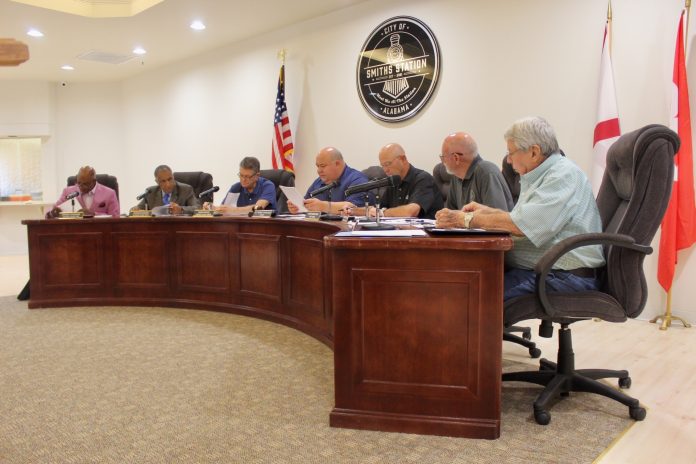 By Morgan Bryce
Editor
The city of Smiths Station is another step closer to having its own designated storm shelter after its city council approved a resolution to contract with a grant-writing firm to apply for a FEMA Community Tornado Saferoom Grant.
After an initial deposit from the city, EnCompass360 will handle "A to Z of the grant writing and application process," according to Mayor Bubba Copeland. With special funding for this grant dog-eared for Lee County, he said he believes the city's odds of approval for this project are solid.
If approved, the shelter would be built near the Smiths Station Government Center. It would be able to withstand winds of up to 250 miles per hour, equivalent to a Level-5 tornado on the Enhanced Fujita Scale.
While the structure will be built according to FEMA standards, customization of its facade and interior will be left to the city. Copeland said he would plan for the space to have its own back porch area, kitchen and other amenities for hosting public or private events.
If the project is not approved, the city's contract with the firm obligates them to continually apply for mitigation grants as they are released by FEMA, which has recently received. additional funding allocated by the Trump Administration.
Another resolution passed during the city council meeting allows for a contractual renewal with the Lee County Revenue Office to retain its satellite office within the Smiths Station Government Center for another three years.
In other business, the council:
• approved a resolution authorizing Copeland to accept bonds on behalf of the city
• approved an amendment to the city ordinances to include state NAICS codes, which can be used for help with compliance, statistics and tax purposes at the municipal level.
The Smiths Station City Council meets on the second and fourth Tuesday of each month with work session starting at 5:30 p.m. E.S.T. and regular meeting at 6 p.m. Their meetings are held within the council chambers of the Smiths Station Government Center, which is located at 2336 Lee Road 430. For more information, call 334-297-8771 or visit www.smithsstational.gov.