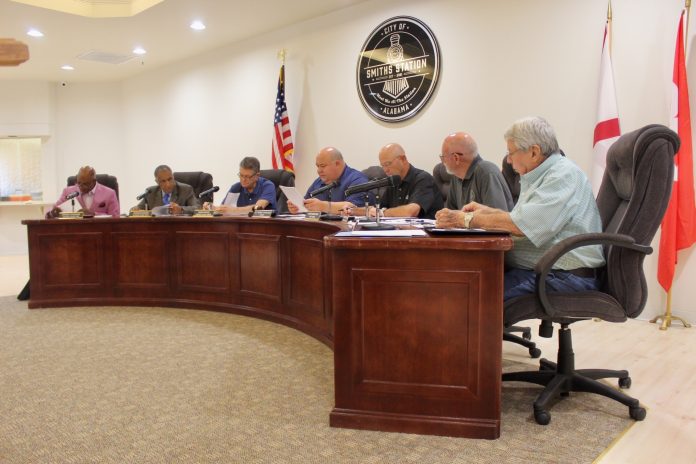 By Morgan Bryce
Editor
A unanimous vote by the Smiths Station City Council during their regular meeting last Tuesday established a speed limit of 30 mph on Lee Road 490.
Located near Terry's Grocery off Lee Road 246, the road is located in one of the city's most bustling locations. Mayor F.L. "Bubba" Copeland ran the council through the road study and explained how they came to a 30-mph speed limit.
"If you'll look at the data sheets, you'll see the compiled speed totals. What's always interesting is seeing the maximum speed people achieved, which was 75 mph on this road," Copeland said. "Based on percentiles, only .3% drove 45 mph or faster … but the vast majority, 98%, drove between 45 and 30 mph which led us to choose 30."
Copeland also recognized the two division winners of the 2019 Miss Station Panther Pride Beauty Pageant, Smiths Station High School senior Taylor Hasty and junior Erin Roberts.
Lastly, the council voted to approve city funding for the annual Christmas tree-lighting ceremony slated for Dec. 12.
"At this event, we'll always have performances from bands and groups at our local schools, visit from Santa Claus and a fireworks display at the end, something new we're adding this year," Copeland said.
The Smiths Station City Council meets on the second and fourth Tuesday of each month with a work session beginning at 5:30 p.m. E.S.T. and regular meeting at 6 p.m. Their meetings are held within the council chambers of the Smiths Station Government Center, which is located at 2336 Lee Road 430. For more information, call 334-297-8771 or visit www.smithsstational.gov.