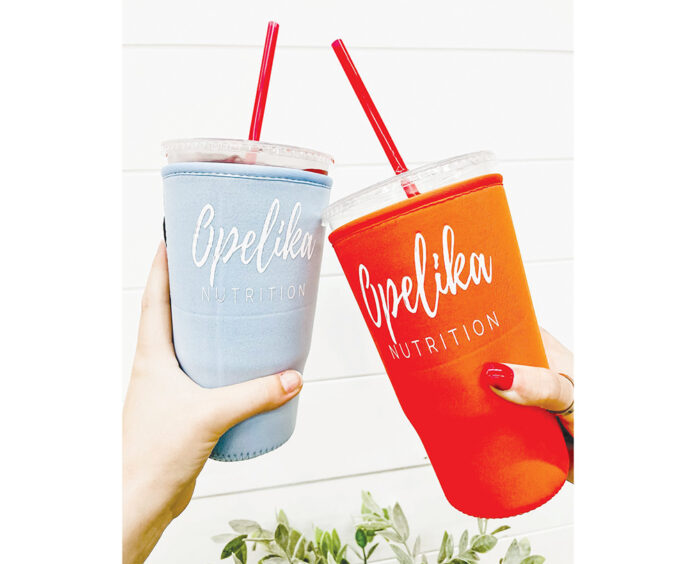 BY MAGGIE CARAWAY
FOR THE OPELIKA OBSERVER
Opelika Nutrition is turning one! They are celebrating their first year in business with a customer appreciation event. "Sip and Shop" will be held on July 10 from 9 a.m. – 3 p.m. at the Opelika Nutrition storefront, 1801 Market St. Owner Mallory Jenkins is welcoming the community into her store and serving hamburgers and hotdogs as well as giving away door prizes in an effort to "give back" to all the individuals that helped make the past year possible for her. Local vendors will also be partnering up with Jenkins to provide individuals with a wide variety of items to shop.
Jenkins decided to open Opelika Nutrition after loaded tea, a healthy alternative to energy drinks packed with vitamins, became popular. "My husband and I were driving to Auburn every single day to get one of these drinks like crazy people," Jenkins said. Her friend helped her get the process started and after that it was smooth sailing. "I was dying to just put one in Opelika and things just kind of fell in my lap and it happened really fast. Really easy."
Jenkins broke down exactly what loaded tea is, the benefits it can have and why they became so popular. "It's like a healthy energy drink … and it gives you basic energy. It has vitamin C, B12 and B6 in it, and there's about 200 milligrams of caffeine in it. But the caffeine is from herbal teas, and there's no sugar, so you're not getting all the bad stuff that a Monster or a Red Bull is offering you," she said. Jenkins claims that anyone could benefit from drinking loaded tea.
"A lot of my customers have replaced their coffee with a tea every morning. Just because it's vitamins and they're still getting their caffeine and a good base of energy without all the carbs and calories … our teas only have 24 calories."
Jenkins said the first year of business for Opelika Nutrition has been a great success. "It's been absolutely amazing … it's been a lot more than I imagined it being."
Come out and celebrate the first of many years of Opelika Nutrition at the customer appreciation "Sip and Shop" event. For more information visit the Opelika Nutrition and Customer Appreciation Sip and Shop Facebook pages or call (334) 444-0708.