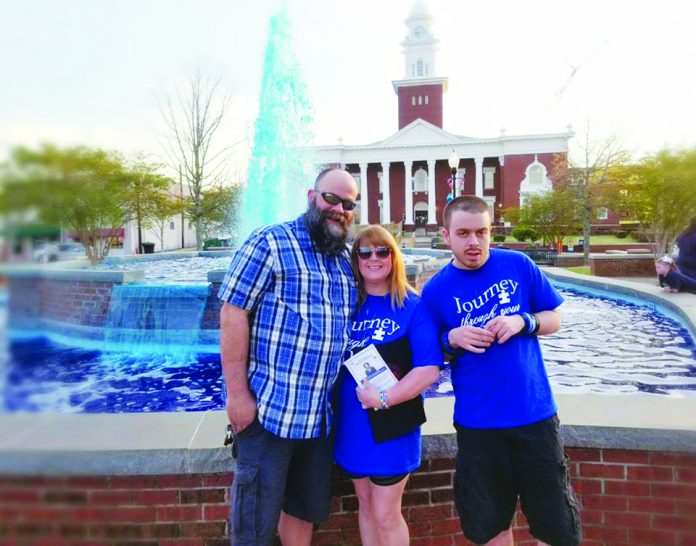 By Vanessa Poulson
For the Opelika Observer
Opelika resident Luanne Helms was recently awarded the Mike Tumlin Advocacy Award for her work with the Autism Society of Alabama.
As the organization's area coordinator since 2012, Helms has organized numerous family events, fundraisers and training. Her chapter has successfully trained more than 285 First Responders in East Alabama, helping them become aware of and trained in Autism Risk and Safety Management.
The award is named after native Alabamian Mike Tumlin, who served the Autism Society of Alabama for 15 years as a tireless autism advocate. Tumlin passed away in 2016 and left a tremendous legacy as one of the largest autism supporters in the state.
Helms said she is grateful for her recent recognition and credits her son Jake, who was diagnosed with nonverbal autism in 2002, as her reason why she remains an active member of the autism community. She is credited with helping Opelika become one of the first cities to have the most widespread Autism Risk and Safety Management training in the state.
She also helps to plan events like Annual Skate With Santa, Angel's Riding for Autism, Arts 'N Autism, Ice Cream with a Hero, and annual egg hunts. Helms was recently chosen as a candidate for Leadership Lee County.
"I've never even thought about being 'awarded' for what I do. It was just second nature. But to have ASA recognize me and my efforts is such an honor," Helms said.
For parents that may be just embarking on the journey of having a child with autism, Helms offers this advice: "I would suggest reaching out to ASA for resources, and meet other families who have gone before them for guidance and encouragement. No one should have to walk the path alone, and through ASA and their efforts, no one has to."
Upcoming projects for the ASA include collaborating with The Lewis Cooper Memorial Library for "EveryBODY can Read and Move," an interactive program to encourage literacy and movement for teens and young adults with exceptional abilities, as well as the 4th annual Autism Risk and Safety Management Training.
Helms' chapter is actively looking for sponsorships for their new program. Sponsorships start at $100, which provides company or individual names on the back of program t-shirts. All donations made to the organization are tax deductible through ASA.
For sponsorship information or any other questions about Autism Advocacy in Eastern Alabama, email Helms at helmslu@gmail.com.