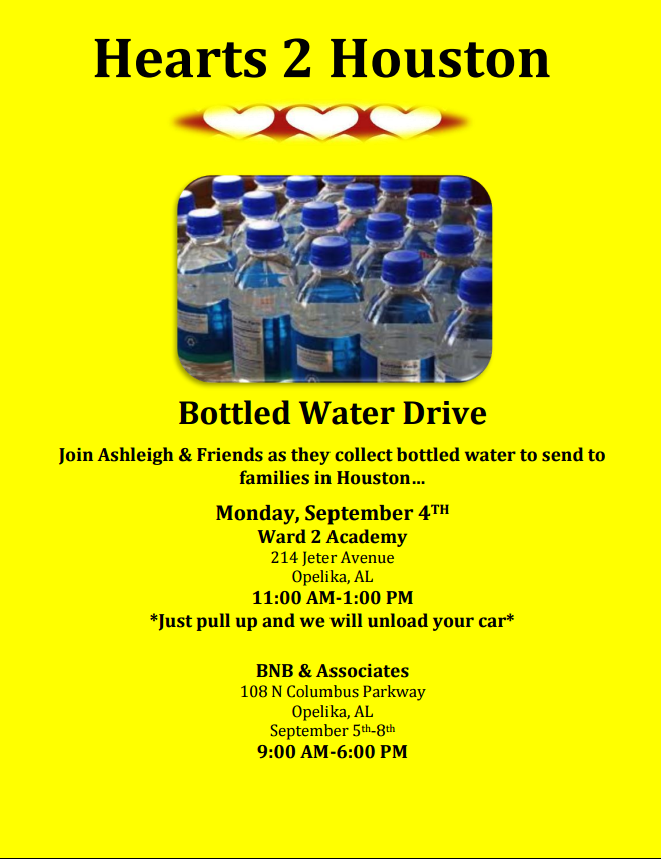 By Morgan Bryce
Staff Reporter
Opelika Middle School student Ashleigh Pitts is leading a bottled water drive Monday called 'Hearts 2 Houston', and supplies will be donated to people in Houston affected by last week's Hurricane Harvey.
Ashleigh, daughter of Ward 2 Councilwoman Tiffany Gibson-Pitts, said she was moved to help after seeing examples of the price gouging of essential goods like water and food that Houston residents currently face.
"On Good Morning America, I saw a picture that had a sign saying water for $99 which was wrong because they are already struggling to find somewhere to sleep. We should help others when they are down because if it was the other way around, we would want them to help us," Ashleigh said.
There are two places people can donate: the Ward 2 Academy, located at 214 Jeter Ave., on Monday from 11 a.m. – 1 p.m., and BNB Associates, located at 108 N. Columbus Parkway, Tuesday-Friday from 9 a.m. – 6 p.m. Friday will be the last day of collections.
Ashleigh said her goal is to collect 275 cases of water Monday to help with emergency relief.
For more information, email Tiffany at tiffanygpitts@gmail.com.
Reporter's note: The original article stated that BNB would be open for donations Monday. However, they will be closed Monday in observance of the Labor Day holiday. They will be able to accept donations Tuesday-Friday from 9 a.m. – 6 p.m. as stated above.