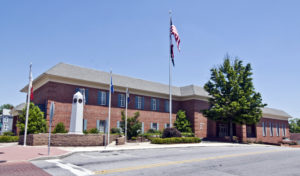 By Natalie Anderson
Staff Reporter
During Tuesday's Opelika City Council meeting, Mayor Gary Fuller recognized Morris Avenue Intermediate School as an "Alabama Green Ribbon Schools Award" winner. According to the Alabama State Department of Education, "(the) award recognizes innovative efforts to reduce environmental impact and utility costs, improve health and wellness, and promote environmental and sustainability education." With the help of Coach Chris Rhodes, the school was chosen a winner for their "fruit and fitness trail."
The council also recognized Billy Edwards with the Keep Opelika Beautiful organization as "Volunteer of the Year." Edwards resides in Ward 1, but was praised for "consistently beautifying the entire city."
The council heard from a concerned citizen in regards to housing property in Opelika. He requested more time from the council before the demolition of the property. The council is still "going through with normal procedures until proof of adjusted changes (in title and contract)."
In other business, the council also:
-approved a request for the annual "Going Blue for Autism" at Courthouse Square on April 2
-approved multiple requests from Main Street for "Taste of the Town" on April 28 as well as a Touch-A-Truck and Burger Wars on May 30
-awarded a bid for a new fire training facility
-approved expense reports from various departments
-approved to designate city personnel property as surplus and authorize disposal
-approved the purchase of 624 Toter 96 EVR II Carts
-approved a grant application with FEMA for local share of a new ladder truck
-approved a grant application with FEMA to replace the air compressor cascade system
-approved a grant application with ADECA for the Youth Incarceration Prevention Program
-approved the authorization for the expenditure of public funds for census 2020 community events
-approved the authorization of a local bill for annexation into Opelika's corporate limits
-approved the annual appropriation contract for Boys and Girls clubs FY2020
-approved a special appropriation to the American Cancer Society for the Relay for Life on April 17 and
-approved a purchase for the public works department.
The Opelika City Council meets on the first and third Tuesdays of each month, with a work session starting between 6 to 6:45 p.m. followed by the regular meeting at 7 p.m. Their meetings are held in the new Municipal Court facility, which is located at 501 S. 10th St. For more information, visit www.opelika-al.gov.