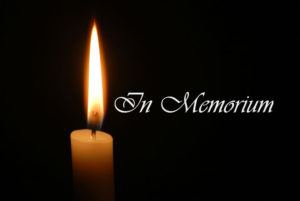 William Edsell Vanoy, U.S. Navy, Ret.
William Edsell Vanoy was born June 22 of 1931 in Vance, AL. He stepped into the presence of his Savior on October 24, 2017.
Bill was a treasure to his wife and family, and he was a friend to all who knew him. Ever kind, Bill was known for his stories of growing up in rural Alabama and his knowledge of the Vanoy-Newell family tree. Although a life-long hard worker, Bill was never too busy for a smile and wave or a cup of coffee and a story.
Born and raised on a farm in the Vance / Brookwood part of Tuscaloosa county, Alabama, Bill graduated from Brookwood High School. After a short stint as a lineman for Alabama Power, Bill attended Auburn University as part of the ROTC program. When the Korean War began, Bill enlisted in the US Navy, becoming a Naval Aviator flying planes from aircraft carriers in the Pacific Rim. Following the war, Bill had opportunities to complete his Bachelor's degree and pursue post-graduate studies, obtaining the rank of Commander before retiring from the Navy after nearly 25 years of service.
But in many ways life for Bill was just beginning. Following his marriage to Ellen Kerr in 1972 and subsequent retirement in 1977, Bill and Ellen left Pensacola, FL to make their home in Auburn, AL. Bill went to work at the coliseum for Auburn University and began taking technical classes in the evenings at Southern Union where he learned various trade skills such as electricity, engineering, heating and air-conditioning, building science, and upholstery. All skills he would put to good use in building their comfortable, spacious home in the loveliest village on the plains. On Canary Drive, they would spend the next 37 years of life together. Bill and Ellen were faithful members of the First Baptist Church of Opelika and an active part of their Sunday School class. They attended events with the Retired Officer's Club and deeply enjoyed the friendships they made there and in their community.
Bill was at home wherever he was. Whether in his work truck picking up lumber or driving a nice car, wearing his military uniform or his blue jeans, those who knew Bill spoke of his loyalty, his work ethic, his integrity, and generosity. He offered his skills frequently and abundantly. From hurricane relief to car trouble, friends and acquaintances alike knew they could count on Bill to lend a helping hand.
In his later years, Bill found a new passion working with the Gideon's organization. He served in several different capacities, but his greatest enthusiasm came from distributing and sharing God's Word.
He volunteered countless hours of his time preparing, traveling thousands of miles in and around Lee County, placing Bibles, handing them out to students, and speaking in area churches on behalf of the Gideons. While Bill loved growing vegetables and enjoyed gardening throughout his life, he would tell anyone the most important thing he ever had the opportunity to plant were the seeds of God's Word around the world.
Bill lived life sacrificially for his family, his country, and his Lord. He was a giving husband, a loving father, and a proud grandfather. He will be profoundly missed by all who knew him. Because of his love, Bill's legacy will live on in the hearts of his children, grandchildren, and great-grandchildren.
Bill is survived by Mary Ellen Kerr Vanoy, his wife of 44 years, his son Cole Wheeler (Sylvia), his daughters Vanessa Vanoy Hollis (Joe) and Nicole Vanoy Newman (Roy), 17 grandchildren and 14 great-grandchildren.
He is also survived by his sisters, Jane Weller (Jac) and Elaine Bricken (Bill) and by his brothers Ray Vanoy (Mona) and Jim Vanoy (Lee) and a host of dear nephews and nieces. He was preceded in death by his parents Columbus Wilburn Vanoy and Nina Newell Vanoy and by his sister Sarah Dean Gully (Charlie).
Mr. Vanoy's funeral service was Saturday, October 28, 2017, 2:00 p.m. in Jeffcoat-Trant Funeral Home Chapel with Dr. Mike King officiating. The visitation was from 1:00 – 2:00 p.m. preceding the service. Burial in Town Creek Cemetery in Auburn followed the service. Flowers will be accepted or memorials may be directed to Lee County Gideons, P.O. Box 1071, Auburn, AL 36831.