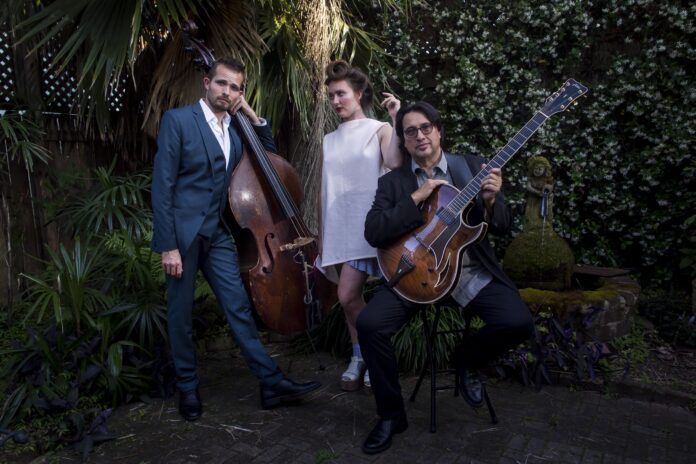 CONTRIBUTED BY THE SOUND WALL
OPELIKA —
On Friday, March 24, the Masakowski Family Band will perform two shows at The Sound Wall, located at 605 Ave. B in Opelika. The group's appearance will be the second installment of a jazz series started by The Sound Wall Music Initiative last fall. It is paired with a Workshop on Saturday, March 25, led by the performers.
The band's patriarch, guitarist Steve Masakowski, says he has been performing together professionally with his daughter, singer Sasha Masakowski, and his son, bassist Martin Masakowski, for nearly a decade. Additionally, New Orleans drummer Doug Belote will join the family for the Opelika shows and workshop.
A New Orleans native and acclaimed Blue Note recording artist, Steve has shared the stage with many of the city's most well-known musicians, as well as Grammy Award-winning artists. In 2022, he retired after 33 years from the position of Coca-Cola Endowed Chair of Jazz Studies at the University of New Orleans.
"Sasha and Martin have been carving their own creative paths," Steve said.
With accolades from Vanity Fair, Downbeat and other media sources, Sasha has headlined at venues including the Blue Note in New York City, Cotton Club Tokyo and the Detroit Jazz Festival. Based in Brooklyn with influences from jazz, electronic music, rock and improvised music, she leads the bands Art Market and Tra$h Magnolia.
"She's doing all kinds of stuff," Steve said about his daughter.
Additionally, Steve said his son is now one of the most in-demand bass players in New Orleans.
After studying music in New Orleans and Rotterdam, The Netherlands, Martin toured over 20 countries with the Balcony Players, an Eastern European folk band. In addition to playing bass, he is a graphic designer, photographer and is developing skills in Tuvan throat singing. The Tuvans are an ethnic group in Asia.
"It's always a treat for me to be playing with my kids," remarked Steve, who said he had some classroom time teaching them while they were music students at the University of New Orleans.
Now that they have professional careers of their own, Steve said he has learned a lot from them.
"Now the tables have sort of turned," he said. "They're telling me what to do."
The south Louisiana native Belote studied with The Drummers Collective in New York City. He has toured internationally and has appeared on over 100 albums with artists such as George Porter Jr., Allen Toussaint, Delfeayo Marsalis and Willie Nelson. He currently tours with 12-time Grammy winner Jerry Douglas.
Tickets to Friday's first show are $40 and will include a small-plate reception provided by chef Chris Wilton. Doors open at 6 p.m. and the show starts at 7 p.m. The menu will include a selection of dishes inspired by New Orleans cuisine.
Tickets to Friday's second show are $25 and will not include dinner. Attendees are encouraged and allowed to bring their own drinks — alcoholic or otherwise — into the shows.
For the Saturday workshop, tickets are $10, or $5 for students. It starts at 10:30 a.m., doors opening at 10 a.m., with coffee provided by Boonie Hat Coffee Co.
Tickets for all events are sold through The Sound Wall's website at thesoundwallopelika.com or by phone at 334-575-3477.
As stated on its website, "The Sound Wall Music Initiative is a 501(c)(3) nonprofit organization dedicated to promoting and celebrating the art of music in the Auburn/Opelika community." Its mission includes enhancing the community through "music education, artist development and funding support for local musicians and schools."
The Sound Wall Jazz Series is an effort of the nonprofit which allows donors and sponsors to fund local engagement with national and international artists such as the Masakowski Family Band and others. Part of this series is an educational component that includes artist visits to local schools and the Saturday workshop.
Members of the group will lead the workshop. They will touch on fundamentals of improvisation in jazz and American popular music and examine ensemble dynamics and technical development.
The workshop is open to all ages and levels. Ideal participants are teenage and adult musicians with at least one year of experience performing with their instrument or voice. Singers and those with instruments will be invited to explore melodies together with leaders and participants. Younger musicians and non-musicians are welcome to audit the workshop.
Those seeking more information should contact The Sound Wall Music Initiative at 334-575-3477 or info@thesoundwallmusicinitiative.com.