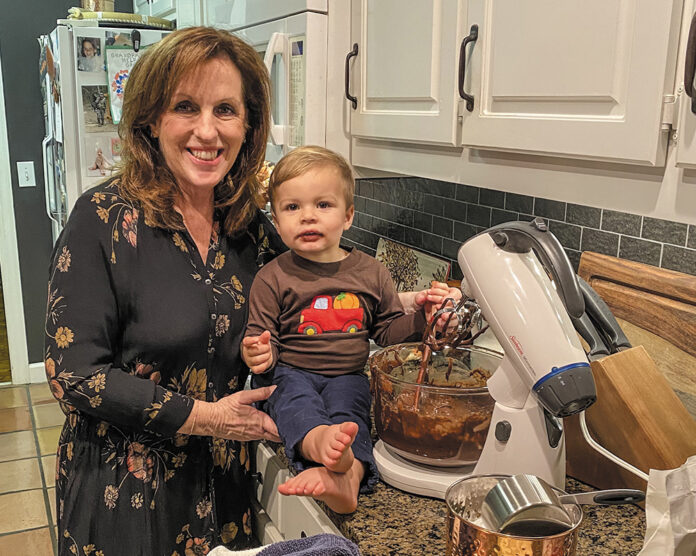 By Ann Cipperly
At her home in Opelika, Lyn Littleton enjoys getting in the kitchen to bake her mother's and grandmother's passed down recipes for yummy desserts for her husband, David, and their family. Along with wonderful desserts, Lyn is sharing a variety of recipes, including slow cooker chili, stew and dressing that are great for fall get-togethers, tailgating and upcoming holidays.
Lyn was born in Opelika, and her parents moved to Montgomery when she was five years old. Since her grandmother, Dora Jones, lived in Opelika, Lyn visited her often. Her grandmother was active at First Baptist Church and worked at Montgomery Fair in downtown Opelika.
When Lyn moved to Opelika to attend Auburn University, she felt it was coming back home. Lyn met David when she worked part-time at Tender Care Nursery, which was owned by his parents, Mary Martin and Pete Littleton.
After Lyn and David married, they lived next door to his parents on Geneva Street. Both of the houses were built by David's grandfather and great uncle who owned Littleton's Wholesale next door. David's family history goes back for generations in Opelika, including his mother's father, M.C. Carden, who was known by many for his service in the church and generosity to those in the community.
Later, Lyn and David moved to Camelot to raise their children. Lyn and David have three children and two grandchildren. Their son, Kevin, and his wife, Kaitlyn, have two children, Jones, 22 months old, and Carter, two weeks old. Kevin and Kaitlyn recently moved back to Opelika. Dr. Kaitlyn Littleton will be practicing at Auburn Pediatrics and Adult Medicine, and Kevin works in medical device sales.
Their daughter Emily lives in Nashville and is engaged to Alan Alexander, while their other daughter, Rachel, resides in Washington, D.C. and works for the U.S. Senate.
While David retired two years ago as a RN with East Alabama Medical Center, Lyn is employed at the Auburn University Department of Campus Safety and Security. She does training for the department, including teaching a self-defense class for women RAD (rape defense aggression defense) to students for extras credit and also a class for the community with the sheriff's office. Lyn partners with instructors at the sheriff's office for teaching self-defense classes without charge to females 13 years and older. One participant was 90 years old. (For information check their Facebook page East Alabama Women's Self-Defense.)
When she is not working, Lyn, as well as David, both enjoy spending time with their children and grandchildren.
Lyn enjoys baking desserts and was inspired by both her mother and grandmother Dora Jones. Her grandmother would have a big Sunday dinner with her good china for a lovely meal. She did that for as long as she could cook.
Her mother enjoyed baking, and Lyn enjoys baking on weekends and holidays. She cherishes the memory of baking at Christmas time with her mother. They would bake all day on Christmas Eve. She carries on that tradition for her children and now grandchildren.
Thanksgiving and Christmas are big holidays for the family with Lyn's siblings and their families coming to their house. Generally, there are 25 at both holidays at their home. Everyone will bring a favorite dish. Grandmother's Corn Casserole is a must have at holidays.
Lyn makes the Crock-Pot Dressing, which will stay hot for serving. The Slow Cooker Peach Cobbler is also good for company as it stays warm for serving with vanilla ice cream.
Other favorite desserts include her maternal grandmother's Mama Hocutt's White cake with Caramel Icing, which is great for Thanksgiving, Mother's Apricot Brandy Pound Cake and Myrtle Poe's Chocolate Pound Cake.
Lyn has treasured her family's recipes that are handwritten by her grandmother and mother. To preserve them, she has framed some of her favorite ones. "They are like heirlooms," said Lyn. "I was looking through my grandmother's recipe box, and there were so many there from her friends. They shared recipes. It is such a personal thing when you write it down and give it to someone. I am afraid we are going to get away from that with digital recipes."
Miss Lyn's Fudge, a recipe from a marshmallow jar, is a family favorite for Christmas. Lyn makes it in a heavy saucepan that was her mother's. The family calls it "the fudge pot." When Emily tried making the fudge in a regular saucepan, it scorched. Lyn and David found the saucepans at an online store selling vintage items and purchased pans for the girls to continue the tradition.
Lyn is looking forward to cooking family favorites for their grandchildren. Her daughters and daughter-m-law enjoy cooking too. They enjoy sitting around the table in the kitchen and talk while cooking.
Lyn feels there is nothing like living in Opelika. "I think it is the best kept secret in Alabama.. It has changed in many ways since I was little and came to see my grandmother, but in a way it is just the same. It is the people who grow up here who want to stay here to raise their families. With the friends we have, we raised our kids together and are now welcoming their grandchildren.
"Kevin and Kaitlyn wanting to move back here to raise their family speaks volumes for Opelika and the support," added Lyn. "In the short time they have been here, people have come to welcome them and brought food. I am so thankful David and I decided to live here and raise our kids, and they are thankful to have grown up in Opelika with the support of church, school and others.
"I think being in a community that embrace people is so important and so obvious in Opelika," Lyn said. "The other day I took Jones to ride the train at the park, and Christmas in a Railroad Town for families is coming up. All the things for families make it a wonderful place to be."
Ann Cipperly can be reached at recipes@cipperly.com.
Slow Cooker Chili
2 lb. ground beef or ground turkey
2 cans diced, fire roasted tomatoes
1 1/2 — 2 cans tomato sauce
3 Tbsp. tomato paste
2 cloves garlic, minced
1/3 cup water
1 whole sweet onion, chopped
Chili Seasoning:
2 ½ Tbsp. chili powder
2 Tbsp. cumin
1/2 tsp. crushed red pepper flakes
1/4 tsp. cayenne pepper
1 tsp. onion salt
1 ½ tsp. garlic powder
1 tsp. paprika
½ tsp. ground cinnamon
1 Tbsp. salt
1 tsp. ground black pepper
Brown the meat and drain.
Add tomatoes sauce and cooked meat to the slow cooker and stir.
Mix tomato paste and water together in a bowl then pour into slow cooker and stir.
Add diced tomatoes and onion and stir.
Add chili seasoning and minced garlic to the slow cooker and stir.
Set to low and cook for 4 ½ to 5 hours.
Stir occasionally.
Change temperature to medium and cook for another 1- 1 ½ hours.
(Total cook time should be 6 hours.)
Serve with shredded cheddar cheese on top and Frito scoops.
Crock Pot Stew
1 lb. ground beef
1 chopped onion
1 can Castleberry Barbecue Pork
2 cups cooked chicken
2 cans stewed tomatoes
1 can whole kernel corn
1 can cream style corn
½ bottle hot ketchup
½ bottle regular ketchup
1 tsp. lemon juice
1 tsp. Worcestershire sauce
Combine ingredients in crockpot and cooked on low for 8 hours.
Crock Pot Dressing
6 cups crumbled cornbread
2 ½ cups crumbled white bread
2 cans cream of chicken soup
½ cup chopped onion
½ cup chopped celery
4 cans chicken broth, divided
1 stick butter
1 tsp. poultry season mix
Sauté celery and onion in 1 can chicken broth.
Heat 3 cans of chicken broth and butter.
Mix all ingredients and put in crock pot. Cook on high for 2 hours then low for 2 hours.
Slow Cooker Peach Cobbler
2 21-oz. cans peach pie filling
1 box vanilla cake mix
8 oz. butter
½ cup walnuts
Place all ingredients in slow cooker and cook on high for 2 to 2 ½ hours. Serve hot with vanilla ice cream.
Family Favorite Easy Chicken Croissant Casserole
1 can crescent rolls
1 cooked chicken breast
Grated cheese
1 can cream of chicken soup
1 cup milk
Combine 1 cup milk and can of cream of chicken soup in bowl and set aside.
Pull apart chicken breast then separate crescent rolls into triangles. Add chicken and grated cheese to each triangle and roll, turning corners up. Place in greased baking dish and cook at 400 degrees until slightly brown.
Remove dish and pour milk and soup mixture over the croissants then place back into oven. Continue baking for approximately 5 minutes or until dough in done and cheese is melted, and soup mixture is bubbling.
Serve with rice and favorite green vegetable and enjoy.
Dora Jones' Corn Casserole
1 oz. package yellow rice
1 can cream of chicken soup
1 can Mexicorn
1 stick margarine
Crackers
Cook rice by directions on package. Mix all ingredients and pour into casserole dish. Cover with crackers crumbs. Bake at 250 degrees for 35 to 40 minutes.
Mother's Fried Okra and Potatoes
Slice okra into ¼ inch slices. Peal and cube potatoes. Dredge okra and potatoes in a mixture of two parts self-rising flour and one-part self-rising meal. Fry in oil until slightly brown and potatoes are tender. Drain on paper towels. Lightly salt.
Miss. Lyn's Chocolate Fudge
3 cups sugar
5 oz. can evaporated milk
1 lb. semi-sweet chocolate chips
7 oz. jar marshmallow cream
1 tsp. vanilla
Mix sugar, butter and evaporated milk into heavy saucepan, or double boiler. This is important to keep the mixture from burning. Bring mixture to rolling boil. Reduce heat to medium and continue boiling for 5 minutes. Stir frequently to avoid burning.
Remove from heat, add chocolate chips, and stir until melted. Stir in marshmallow cream and vanilla, pour into pan. Cool for 30 minutes.
Brunch Casserole
1 pkg. crescent rolls
1 pkg. sausage
8 oz. mozzarella cheese, grated
4 eggs
¾ cup milk
½ tsp. salt
¼ tsp. pepper
Butter 13 x 9 casserole dish. Roll out crescent rolls in pan and pinch edges together. Sauté sausage until partially done and drain well. Spread sausage over rolls then cheese. Mix mild, eggs, salt and pepper and pour over cheese. Bake at 425 degrees for 15 minutes.
Mother's Country Fried Steak
Batter cubed steak in flour, salt and pepper mixture. Heat oil in electric skillet and brown steaks slightly. Add water to cover steaks. Simmer until steaks are tender, approximately 40 minutes.
Mama Hocutt's White Cake with Caramel Icing.
2 ½ cups sifted cake flour
2 tsp. baking powder
½ tsp. salt
Sift above ingredients together.
2/3 cup shortening
1¼ cup sugar
1 cup milk
1 ½ tsp. vanilla
5 egg whites
½ cup sugar
Cream 2/3 cups shortening with 1 ¼ cups sugar.
Add dry ingredients alternately with 1 cup milk and 1½ tsp. vanilla to creamed sugar and shortening. Fold in 5 egg whites beaten to meringue with ½ cups sugar.
Bake in 2 layers 350 degrees for 25 minutes.
Caramel Icing:
3 cups sugar, divided
1 cup milk
½ stick oleo
Measure 2½ cups sugar and 1 cup milk in saucepan and bring to boil. Remaining ½ cup sugar caramelize. (To caramelize, put in iron skillet and slowly cook. As it gets hot it will turn brown. Keep it hot until ready to pour into other mixture.) When first mixture comes to a rolling boil, have caramelized sugar hot, pour into syrup at one time. Frost cake.
David's Meatloaf
1½ lbs. lean ground beef
1-2 beaten eggs
1 white chopped onion
½ cup chopped bell pepper
1 cup soft breadcrumbs
1 cup milk
½ Tbsp. Worcestershire sauce
½ tsp. black pepper
½ tsp. salt
1 clove minced garlic
2 Tbsp. brown sugar
½ cup ketchup
1 tsp. mustard
3-4 slices uncooked bacon
Combine ground beef, eggs, onion, bell pepper, breadcrumbs Worcestershire sauce, pepper, salt and minced garlic in large bowl. Mix thoroughly. Stir in milk 1 tsp. at a time until mixture is moist. Pack firmly in lightly greased 5 x 9 loaf pan. Next, combine mustard, brown sugar and ketchup. Mix well and pour over meat loaf. Place bacon slices on top. Cook at 375 degrees for 50 to 60 minutes.
Mother's Apricot Brandy Pound Cake
3 cups sugar
½ lb. (1 cup) margarine , room temperature
6 eggs
3 cups all-purpose flour
¼ cup soda
½ tsp. salt
1 cup sour cream
½ tsp. rum flavoring
1 tsp. orange flavoring
½ tsp. almond flavoring
½ tsp. lemon
1 tsp. vanilla
½ cup apricot brandy
Cream margarine and sugar, add eggs one at a time. Add soda and salt to flour and mixed alternately with sour cream. Add flavorings and brandy. Bake 1 hour at 325 degrees in greased tube pan.
Myrtle Poe's Chocolate Pound Cake and Icing
½ lb. butter (1 cup), room temperature
½ cup shortening
3 cups sugar
5 eggs
3 cups plain flour
½ tsp. salt
½ Tbsp. cocoa
1 cup sweet milk
1 Tbsp. vanilla
Cream butter and shortening, add sugar and eggs. Sift dry ingredients together and add vanilla. Add alternately with cream mixture. Bake at 325 degrees for 80 minutes.
Icing:
2 cups sugar
½ cup coca
1 stick oleo
½ cup sweet milk
Mix and boil approximately 1½ minutes. Pour over cooled cake while hot.
Egg Bites
1 dozen eggs
Salt and pepper to taste
1 Tbsp. garlic powder
Paprika (a few pinches)
Diced onion
Diced peppers
Ground sausage (optional)
Optional: Just a little bit of milk to make them fluffy.
Tools: 12 cup muffin pan, mixing bowl
Preheat oven to 350.
Cook sausage over the stove on medium heat until fully cooked. Drain grease and let cool during next steps.
Mix eggs, salt, pepper and garlic powder in a mixing bowl.
Pour egg mixture into muffin tin only filling the cups about 80%.
Tip: Use silicone muffin cups for easy removal. Do not use paper muffin cups.
Next add ground sausage to the muffin cups, along with your diced peppers and onion.
Sprinkle just a little paprika on top.
Bake for 10 to 15 minutes. Because oven temperatures vary, it might take a little more or little less time. Start out with 10 minutes then see how they look. They should be fluffy with no liquid remaining. Try not to let them brown.
Serve hot and enjoy.
Refrigerate leftovers. They will keep for about a week. This is a great way to meal prep breakfast for the week.
Gladys Stokley's Brown Rice
1 stick butter
1 cup long grain white rice
1 can beef consommé soup
1 can French onion soup
Melt butter in pan, then pour in white long grain rice. Stir until hot.
Pour both cans of soups into serving dish; add hot rice and stir until well blended. Bake at 400 degrees for 40 minutes.
Easy Chicken Pot Pie
3 Tbsp. butter or margarine
¼ cup all-purpose flour
1 ¼ cup chicken broth
2 cups cubed, cooked chicken
1 bag frozen peas
1 bag frozen carrots
½ tsp. salt
¼ tsp. poultry seasoning
¼ tsp. pepper
1 onion
Garlic to taste
Pillsbury pie crust
Sauté finely chopped onion, garlic, peas and carrots.
Melt butter in a heavy Dutch oven; add flour, stirring until smooth. Cook 1 minute, stirring constantly. Gradually add broth and milk; cook over medium heat, stirring constantly until thickened and bubbly. Stir in remaining ingredients.
Pour chicken mixture into pie dish lined with pie crust. Top with pie crust and cut slits to allow steam to escape. Bake at 400 degrees for 25 to 30 minutes.
Hot Chicken Salad
2 cups cooked shredded chicken
½ chopped onion
1/3 cup celery
1 can water chestnuts diced
2/3 cup cooked rice
1 can cream of chicken soup
½ cup mayonnaise
Miz all ingredients and place in baking dish. Spread crushed crackers on top. Bake at 400 degrees for 15 minutes or until bubbly.
Whipping Cream Pound Cake
3 cups sugar
2 sticks butter, room temperature
6 eggs
½ pint whipping cream
1 tsp. vanilla
3 cups cake flour, plus 3 tsp.
Cream sugar and butter. Add eggs one at a time. Add flour and whipping cream alternately. Add vanilla. Pour into well-greased tube pan or two loaf pans. Put into cold oven and bake at 300 for 1 hour and 30 minutes. Test for doneness by inserting toothpick near center.