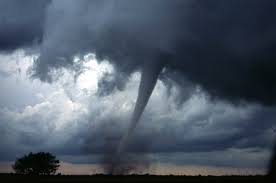 By Shawn Kirkpatrick
Opelika Observer
Severe weather does not discriminate against the town, the day or the week where it strikes.  It's Severe Weather Preparedness Week, and Lee County Emergency Management Agency (LCEMA) officials want all citizens to be aware of the different types of severe weather they face, how to get watch and warning information and how to keep their families safe.
"It's something most people don't think about until it is happening. We use to have a spring tornado season, now we don't have that. It goes on all year long," said Rita Smith, Lee County Emergency Management Agency. "We had tornadoes in November and December last year. There is no method, rhyme or reason anymore to the trending weather conditions."
Smith said you now have to think about it all the time. She stressed the importance of being vigilant all year long, and taking care of you, your family and neighbors during flooding, tornadoes, thunderstorms, lightning and winter storms.
Severe weather can develop very quickly. Once a tornado approaches or flooding develops, it's too late to start working on a plan. "Do you know where your family's safe places are?" Smith said. "Do you have a weather radio for an inside warning? We want citizens to know that the outdoor warning sirens are exactly that. We stress these are not intended for you to hear inside your house. If you do that's a plus, but you don't want to depend on that. That's why a weather radio, with batteries, is so important."
Smith also stressed putting a weather survival kit together now. She said a basic kit should have a gallon of water per person, per day, for 3 days, non-perishable food, a weather radio with batteries, flashlights, a first aid kit, a whistle to signal for help, a charged cell phone, and a cordless, portable charger. "It seems overwhelming, but you can put it all in a clear plastic tub right now and it will be there ready to go when you need it," Smith added.
Having one emergency contact for your family is also important, according to Smith.
"Pick one person that each family member will call. And it would be really great if that person was out of town in case your area was hit. Texting is better than a phone call so you don't tie up the lines for emergency response," Smith explained. "Have a plan where you would meet. Practice how you get there. Pick a spot outside your neighborhood in case you can't get home."
Smith is offering free help programming weather radios. She said to bring it by the LCEMA office at 908 Ave. B in Opelika and they will program it for free, but bring batteries. Also, if you have a generator, they can show you how to operate and maintain it.
Severe Weather Preparedness Week ends Feb. 23. For more information on being prepared during severe weather go to leecoema.com or download the agency's app for free. The Observer is giving away a NOAA Severe Weather Radio. To enter, send us your severe weather preparedness plan. You can email us your plan to Editor@opelikaobserver.com or message us via our Facebook page. One winner will be drawn from all entries and the winner will be announced on Feb. 28. The NOAA Weather Radio has been provided by Midland. Contest Rules: Winners of contests can only win once every six months. Please vist our Facebook page: www.facebook.com/opelika.observer/ for more information.