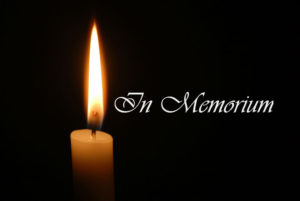 Joan Rita Deane passed away peacefully at EAMC on Dec. 19, 2022. She was born in Rochester, New York, and was a graduate of John Marshall High School. Following high school, she worked in the bond department at the Lincoln Rochester Trust Company, until her marriage to Howard Deane, also of Rochester, in 1956. She is survived by her five children: Bob Deane, Joan N. Deane, Nancy Williams, Pamela Romines and Mary Toombs.
Joan was a meek and gentle servant who left a legacy of goodness for all who knew her. She demonstrated her love of others through acts of hospitality, shaped by a passion for cooking and baking. In her spare time, Joan volunteered for the Red Cross and worked as an assistant to the school nurse. She was a talented artist, and her creative endeavors included painting and sewing quilts. She had a heart for animals, particularly long-haired cats.
Joan fostered a warm and loving environment that blessed everyone who entered her home. The daily example she set for her children instilled in them respect and compassion for others. She was truly the heart of her family. She will be missed every day for the rest of our lives.
Visitation was held on Dec. 28, 2022, at St. Michael Archangel Parish in Auburn. This was followed by a funeral mass. Joan was buried in Town Creek Cemetery.
The family respectfully declines flowers and recommends instead memorials be directed to St. Michael the Archangel Church, 1100 College St. Auburn, AL 36830.