BY KINLEY BESHERS
FOR THE OPELIKA OBSERVER
The J.W. Darden Foundation was honored to present the J.W. Darden Scholarship Awards to three graduate students in healthcare departments during a ceremony in the J.W. Darden House in Opelika on Tuesday, July 20.
The three recipients, Sandra (Sandi) Perry, Rachel Friend and Chris Martin, were each invited to the house along with their family and loved ones to honor and celebrate their accomplishments.
The J.W. Darden Foundation committee reviews the applications and makes the official decision on who receives these awards. Generally, three students are awarded these scholarships each year.
These scholarships are awarded in honor of Dr. J.W. Darden, the first African-American physician in the city of Opelika during the early 20th century.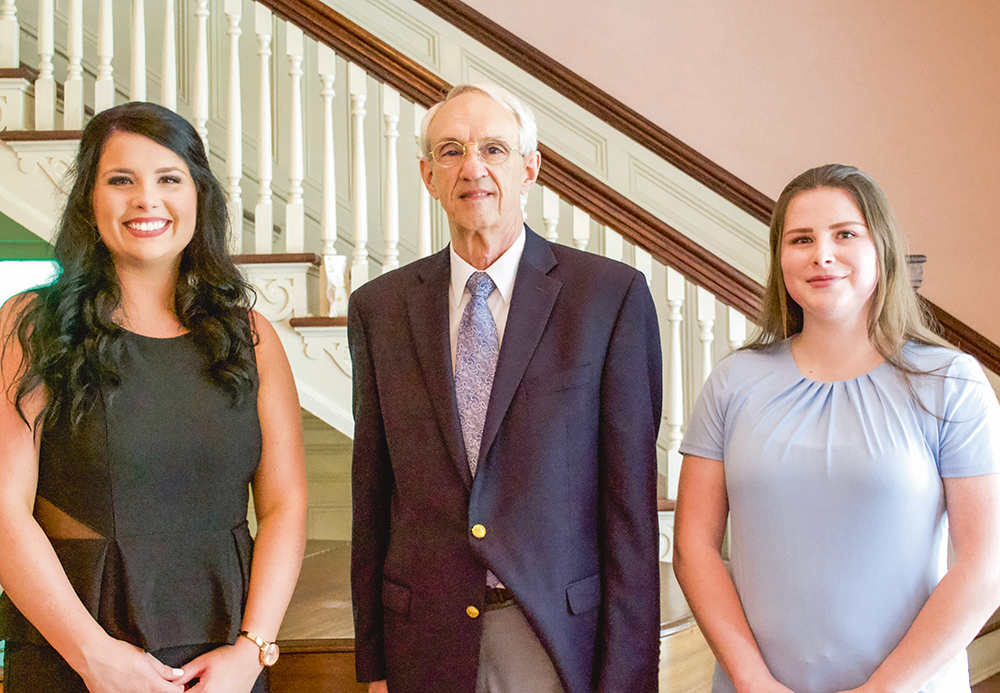 When deciding who receives the scholarship awards, the committee looks for postgraduate healthcare students who don't necessarily have to be local, but are willing to provide their professional healthcare services in rural Alabama, much the same as Dr. Darden.
When applying, the students were asked to answer a few questions and write an essay, expressing how they plan to serve southeastern Alabama in the healthcare field.
The committee saw the chosen recipients as catalysts for improvement and innovation within the healthcare field in the future for rural areas.
One of the three recipients is Sandi Perry, from Clanton, Alabama, a third-year student in Harrison School of Pharmacy at Auburn University. Perry completed one year of her undergraduate degree at Jeff State in Birmingham, and is committed to serving community-based care.
"The people that nominated her described her as empathetic and one who definitely goes the extra mile for her patients' needs," said Foundation Committee Member, Kathy Jo Ellison.
Another third-year postgraduate student in the Harrison School of Pharmacy, Rachel Friend, is from Deatsville, Alabama, and completed her undergraduate degree at Auburn University.
Friend has been in school since 2016 and has earned herself a 4.0 GPA.
She volunteers in the service committee at Auburn University, serves a part in providing immunization clinics and is a member of Equal Access Auburn.
"She seeks to serve those in rural Alabama with advocacy and quality patient care," Ellison said.
Friend said she was inspired by her grandmother to participate in the healthcare field in rural areas.
"She was giving care and saw some care in rural Alabama that wasn't as good for her grandmother as it needed to be and it encouraged her to go make a difference," Ellison said, regarding Friend's inspiration.
The third recipient, Chris Martin, is an assistant clinical professor at the Joseph and Nancy Fail School of Nursing at William Carey University in Mississippi.
Martin earned his undergraduate degree from Auburn University in 2012, his M.S. from Samford University and plans to graduate next year with his Ph.D. at William Carey University.
"He believes in the words of Jesus that says, 'to whom much is given, much is required', and he is living that out," Ellison said. "He is committed to preparing leaders to meet the diversities of our workforce as we move forward, and we know we need that in healthcare."
The ceremony consisted of J.W. Darden Foundation board members, scholarship recipients and their families and Associate Dean for Academic Programs at the Harrison School of Pharmacy, Paul Jungnickel.
"We're just so grateful and thankful that we are able to perpetuate our legacy by giving scholarships for people in postgraduate studies in the medical field," said Foundation President, George Allen.
Due to the effects of COVID-19, the foundation closed the house for safety orders and is in the process of reopening and expanding.
"Even though we couldn't do the gala this year, we're super excited to get together at this time and honor the legacy of Dr. Darden," Ellison said.
The foundation will soon reopen their wellness center every Wednesday for people to receive healthcare services such as health screenings and blood pressure tests.
Allen and the foundation committee are passionate about sharing Dr. Darden's legacy and providing and expanding healthcare services in rural and southeastern Alabama.
"Knowing what he had done for Opelika, we started this foundation and purchased this house, renovated it and just had a passion for Opelika and trying to perpetuate the legacy of J.W. Darden," Allen said.
The foundation hosts multiple fundraisers every year and plans on hosting its annual Black Tie Gala again in 2022.
For more information or to volunteer help to the foundation, contact 334-663-3164.