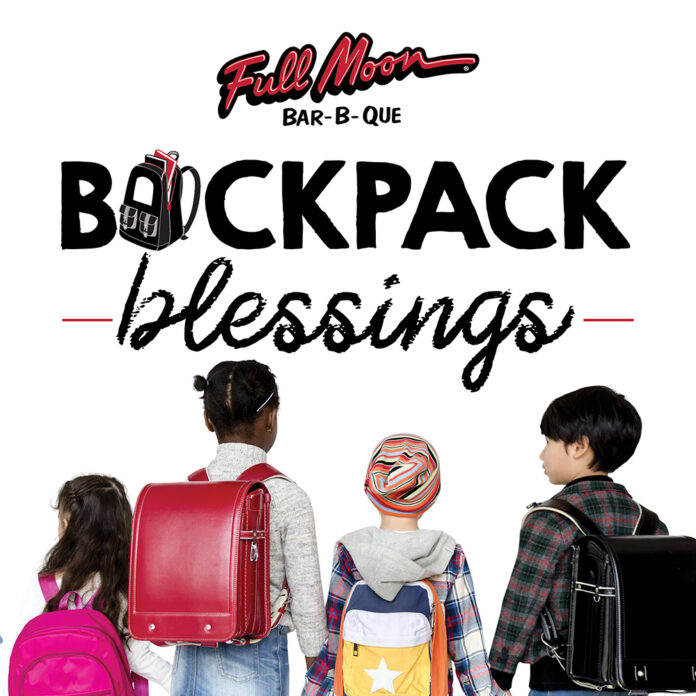 Courtesy of Full
Moon Bar-B-Que
Full Moon Bar-B-Que announced the launch of a statewide giveback program titled 'Backpack Blessings' to provide food, supplies and hope to the children of Alabama. From Sept. 15, 2020 through Nov. 30, 2020, Full Moon BBQ will be accepting nominations through an online nomination form.
Multiple recipients will be selected weekly throughout the 12-week campaign to receive a Backpack Blessing valued at over $250 and including a $25 gift card to Full Moon BBQ, $25 gift card to Walmart, Full Moon BBQ leather planner with calculator, USB flash drive memory stick, school supplies, hand sanitizer, disposable face masks and an array of Full Moon BBQ swag items.
"2020 has thrown many unexpected and undeserved curveballs at our communities; whether that be loss of jobs, virtual learning, or a general shift in daily activities," said David Maluff, Co-Owner of Full Moon BBQ. "Full Moon BBQ is dedicated to the communities we serve and look forward to delivering food and supplies to children and their families while also providing a glimmer of hope during a tumultuous season."
Full Moon BBQ will be selecting multiple children weekly throughout the 12-week initiative to receive an Under Armour backpack shipped directly to their residence. To nominate a deserving child in the state of Alabama, visit http://www.fullmoonbbq.com/backpackblessings and complete the form with detailed and specific information explaining why your nominee is deserving of a Backpack Blessing. Submissions may stay anonymous by request.
"After the high demand from Full Moon BBQ's 'Feed a Friend' giveback initiative during spring 2020, as a company and community partner we were focused on pushing forward with a new campaign to continue to keep our communities fed, both emotionally and physically," stated Joe Maluff, Co-Owner of Full Moon BBQ.
For more information about Backpack Blessing and Full Moon Bar-B-Que, please visit fullmoonbbq.com or contact Krista Conlin at Krista@kcprojects.net.
About Full Moon Bar-B-Que
Full Moon Bar-B-Que has been in operation since 1986. The Maluff brothers, David and Joe, have grown the business while continuing a family-owned tradition that caters to folks who know great 'que from the rest. The wood smoke from every Full Moon restaurant's fire pit shows the Birmingham-born brothers' commitment to top-notch bar-b-que. At the same time, they satisfy a variety of tastes with fresh salads, hand-breaded chicken tenders, farm-raised catfish, Buffalo-style wings and overstuffed baked potatoes.
From the famous Full Moon chow-chow to the baked-fresh-daily Half Moon cookies, Full Moon Bar-B-Que makes sure to use the freshest ingredients in their homemade selections. Most importantly, it's all served with a healthy helping of true Southern hospitality. You can dine in, get it to go or take advantage of Full Moon's catering and portable BBQ pits. However you choose, Full Moon will have you beaming! Full Moon is the "Best Little Pork House in Alabama."