CONTRIBUTED BY
EAST ALABAMA YFC
AUBURN —
East Alabama Youth for Christ held its eighth annual Comedy Café on Monday, Nov. 14 and Tuesday, Nov. 15 at First Baptist Church of Opelika. More than 400 guests attended to see the show and to learn about the mission and ministry of EAYFC. Staff, volunteers and youth members shared testimonies before comedian Joby Saad performed for the crowd.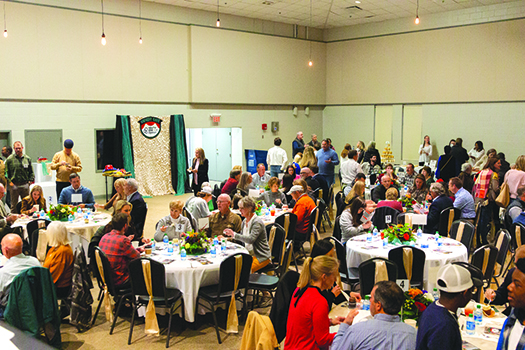 Sponsors for the event included the Hudson Foundation, J Roarke Plumbing Co., Oasis Heating & Air, Purpose Baptist Church and Trinity Presbyterian Church.
Desserts and drinks were contributed by Gigi's Cupcakes, Ross House Coffee and McAlister's Deli.
The event raised more than expected in funding, helped secure monthly donors and attracted volunteers for the ministry.
YFC Executive Director Tabitha Vasilas appreciated the community engagement and partnership for this event in enabling the ministry to urgently reach youth for Christ.
"I would like to thank all of our sponsors, donors, guests and volunteers for helping this event continue to be such a fun and successful fundraiser," Vasilas said. "We are making an eternal impact together. As the executive director, I make the commitment to boldly proclaim the good news of Jesus Christ and unashamedly invite others to join us in our efforts to do so. This good news is the very power to save souls and to set captives free. God is faithful."
To partner with Youth for Christ in reaching the youth in the community by getting involved or becoming a giving partner, visit eastalabamayfc.org or email yfc@eastalabamayfc.org.