BY HANNAH LESTER
HLESTER@OPELIKAOBSERVER.COM
OPELIKA —
The Dream Day Foundation held its 24th annual MLK Day Celebration on Monday as students of many ages performed skits, songs, dances and more to educate and entertain.
"Our theme, 'Reimagining the Dream of a Brighter Future,' represents our ability to follow Dr. King's model of dreaming of better days ahead," said one student at the start of the program. "We are all able to reshape our future by making wise decisions, leading wholesome lives, helping others and spreading love and cheer to all."
The theme of this years program featured several "panels" on a show called "The Brighter View" in which students representing figures such as Dr. Martin Luther King Jr., Michelle Obama, Colin Kaepernick, Lizzo and more discussed issues such as voting, justice, freedom of expression, self-care and planning for the future.
"Me and Barack have fought hard to demonstrate the importance of the vote," said the student portraying Michelle. "In spite of all the bad things that have happened to our people, I need our young folks to understand that when someone is cruel or acts like a bully, we do not stoop to their level. No, when they go low, we go high."
The group discussed difficult issues such as Emmett Till's lynching in 1955. Till was only 14 when he was abducted and lynched for the accusation of whistling at a white woman. The woman later admitted to lying about the whistling.
"At the young age of 14, I lost my life to the hands of people who did not believe that I deserved justice," said the student representing Till. "Two men nearly beat me to death, gouged out my eye and shot me in the head, tied my body to a cotton gin fan, wrapped in barbed wire and threw it into the river. Where's the justice in that? For many years my mother fought for my justice.
"In 2022, President Joe Biden signed the Emmett Till Anti-Lynching Act, which makes lynching and kidnapping federal hate crimes. Because of her diligent fight, justice for me was delayed but not denied."
Students portraying figures such as Cardi B and Kyrie Irving spoke about watching what they say to represent themselves well and especially being careful on social media.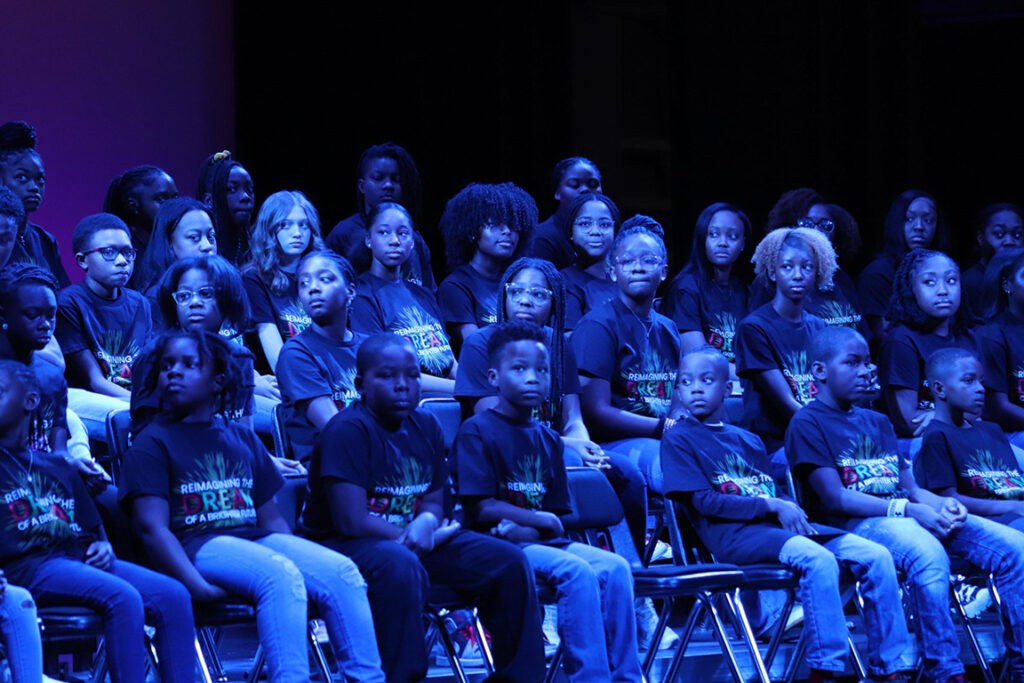 Following the students' production, Program Co-coordinators Dr. Camille Floyd and Dr. Karen Anderson presented the annual Dr. Martin Luther King Jr. Dream Day scholarships to two students: Evan Carson and Ashley Pitts.
The group then presented the annual Dream Achiever Award to Micah and Blake Melnick, founders of the BigHouse Foundation.
"This award is given every year to an individual or an organization who has exemplified the characteristics of Dr. Martin Luther King Jr.," said Founder of the Dream Day Foundation Marion Sankey. "We can go all over Lee County and find plenty of people. The selection committee has a difficult time each year making a decision on who should receive this award.
"We thank you for all you do for this community; we appreciate you and this community appreciates you."
Micah said it was nice to have the community recognize what it is they hope to accomplish with the BigHouse Foundation.
"We love this community," she said. "… Our hearts are just so indebted to this community, and we love Lee County and East Alabama."