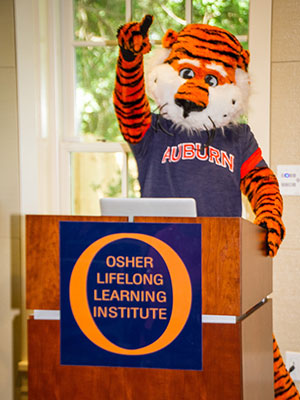 Special to the
Opelika Observer
The Osher Lifelong Learning Institute at Auburn University (OLLI at Auburn) will host its lecture series entitled Wisdom Wednesday's on Oct. 24 from 2:30 – 4 p.m. at the Jule Collins Smith Museum of Fine Art, which is located at 901 S. College St. in Auburn.
OLLI members, guests and friends are all invited to learn more about OLLI at Auburn course offerings, social engagements and initiatives.
Dr. Robert B. Kane will provide OLLI at Auburn with a presentation on his book "So Far From Home."
Although now serving as the Chief Historian, Air University, Maxwell AFB, AL, Kane spent 27 years in the Air Force before retiring as a lieutenant colonel.
His thrilling account in the newly published So Far From Home tells for the first time the story of the Royal Air Force and Free French flight training programs in central Alabama, covering the origins, the issues, and the problems that occurred during the training programs, and the results and lessons learned.
During World War II, the US Army Air Forces (AAF) trained aircrew members from 29 Allied countries. The two largest programs were for Britain and France.
The British government asked the United States to train its new pilots until it could get its own flight training program underway. Maxwell and Gunter fields near Montgomery, Alabama were authorized to conduct this training. Between 1941 and 1943, 4,300 of more than 7,800 RAF cadets sent to the United States completed the three-phase AAF flight training program.
Within three months the phase 2 school at Gunter Field began training Free French Air Force flight cadets. By November 1945, 2,100 French flight cadets out of the 4,100 who came to the United States had received their wings. "So Far from Home" is the first book to tell this fascinating piece of history, which describes among other things the difficulties of translating technical materials into the proper French terms, the need for cadets to be exposed to American culture prior to training, and the creation of acclimatization programs for families.
The program's success paved the way for future training of NATO and other Allied forces in the years after World War II.
Dr. Robert B. Kane teaches part time for Troy University, AL, and the American Military University, WVA. He has received numerous Air Force awards. He is the author of Disobedience and Conspiracy in the German Army, 1918-45, book reviews, and short articles for various encyclopedias.
OLLI at Auburn offers academic not for credit programs for adults aged 50 years or older through program sites at Auburn University, AUM in Montgomery, Alabama, and the Chambers County Public Library in Valley, Alabama.
OLLI at Auburn is a program of the Office of the Vice President for University Outreach at Auburn University. OLLI administrative offices and select classes are located at the historic Sunny Slope property, which is located 1031 S. College St.
For more information regarding this event, or if one would like to assist the organization as a volunteer faculty member, volunteer service assistant or sponsor, contact Ileeia A. Cobb, Ph.D., OLLI Director by calling334-844-3105, emailing olli@auburn.edu, or visit www.olliatauburn.org.