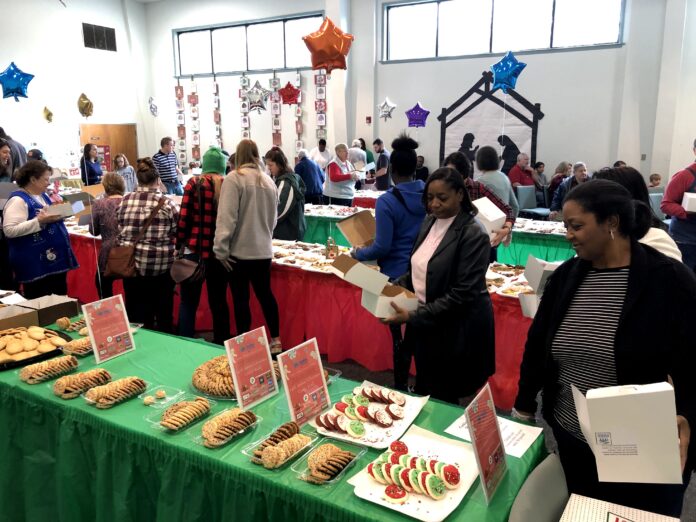 Story By Wil Crews
Photos Contributed By Habitat For Humanity
Twenty-four years strong. That's how long Habitat for Humanity's annual "Cookie Walk" fundraiser has generously welcomed in the Christmas holiday at Grace United Methodist Church in Auburn.
Typically, guests attending the spirit-filled celebration would "walk" the aisles, displayed with thousands of home-baked cookies and goodies, and pick their favorites. Getting their fill of decorated delectables, shoppers pay $6 per pound for their tasty treats.
However, typical is the last word anyone would use to describe 2020. COVID-19 has affected even the jolliest, and its impact will affect this delicious community festivity.
This year, to adhere to strict COVID-19 and social-distancing guidelines, the 25th annual 'Cookie Walk' will be a drive-through event in the parking lot of Grace United Methodist Church at 915 E. Glenn Ave on Saturday Dec. 5 from 9 to 11 a.m.
"It's not going to be a cookie sale like it's always been," said Mark Grantham, the executive director of Auburn/Opelika Habitat for Humanity. "Now were going to have just a one 'Day of Giving Event.' Its more or less a donation drive instead of a cookie sale like we typically do."
Drivers will enter the church parking lot and will drive through a line of 69 Habitat Homeowners, volunteers and supporters — each one holding a wooden framed house that represents the 69 homes that Habitat for Humanity has built in Lee County. At the end of the line, monetary donations — card or cash — will be collected by volunteers. To honor the 'Cookie Walk' theme, each donor will receive an individually wrapped Habitat for Humanity cookie.
"In the past, you have come to 'Cookie Walk' for what you can get; this year, come for what you can give," said a Habitat for Humanity press release.
If anything, the need for affordable housing has only increased during the pandemic.
"A lot of people have been hurt by this, but a lot of people have still been blessed, so maybe there are people who will still be willing to give and to help us," Grantham said.
Every year, the event is sponsored by the WeHelp Coalition of 12 local churches.
To make up for the expected loss in fundraising money, Grantham said the churches plan to step up by organizing offerings and donations specifically for Habitat for Humanity.
"We feel like just what the churches are going to do will offset what we typically raise," he said. "Hopefully we will have people from the community that see about it, hear about and come participate too."
The decision to go forward with the 'Cookie Walk' — even in its altered state — is a cohesive attempt to bring together friends, volunteers and Habitat for Humanity board members to raise funds to build new homes in Lee County.
"The money given to the 'Day of Giving Event' this year will help us build Home No. 70 and 71 in Auburn," said Auburn/Opelika Habitat for Humanity Board President Karen Turner. "Our Habitat partner families work hard to volunteer 500 hours building other homes and their own, complete homeowner and financial classes, save a down payment and make a nonprofit mortgage payment that is recycled to build more homes. Together we build homes, community and hope."