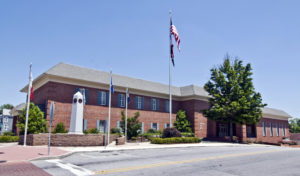 By Morgan Murphy
For the Opelika Observer
Earlier today, Opelika Fire Chief Byron Prather held a press conference to address the current status of two Opelika firefighters who were injured in training exercises last week.
Capt. David Davis remains at UAB Hospital for treatment, while firefighter Henry Williford was released from Midtown Hospital in Columbus, Georgia, last Thursday night, and has since returned to work.
According to Prather, Davis is motivated to return and is ahead of schedule in his recovery, which has exceeded the expectations of his physical therapist.
"I believe the Lord is working a miracle with Capt. Davis," Prather said.
Prather added that the community has played a significant role in raising the morale of both Davis and the entire fire department.
The Alabama State Fire Marshall's Office is conducting a joint investigation with OFD to determine a cause, but Prather was unable to give additional details about the case and a timetable for its completion.
Preventing similar incidents in the future will be a major goal of both Prather and his team in future training exercises.
"We want to learn from this here, if we don't learn from this then we've put people's lives easily at risk, so we want to learn from this here. There will be changes, we will look at what happened and what we can do to prevent this from happening in the future," Prather said.
For more information or updates, visit the city of Opelika website or Facebook page.