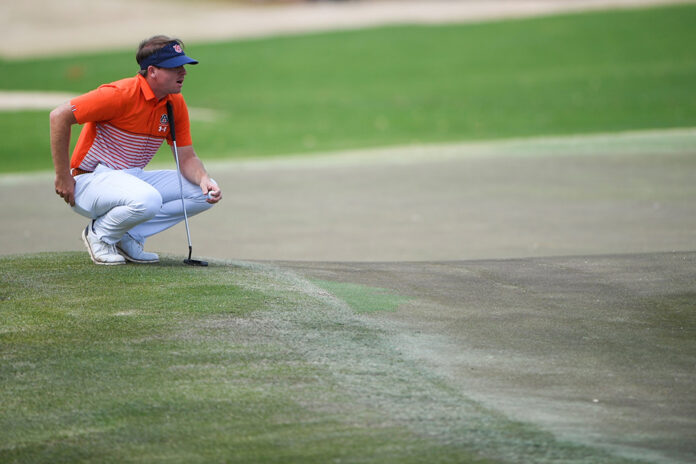 By Maddie Joiner
For the Opelika
Observer
Does your child love golf? Well, you are in luck because Auburn Golf Camps will be back this June to host its three-night 2021 Auburn Tiger Golf Camp. The camp will be June 7-10 and will be held at the Jay Key Golf teaching facility.
Campers can select to be a day camper for $799 or an overnight camper for $999. Fees include housing, all meals and all instructional sessions. There are still spots remaining, but applications will be processed on a first-come, first-serve basis. Enrollment will be capped at 60 campers.
The camp is open to boys and girls ages 9-18.
The Auburn Tiger Golf Camp is run by the Auburn men's golf head coach Nick Clinard, and this year he will be assisted by four Division I coaches including Corey Maggard, Auburn's associate head coach, Chad Wilson of Georgia State, Ben Hannan of South Alabama and Mike Wilson of UAB.
Clinard said having five DI coaches running the camp is very beneficial because they can give intentional instruction to campers and tell them how to play the game well and how to understand the rules.
After taking last summer off due to the COVID-19 pandemic, Clinard and his staff are excited to return to the course and coach kids.
"It's great [to be back]. It's an opportunity to help young people, help kids who want to get recruited or help beginners get introduced to the game" he said. "We're looking forward to sharing our knowledge and hopefully one day they will be in the position to play DI sports."
Check-in for camp will be at 2:30 p.m. CST on June 7 and check-out is 1 p.m. CST on June 10. For day campers, camp will begin around 9 a.m. and they will need to be picked up by 7 p.m.
The tentative daily schedule begins with short game sessions in the morning from 9 am. to noon and then a break for lunch. The afternoon consists of playing rounds and doing full swing drills. In the evening, a lot of campers opt to go back out and hit golf balls or play fun games such as whiffle ball.
Once campers have arrived at camp, they will be grouped by age and skill level to maximize their golf camp experience. There is no set skill level for campers, as there are beginner, intermediate and advanced groups.
"We put them in different groups with their different skill levels and our five Division I coaches work with them," Clinard said. "We group by ages as well, so a 9-year-old isn't with a 16-year-old."
Campers should show up with their golf bag, clubs, any hat or visor they may need and additional golf balls. Overnight campers should bring sheets, blankets, a pillow and towels as well.
While there is no golf-related difference between a day camper and an overnight camper, Clinard said staying in an Auburn dorm is a fun experience for most campers.
"When you're 13 or 14 years old you get to feel what it's like to be a student-athlete or just a student at Auburn," Clinard said.
Clinard has been running this camp since he arrived at Auburn in 2009 and plans to keep growing it.
"It has definitely taken off over the last decade and we plan to keep doing that," Clinard said. "We've been employing more coaches and marketing it more."
For more information regarding Auburn Tigers Golf Camp visit their website www.auburngolfcamps.com. There you can find registration information, pricing, packing lists and links to any necessary forms.