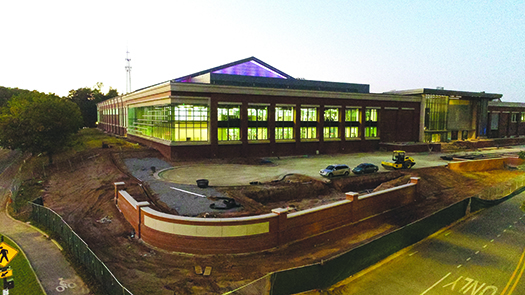 CONTRIBUTED TO THE OBSERVER
AUBURN —
Auburn's new football training facility will be known as the Woltosz Football Performance Center, and the weight room will be named the Creel Family Player Development Lab in recognition of leadership gifts. Auburn University's Board of Trustees approved the new names on Sept. 16.
The named spaces honor Walt and Ginger Woltosz, and Keith and Ginger Creel, members of Tigers Unlimited Foundation's Pat Dye Society, Auburn Athletics' highest level of giving.
"Once again, the Woltosz and Creel families have demonstrated their leadership and commitment to Auburn by their transformational giving," said interim Director of Athletics Rich McGlynn. "These named spaces will serve as permanent reminders to football student-athletes, coaches and the Auburn family of their steadfast dedication and inspiring generosity."
In 2019, the Woltoszes committed what was then the largest gift in Auburn Athletics history for the football performance center that now bears their name.
"We love Auburn," Walt said. "You look for things you can do to make the world a better place, and certainly, to help make Auburn a better place.
"Athletics are often the front door to the university to people who don't know much about Auburn. Academically, we're at a very high level, but many only come to know that first through the athletic programs."
"The Woltoszes and the Creels have a passion for supporting Auburn — and specifically Auburn student-athletes — that is second to none," said Tim Jackson, executive associate athletics director of Tigers Unlimited. "Their generosity toward this project is a game changer for our football program, continuing their broad support for many Auburn Athletics programs."
Walt earned bachelor's (1969) and master's (1977) degrees in aerospace engineering from Auburn University's Samuel Ginn College of Engineering, and was later awarded an honorary doctor of science by the university in 2021. Ginger graduated with a degree in business administration from San Jose State University and earned an MBA from the University of Phoenix.
Married 41 years, Walt and Ginger founded Words+ Inc. in 1981, creating communication tools for persons with severe disabilities, including Professor Stephen Hawking. Words+ products have been used by thousands of people around the world and have been recognized by the Smithsonian Institute.
Early in his aerospace career, Walt developed simulation and modeling software for rocket motors used in key space and military systems. In 1996, the Air Force veteran and his wife founded Simulations Plus Inc., applying similar technologies in health care to create software used by more than 200 pharmaceutical firms, including the world's top 25, helping to analyze new products and saving millions of dollars in research and development costs.
In addition to Pat Dye Society membership, the Woltoszes belong to Auburn's 1856 Society's President's Circle, Petrie Society, Foy Society and the Samuel Ginn College of Engineering's Keystone Donors. Walt is also a founding member of On To Victory, the nonprofit collective for Name, Image and Likeness (NIL) supporting Auburn student-athletes.
Keith Creel, a graduate of Jacksonville State University, serves as president and CEO of Canadian Pacific Railway following his military service as a commissioned U.S. Army officer. Ginger Creel graduated from the University of Montevallo and later earned a master's degree in special education. Native Alabamians, Keith was born in Anniston and Ginger is from Leeds.
Their daughter, Caitlin, graduated from Auburn University's Harbert College of Business and contributed to two equestrian national championships in 2016 and 2018 while earning SEC and national academic honors. Their son, Tanner, was a goaltender for the University of Connecticut hockey team, earning academic and athletic accolades.
The Creel family's philanthropic support for Auburn equestrian and football earned them membership in Auburn's most prestigious giving societies.
"Our commitment is to partner as much as we can, supporting the athletic program, to help Auburn to continue to develop student-athletes to become productive members of society, both in business and outside of business," Keith said. "It's an investment in the university so they, in turn, can invest in the students, enabling and equipping them to better serve society and the world, which is what Ginger and I believe we're all truly called to do in our lives on this earth."
Dedicated in August 2021 and set to house Auburn's football operations at the conclusion of the 2022 season, the Woltosz Football Performance Center features 233,428 square feet and includes indoor and outdoor practice fields. The $92 million facility is the largest athletics project in Auburn history.
The Creel Family Player Development Lab boosts 25,000 square feet of strength and conditioning equipment and training space.