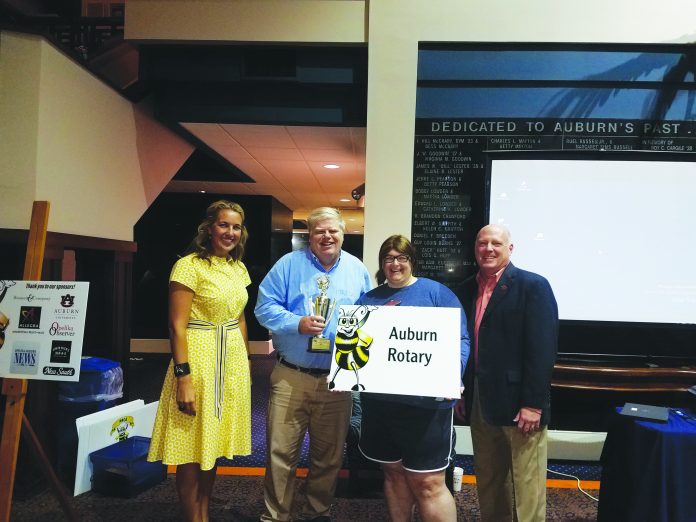 By Michelle Key
Editor
Alec Harvey and Jennifer Robinson from the Auburn Rotary Club team "Bee Afraid, Bee Very Afraid" took home the coveted trophy at last week's 15th annual Great Grown-Up Spelling Bee, hosted by the Lee County Literacy Coalition.
Team Bee Afraid outspelled 18 other teams, including last year's winners from the Auburn University Libraries.
The LCLC provides 1-on-1 tutoring as well as outreach programs to help individuals learn how to manage money, prepare for the drivers license exams, as well as help young adults planning to take the military entrance exam.
The mission
statement
The mission of the Lee County Literacy Coalition is to help adults learn to read, write and use mathematics at a level necessary to succeed and thrive in society.
The event
This year's event marked the 15th year of the spelling bee. Unlike traditional spelling bees where contestants can take their time and methodically spell out the words, contestants in the Great Grown-Up Spelling Bee are given two minutes to spell as many words correctly as they can.
Members for OLLI at Auburn – Osher Lifelong Learning Institute at Auburn volunteered as spell checkers for the event. Judges for the event were Lee County Sheriff, Jay Jones, Kim Hudson, co-founder of the Hudson Family Foundation and local comedian, motivational speaker and writer, Jody Fuller.
Rod Bramblett, host of the Auburn Football Review Show, served as the word pronouncer and Opelika Chamber of Commerce Director Pam Powers-Smith was the emcee.
The funds raised from this year's event will be used to continue to provide the programs and materials for assist young people and adults in achieving their educational goals.
The LCLC is located at 1365 Gatewood Dr. #519 in Auburn. For more information about the program, visit www.leecountyliteracy.org.