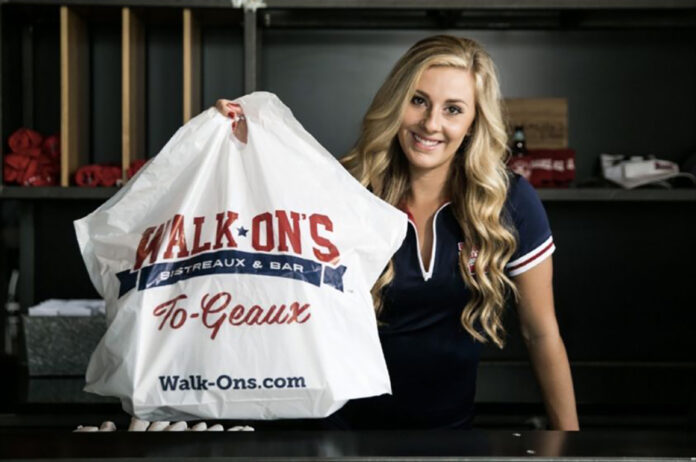 CONTRIBUTED BY
TIFFANY MARTINEZ
OPELIKA —
Walk-On's Sports Bistreaux is coming to Tiger Town.
The "place to be" on game day, Walk-On's is looking to hire up to 200 local team members for all positions — including chefs, servers, hosts, bartenders and bussers. The fun and inviting atmosphere makes Walk-On's the ideal spot to work, while still being a part of the game.
Located minutes away from the Auburn University campus at 3041 Capps Way in Opelika's Tiger Town development, Walk-On's will fit in perfectly within the 1 million square feet of retail and hospitality space that caters almost exclusively to Tigers fans.
Interested candidates can visit the restaurant Monday through Saturday from 8 a.m.to 5 p.m. A valid ID is required to apply.
"We're excited to introduce our Louisiana-inspired cuisine to the Opelika and Auburn community," said DBMC Restaurants President and Walk-On's Franchisee Jason Gisclair. "Opelika is a growing city and Tiger Town is an amazing development, so we know we're in an impeccable spot to share our quality food and service. Walk-On's is unique in that we engage regularly with our guests to deliver an energetic, family-friendly game-day atmosphere, so we hope to find several enthusiastic individuals to join our winning team and show everyone that there's no better place to watch the Auburn Tigers than at Walk-On's."
Walk-On's offers team members competitive pay, advancement opportunities, insurance, a 401k plan, vacation, flexible hours and more. When the restaurant opens, it will be the first Walk-On's in Opelika and the sixth in Alabama. For more information about Opelika's new Walk-On's Sports Bistreaux, visit www.go.walk-ons.com/location/opelika-al/.
At Walk-On's, each dish is made from scratch, using fresh ingredients to bring its mouthwatering Americana and Cajun cuisine to life. The diverse menu features unique twists on game-day staples and upscale takes on Louisiana mainstays, such as Crawfish Étouffée, Duck & Andouille Gumbo and Doughnut Bread Pudding made with Krispy Kreme doughnuts. 
For a complete menu, locations and more information, visit www.walk-ons.com.
To inquire about franchise opportunities, please visit walkonsfranchising.com or contact CFE Kelly Parker at 225-330-4533.
ABOUT WALK-ON'S SPORTS BISTREAUX
Based in Baton Rouge, Louisiana, Walk-On's Sports Bistreaux was founded in 2003 by Brandon Landry, a former walk-on basketball player at LSU. Leaning on the true spirit of a walk-on and building a winning culture, the brand is rapidly expanding across the United States. Its Louisiana-inspired menu features food and drinks made from scratch daily. Walk-On's All-American Team aims to serve up a game-day experience in a fun, family-friendly atmosphere that ensures every guest is a winner.
For more information, visit walk-ons.com.