Whether you purchase strawberries at the grocery store, farmers' market, or pick your own at a local farm, strawberries are nearly everyone's favorite fruit.
Strawberries can be used for creating a variety of scrumptious desserts, including cheesecakes, pies, trifles, layer cakes, breads and ice cream, as well as being a tasty addition to salads.
Strawberries are good simply washed and eaten as a snack. My granddaughters adore chocolate dipped strawberries. While they will make them at home, they always have to try them at chocolate shops. They can't resist the luscious fruit dipped in rich dark chocolate and drizzled with white chocolate.
My friend Shirley Helmke is one of the best cooks I know, and she excels at desserts.
Her cakes look as though they came from a bakery shop. Shirley assembled a cookbook with handwritten recipes for her children.
Many of you may know Shirley, as she was Dr. William Lazenby's nurse at the surgical clinic in Opelika for 24 years. Shirley's husband, Dr. Henry Helmke, taught German at Auburn University. Shirley makes a delicious Strawberry and Cream Cake with Crushed Strawberries.
The recipe can be prepared with homemade yellow cake layers or you can use a cake mix. Shirley slices the layers to make four. Two layers are filled with sliced strawberries while the middle layer is covered with freshly whipped cream.
Once the cake is assembled, Shirley covers it with whipped cream. If you don't want to bother whipping cream, you could use Cool Whip. Once the layers are sliced, they are placed on a pool of crushed strawberries, which the cake layers absorb and become super moist.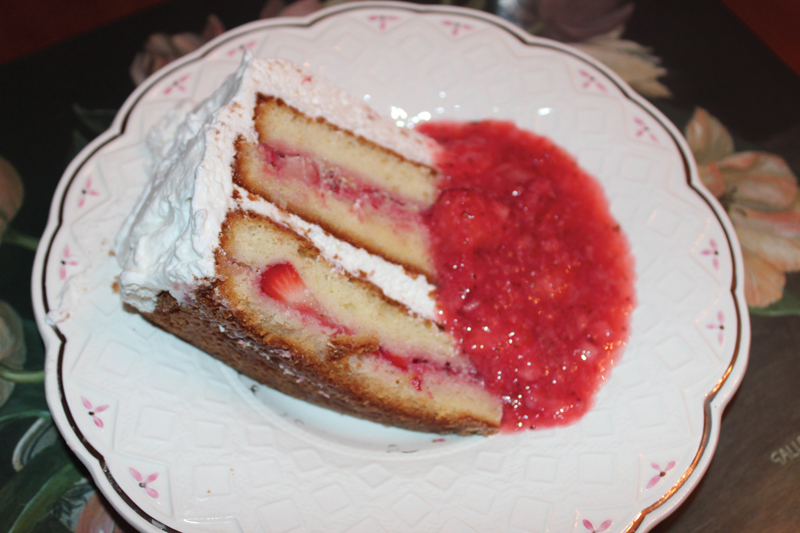 The cake goes together quicker than you think. Have the kids help. If you have any leftover, store it in the refrigerator.
Strawberry Trifles are also easy to assemble. You can make a trifle with pound cake, angel food cake or cake layers from a mix.
Carol Pridgen is another outstanding cook. Carol makes an easy Strawberry Shortcake Trifle using a store bought angel food cake. She slices the cake into three layers. Cool Whip, cream cheese and sweetened condensed milk are combined, and then sliced strawberries are folded into the creamy mixture. The mixture fills the layers for a lovely dessert that is also delectable.
Carol enjoys cooking for her husband Keith and their two sons, Trace, who is married, and Cade, who helps his mother in the kitchen and measures ingredients.
Sometimes helping in the kitchen is part of his math lesson.
Carol especially enjoys baking and keeps the freezer full. Carol will freeze slices of cakes in individual servings to pull out for dessert on hectic days.
Strawberries are a good source of vitamin C and low in calories.
When purchasing strawberries, select ones with a natural shine and fresh looking with a green cap. Check the bottom of the container for red stains indicating deteriorating berries. When washing strawberries, rinse them quickly in a colander under cold water. Never soak them.
Look over the following variety of recipes featuring strawberries. Try a couple of these desserts for treating your family.
While working in the kitchen this week, the following verse has been comfort. "I sought the Lord, and He answered me; He delivered me from all my fears." Psalm 34:4, (NIV)
Ann Cipperly can be reached at recipes@cipperly.com.
Strawberry and Cream Cake with Crushed Strawberries
Shirley Helmke
1 box Duncan Hines Butter yellow cake mix (or your homemade recipe)
1 qt. strawberries
Sugar to sweeten berries to taste
1 pint whipping cream
½ cup confectioners' sugar
Extra strawberries to crush for serving Bake cake mix, following directions on the box. Bake into two 9 inch layers. When layers are cool, split layers to make four.
Wash the quart of strawberries, lightly mash and put through a strainer. Taste to see if they need to be sweetened.
Whip cream until stiff and add confectioners' sugar.
To assemble, place a cake layer on plate, cover with half of strawberries; top with another layer. Spread some of the whipped cream on this layer. Place third cake layer and fill with remaining strawberries. Top with last layer. Cover cake with whipped cream. Place in refrigerator until ready to serve.
Crush extra strawberries and sweeten to taste. Spoon a pool of crushed berries with juice onto a dessert plate. Place a slice of cake on top and serve. Store leftovers in refrigerator.
Note: Cake is also good served without the extra crushed strawberries.
Strawberry Shortcake Trifle
Carol Pridgen
1 large angel food cake (store bought)
1 large Cool Whip
8 oz. cream cheese, softened
1 can sweetened condensed milk
2 cups fresh strawberries, quartered
Cut cake into 3 equal sized layers. Place bottom layer of cake in trifle bowl.
Mix cream cheese, sweetened condensed milk and Cool Whip.
Fold in strawberries. Divide mixture into thirds. Spread mixture onto bottom cake layer. Top with next cake layer. Repeat. Cream cheese mixture will be on top. Garnish with strawberries.
Chocolate Dipped Strawberries
1/2 cup semi-sweet chocolate or white chocolate chips
3 Tbsp. heavy cream
12 long-stemmed strawberries
Extra chocolate for drizzling, optional
Place the chocolate and cream together in a bowl over simmering water until just melted. Stir and remove from the heat. Dip each strawberry in the chocolate and place on waxed or parchment paper to set. To set quicker, place in refrigerator.
To decorate, melt semi-sweet or white chocolate in microwave and place in a plastic bag. Cut the end of one corner and drizzle over dipped strawberries.
Strawberry Cheesecake Dessert
This has been a favorite recipe over the years.
Crust:
1/4 cup brown sugar
1 1/2 cups all-purpose flour
¾ cup to 1 cup butter or margarine
1 cup chopped nuts
Filling:
8 oz. pkg. cream cheese, softened
1 cup confectioners' sugar
1 cup or more whipped topping (Cool Whip)
Topping:
3 oz. pkg. strawberry gelatin
1 cup sugar
4 Tbsp. cornstarch
1 cup boiling water
4 cups sliced strawberries
To prepare crust, mix brown sugar and flour; cut in margarine. Add nuts and press in 13 x 9 inch pan. Bake in preheated 375 degrees oven for 15 minutes. Cool before adding filling. To make filling, mix cream cheese and confectioners' sugar in a large bowl. Fold in Cool Whip; spread over cooled crust. To prepare topping, mix gelatin, sugar, cornstarch and water. Place over medium heat until mixture comes to a rolling boil, stirring frequently. Remove from heat; cool. Add strawberries to cooled mixture. Pour over cream cheese filling. Chill.
Chocolate Strawberry Cream Cheese Pie
Two 3 oz. pkg. cream cheese, softened
14 oz. can sweetened condensed milk
1 egg
3 Tbsp. lemon juice
1 tsp. vanilla
1 cup fresh strawberries
9-inch prepared graham cracker crust
Chocolate Glaze
Two 1 oz. squares semi-sweet chocolate
¼ cup whipping cream
Preheat oven to 350 degrees. In a mixing bowl, beat cream cheese until fluffy.
Gradually beat in condensed milk until smooth. Add egg, lemon juice and vanilla; mix well.
Arrange strawberries on bottom of piecrust. Slowly pour cheese mixture over fruit. Bake 30 to 35 minutes or until center is almost set. Cool. To make Chocolate Glaze, melt chocolate with whipping cream in saucepan over low heat. Top cheesecake with glaze. Chill.
Strawberry Cream Cheese Cobbler
1 stick butter
1 egg, lightly beaten
1 cup milk
1 cup all-purpose flour
1 cup sugar
2 tsp. baking powder
1/2 tsp. salt
2 qt. whole strawberries, capped and washed
4 oz. cream cheese, cut in small pieces
Vanilla ice cream, optional
Preheat oven to 350 degrees. Melt butter and pour into a 9×13-inch glass baking dish. In a small bowl, mix together the egg, milk, flour, sugar, baking powder and salt. Pour directly over the butter in the baking dish, but do not stir. Add strawberries, arranging in a single layer as much as possible. Sprinkle cream cheese pieces over strawberries.
Place in preheated oven and bake for 45 minutes, or until top is golden brown and edges are bubbling.
Brownie Squares with Whipped Cream and Fresh Strawberries
2 cups sugar
1¼ cups all-purpose flour
¾ cup unsweetened cocoa
½ tsp. baking soda
½ tsp. salt
1 cup butter, melted
4 eggs
2 tsp. vanilla
2 cups semi-sweet chocolate chips
1 cup heavy cream whipped with ¼ cup sugar
1 qt. fresh strawberries, sliced and sweetened to taste
Line 13x9x2 inch baking pan with aluminum foil and grease lightly. Stir 2 cups sugar, flour, cocoa, soda and salt; set aside. Mix melted butter, eggs and vanilla until smooth. Add to flour mixture and stir until moistened. Fold in chocolate chips. Spread batter into prepared pan. Bake in preheated 350 degree oven for 35 minutes or until toothpick inserted one inch from center comes out barely moist. Do not over bake. Cool on wire race. When completely cool remove from pan, peel off foil and cut into small squares. Top each brownie square with cream whipped and strawberries.
Meri's Strawberry Poke Cake
1 (15.25 oz) box white cake mix
3 eggs
1/2 cup oil
1 cup water
1 tsp. vanilla extract
For the filling:
3.0 oz. pkg. strawberry flavored gelatin
1 cup boiling water
1/2 cup cold water
For the topping:
8 oz. container frozen whipped topping (Cool Whip), thawed
3.4 oz. box instant vanilla pudding mix
1 cup milk
2 cups fresh strawberries, sliced
Preheat oven to 350 degrees and grease a 9×13-inch baking dish with non-stick spray. Set aside.
In a large bowl, mix together cake mix, eggs, oil, 1 cup water, and vanilla extract until smooth. Pour into prepared baking dish and bake for 28-32 minutes, or until toothpick inserted in center comes out clean. Remove from oven and let cool 15 minutes. Then, pierce holes all over cake with the end of a wooden spoon or a large serving fork.
Meanwhile, make the filling: Add gelatin mix to a large bowl and whisk in boiling water until gelatin is fully dissolved. Stir in cold water. Pour gelatin over top of cake to fill holes. Cover and refrigerate cake for at least 2 hours.
Once chilled, make topping. Place pudding mix in a large bowl and whisk in milk until thick. Gently fold in whipped topping until fully incorporated. Spread over chilled cake and top with sliced strawberries. Serves 8 to 10.
24 Hour Strawberry Dessert
2 cups sliced fresh strawberries
2 Tbsp. brown sugar
1 cup miniature marshmallows
1 cup sour cream
Whole strawberries for garnish Sprinkle brown sugar over berries; let stand 10 minutes. Fold in marshmallows and sour cream. Keep covered in refrigerator overnight. Serve in dessert dishes. Garnish with whole strawberries. Makes 6 servings.
Strawberries with Brown Sugar Dip
Leave strawberries whole with stems. Place on a platter with a bowl of sour cream and a bowl of brown sugar. Dip the berries in the sour cream and then in the brown sugar.
Fresh Strawberry Cake
Serenbe Inn
3 1/3 cups plain flour
1/3 tsp. salt
3¾ tsp. baking powder
¾ cup soft butter
2¼ cups sugar
3 eggs
1½ tsp. vanilla
½ cup sour cream
½ cup buttermilk
9 oz. fresh crushed strawberries (8 oz. is 1 cup or half of a 16 oz. pkg.)
Sift first 3 ingredients together; set aside. Cream sugar and butter. Add eggs one at a time. Fold in vanilla. Add sour cream and buttermilk. Add sifted ingredients alternately with crushed strawberries. Cream about 3 minutes.
Pour into three lined and greased floured cake pans. Bake at 350 for 30 minutes.
Frosting
2 lb. confectioners' sugar
4 oz. cream cheese, softened
1 cup crushed strawberries
¼ lb. softened butter (1 stick)
Beat all ingredients with mixer. Spread between on cooled layers, top and sides of cake.
Fresh Strawberry Pie
1 9-inch baked piecrust, cooled
1 qt. strawberries
1 cup sugar
1 cup boiling water
3 Tbsp. cornstarch plus enough cold water to make a paste
1 cup whipping cream
¼ cup sugar
Arrange 3 cups of the strawberries into piecrust. Bring to a boil 1 cup strawberries, 1 cup sugar and 1 cup boiling water; strain. Add cornstarch mixture, stirring constantly over burner until thicken. Pour over strawberries in piecrust. Whip cream with ¼ cup sugar. When pie is cool, serve with whipped cream.
Strawberry Trifle with Pound Cake
1 qt. strawberries
½ cup sugar
1 pound cake, sliced
2 ½ cups vanilla pudding
½ cup heavy cream, whipped and sweetened with 1 Tbsp. sugar
Wash strawberries; save a few for garnishing. Hull remaining strawberries, slice; add ½ cup sugar and refrigerate 30 minutes.
Place a layer of sliced pound cake in the bottom of one quart glass bowl. Spoon half the berries over cake and then pour 1 cup of the pudding over top.Top with second layer of sliced cake and repeat with berries and pudding. Cover; refrigerate overnight. Before serving spread whipped cream over top; garnish with extra strawberries. Makes 8 servings.
Creamy Strawberry
Ice Cream
1 cup half-and-half cream
1 Tbsp. vanilla extract
1 cup sugar
1 package (8 oz.) cream cheese, cubed and softened
1 cup heavy whipping cream
1-1/2 cups fresh strawberries
In a blender or food processor, place cream, vanilla, sugar and cream cheese. Blend well. Add whipping cream; cover and process until blended. Remove to a large bowl. Add 1-1/2 cups strawberries to blender; cover and process until pureed. Stir into cream mixture.
Fill cylinder of ice cream maker no more than two-thirds full; freeze according to manufacturer's directions. (Refrigerate any remaining mixture until ready to freeze.)
Transfer ice cream to freezer containers, allowing headspace for expansion. Freeze 4-6 hours or until firm.