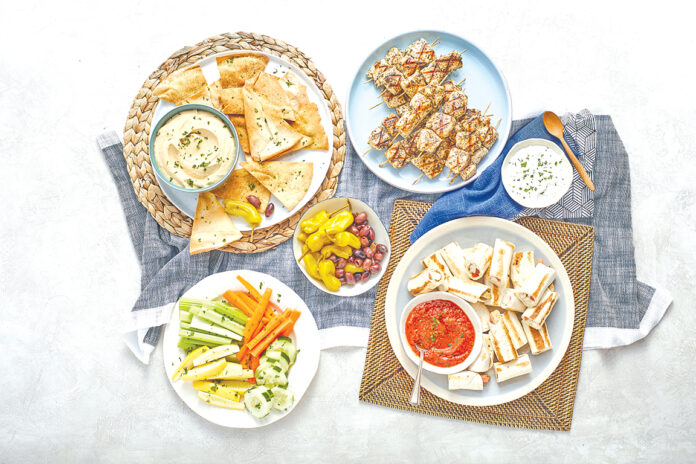 CONTRIBUTED BY KAT MCMANIGLE / ON BEHALF OF TAZIKI'S
OPELIKA —
For 25 years, Taziki's Mediterranean Café has been serving fresh, delicious and vibrant Mediterranean fare. And now, the brand wants to give back to its communities with a celebration that the whole family can enjoy.
Starting March 1, and falling within Greek Heritage Month, the acclaimed café is honoring its 25th anniversary and showing appreciation to its loyal guests by partying like it's 1998. That's right, Taziki's is serving select menu items at the original price from 25 years ago throughout the month with a new offer each week including:
• March 1 through 5 —Traditional Hummus Dip for $2 (6 oz. portion),
• March 6 through 12 — Greek Lemon Chicken Soup for $3.50,
• March 13 through 19 — Greek Salad for $5.75 (no protein),
• March 20 through 26 Taziki Dip for $2 (6 oz. portion) and
• March 27 through 31 — A free commemorative 25th anniversary cup with every beverage purchase (while supplies last).
In addition, guests can jam out to their favorite '90s hits inside the café to fully get the experience of living life before the turn of the century.
Taziki's has come a long way in the last 25 years. It now serves its modern Mediterranean fare to customers at 87 locations in 16 states from Colorado to West Virginia. Taziki's has exciting plans to expand into new markets in 2023.
"Our brand is bigger than just us and we thank everyone for celebrating our silver anniversary," said CEO of Taziki's Dan Simpson. "We began in Birmingham after a trip to Greece where our founder Keith Richards and his wife Amy discovered small-table Mediterranean cafés. They fell in love with the idea that everyone in the community gathered to connect around healthy flavors and to celebrate life in these cafés. They wanted to replicate that feeling of warmth and togetherness, so they opened the first Taziki's Mediterranean Café in 1998."
For the sixth year in a row, the Mediterranean diet has been ranked best overall diet in the U.S. News & World Report annual rankings. Taziki's is the perfect place to enjoy a delicious, vibrant, Mediterranean meal and — a healthy lifestyle.
With opportunities across the country, Taziki's has a wide network of resources for franchise partners that allows qualified partners to bring the Mediterranean lifestyle to their neighborhood. To learn more about this hyper-growth restaurant named "No. 1 Mediterranean Franchise in 2022" by Entrepreneur Magazine, visit www.TazikisFranchising.com.
ABOUT TAZIKI'S MEDITERRANEAN CAFÉ
Founded by Keith and Amy Richards in 1998, Taziki's Mediterranean Café is headquartered in Birmingham, Alabama. Taziki's is a fresh celebration of the Mediterranean diet with a colorful menu that offers handcrafted, elevated, affordable fare the entire family enjoys. Much of the original menu is still the same, with added efficiency in the process and technology to make the brand a systems-driven, scalable operation. Taziki's continues to grow with more than 80 locations operating today. For more information, visit www.tazikis.com and follow Taziki's on Facebook, Instagram and Twitter.