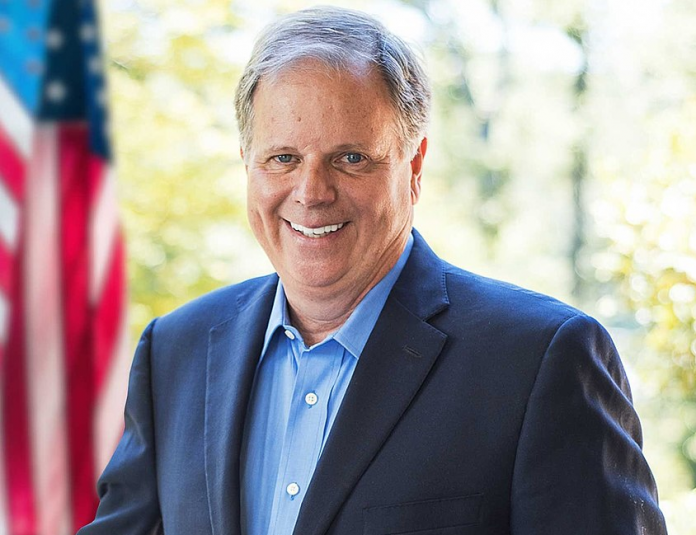 Special to the
Opelika Observer
Sen. Doug Jones a member of the Senate Health, Education, Labor and Pensions (HELP) Committee, and Sen. Mark Warner (D-Va.) introduced the States Achieve Medicaid Expansion (SAME) Act of 2019 last week, legislation that would ensure that states that chose to expand Medicaid after 2014 are eligible for the same level of federal matching funds as states that expanded Medicaid earlier. Alabama, along with 13 other states, has yet to expand Medicaid.
For years, leaders at Alabama's rural hospitals have been warning public officials about the financial cliff they are facing, in large part as a result of the state's refusal to expand Medicaid. Since 2011, 13 hospitals have closed in Alabama, and seven of those hospitals have been in rural areas. Even now, nearly 88 percent of rural Alabama hospitals are operating in the red. The Alabama Hospital Association estimates that some 326,000 Alabamians would gain health care coverage if Medicaid was expanded in the state.
"By refusing to expand Medicaid, Alabama has turned away $14 billion of our own taxpayer dollars. For years, those dollars could have helped keep our hospitals open, support good jobs in our communities, and provide health coverage for hundreds of thousands of Alabamians. This isn't a partisan issue – expanding Medicaid is the right thing to do," Jones said. "Alabama can no longer afford not to expand, and our SAME Act legislation would ensure that states will get a fair deal when they do. I urge my colleagues on both sides of the aisle, and on both sides of Capitol Hill, to support this common sense bill."
Numerous studies have shown that expanding Medicaid benefits states economically by increasing jobs and earnings growth, generating federal revenue, increasing gross state product, increasing state and local revenues and reducing uncompensated care and hospital costs. If Alabama had expanded Medicaid five years ago, it could have yielded a $935 million net increase in tax revenue for the state and could have led to approximately 12,000 new jobs across all sectors of Alabama's economy in 2016 alone.
"It's crazy that for so many years, Virginia taxpayers were footing the bill for states that had already expanded Medicaid. Today, Medicaid expansion is bringing billions of tax dollars back home to Virginia, and more than 400,000 Virginians have gained access to quality, low-cost or no-cost Medicaid coverage," said Senator Warner, a former governor of Virginia. "This bill will bring even more federal dollars back to Virginia by making sure that we get the same deal from the federal government as states that expanded back in 2014."
The States Achieve Medicaid Expansion (SAME) Act of 2019 is co-sponsored by Senators Tammy Baldwin (D-Wis.), Tom Carper (D-Del.), Chris Coons (D-Del.), Tim Kaine (D-Va.), Angus King (I-Maine), Gary Peters (D-Mich.) and Debbie Stabenow (D-Mich.). The bill was recently re-introduced in the U.S. House of Representatives and co-sponsored by Congresswoman Terri Sewell (AL-07).
Background
Medicaid is a joint federal and state insurance program that covers medical costs for eligible low-income Americans. In 2010, states were given the option to expand their Medicaid programs to cover people who earn up to 138 percent of the federal poverty level. Under this deal, the federal government would cover the full cost of the expansion for the first three years, and gradually step down to cover 90 percent permanently.
The SAME Act would ensure that any states that choose to expand Medicaid get a second chance to receive these same levels of federal funding. Under this bill, a state would receive three years of full federal funding, phasing down to a 95 percent Federal Medical Assistance Percentages (FMAP) in year four; a 94 percent federal contribution in year five; 93 percent in year six; and, 90 percent for each year thereafter. Alabama alone would receive $2 billion in federal dollars the first year after expansion.
Thirty-three states and D.C. have already expanded eligibility for Medicaid, and three more states – Idaho, Utah and Nebraska – have passed ballot initiatives to expand Medicaid. Fourteen states, including Alabama, have not yet expanded their programs. In states that have failed to expand Medicaid, more than two million low-income adults fall into a "coverage gap," because of incomes that are too high to be eligible for Medicaid, but are too low to meet the limit that would allow them to receive tax credits to purchase affordable coverage in the health care marketplace. Without Medicaid expansion, most of these individuals are likely to remain uninsured, as they have limited access to employer coverage and frequently find the cost of unsubsidized marketplace coverage to be prohibitively expensive.