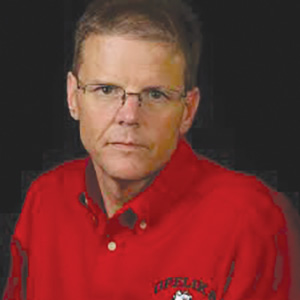 On the Mark
By D. Mark Mitchell
In Alabama, it's hard to beat high school football on Friday nights. Fans across the state of Alabama root for their favorite high school teams. Last Friday was a special moment for thousands of people; high school football started in Alabama.
The Opelika Bulldogs (1-0) opened the 2020 football season, defeating Stanhope Elmore 20-17 in Millbrook last Friday night. This was the first time either high school has been able to compete against an opponent since last fall. Football players, coaches, band members and cheerleaders were on hand. Spectators, limited in number due to COVID-19, enjoyed an Opelika win in a close game.
Stanhope Elmore took the lead with 3:14 left in the opening quarter when Antonio Trone ran seven yards for the TD. Opelika's Eric Watts answered with a 61-yard touchdown run. Baker Rowton added the PAT, tying the game 7-7.
Midway through the second quarter, the Dawgs mounted a 97-yard scoring drive. Taylor Love scored on a six-yard TD run with five minutes left in the first half. Rowton's extra point failed, and OHS led 13-7 at halftime.
The Mustangs scored 10 straight points to open the third quarter. QB Trey Killingsworth hit DJ McGhee for a 52-yard scoring pass. Jacob Bryant added a 37-yard field goal to put Stanhope up 17-13 with less than four minutes left in the third quarter. Opelika's defense would shut the Mustangs down in the fourth quarter while the Dawg offense made the game-winning score. Opelika junior quarterback Malik Finley ran 15 yards on fourth and nine and scored the game-winning touchdown. Rowton's PAT made the score 20-17.
The Mustangs' final drive ended with a missed 35-yard field goal.
Eric Watts finished with 154 yards and two touchdowns, Finley was 5 of 8 for 59 yards and added 41 rushing yards on six carries.
Opelika travels to Duck Samford Stadium Friday to play rival Auburn, with a 7 p.m. kickoff. AHS defeated Park Crossing 46-28 at the Duck last Friday night.
This will be the 95th meeting between the two schools, the first of which meetings was in 1917. Opelika holds a three game edge over Auburn, 47-44-3. The two teams are 5-5 in the last 10 games with OHS winning 21-13 in 2019.
Auburn High's Adam Winegarden enters his sixth season as head coach and Director of Football Operations. Winegarden is 45-17, including 6-5 in the playoffs and 2-3 versus Opelika.
Game tickets are limited to parents of student-athletes participating Friday night, including football players, band members and cheerleaders. Fans can go online at www.gofan.co to check the status of purchasing tickets. If Opelika's allotment of tickets is not purchased by parents, they may be available at the end of the week.
Fans can listen to Opelika games on WKKR 97.7 Kicker FM, online at kickerfm.com/listenlive or download the IHEARTRADIO App on smart phones. You can watch the live stream of Opelika games on the NFHS network, by going online at www.nfhsnetwork.com. Set up a free account and search "Opelika." The OHS games are free thanks to the Orthopaedic Clinic. Clinic CEO Terry Rosenthal, along with Dr. Adam Dooley, Dr. Raymond Godsil Jr., Dr Geoffrey Hancy, Dr. Frazier Jones, Dr. Ryan Palmer, Dr. Michael Shiels and Dr. Trent Wilson, should be thanked for the incredible financial gesture. The Orthopaedic Clinic continues to be the leader in Orthopaedic Surgery and Sports Medicine in East Alabama.
The Orthopaedic Clinic provides trainers at 14 high schools including two at Opelika. Wilson serves as the Bulldog Team doctor, traveling with the team each week. Opelika is blessed to have a community partner like the Orthopaedic Clinic.
D. Mark Mitchell is sports director for iHeart Media, Alabama Dixie Boys State Director and vice president of the A-O Sports Council.