Stacey Patton Wallace
I've always heard that breakfast is the most important meal of the day. In fact, there's an old saying: "Breakfast like a king, lunch like a prince and sup like a pauper." However, breakfast would be my least favorite meal. I've also heard that you live longer when you eat breakfast, so I usually eat a modest one. Also, I'm not as hungry when I first wake up, but I'm ravenous at supper. Therefore, my eating habits are the exact opposite of that old saying. That's probably one of the multiple reasons I'm a "Pooh-sized" diabetic.
I do have happy memories associated with breakfast. When I was a young girl, from Monday through Friday, Daddy was in charge of cooking breakfast since Mama took a lot longer to get ready for work. Also, Mama had the unenviable task of getting me up to go to school. Bless her heart. That was a job by itself; it usually took her three attempts to get me moving.
  While all of this was going on, Daddy would be making biscuits (the kind in a can) and frying sausage patties. The smell of that sausage was really amazing.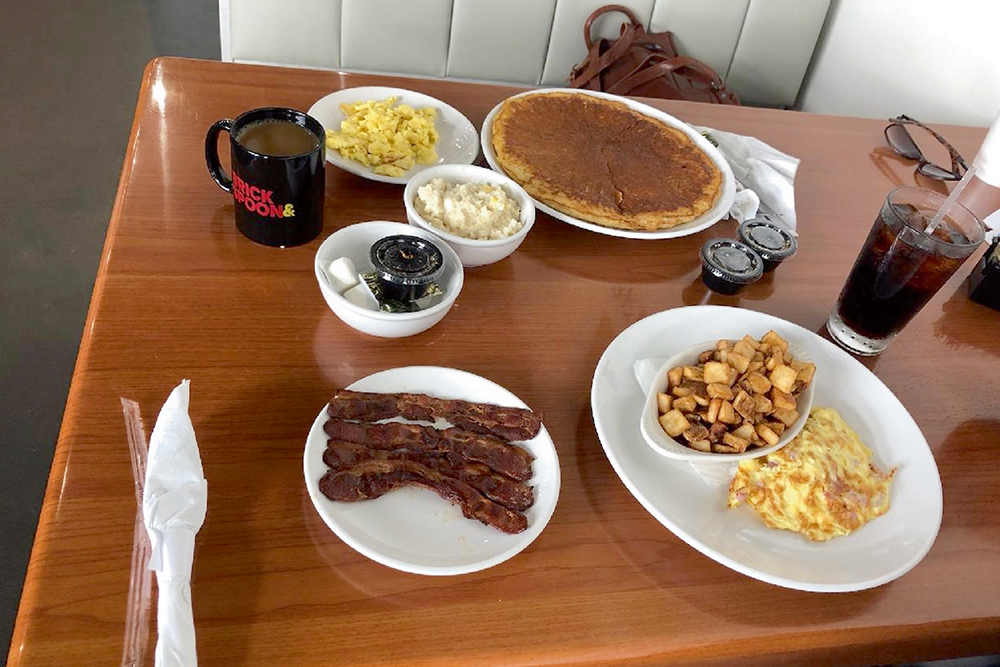 Not being a morning person, I would stumble into the kitchen, in a surly mood. Daddy, who always woke up immediately and cheerfully, would be singing one verse of the song, "I Never Promised You a Rose Garden," and the verse was that title. Daddy would sing that title over and over again. My much older brother Mike said that before that, Daddy sang, "Is Anybody Goin' to San Antone?"
Barely conscious, aggravated and not ready to face the day, I would beg, "Daddy, would you please stop singing that same line over and over again?" Undeterred, Daddy said, "I have to learn that line really well before I can learn another one." If I could have just one more day with Daddy, he could sing as much as he liked.
Over the years, I've come to enjoy breakfast much more than I did in the old days, but I still like to eat it later in the day. Therefore, I recently met my friend Amy for brunch at 10:30 a.m. at Brick & Spoon at 2836 Pepperell Parkway in Opelika.
The restaurant's interior is very attractive and cheerful. Steve Ginn, the owner, was very kind; he welcomed us and spoke with us after we ordered our meals. Brick & Spoon is a family business Ginn runs with his wife, daughter and son-in-law. He said they also own two restaurants in Columbus called Simple Greek. Ginn told us that his restaurants are always very clean. He was correct; the ladies' restroom sparkled. That made this germaphobe very happy.
Kelly, our waitress, was very kind, patient and helpful as well. Amy ordered one pancake, scrambled eggs and fire-roasted corn grits. One pancake may sound strange; however, it was as big as Amy's plate.
Brick & Spoon made my day because they serve Diet Dr. Pepper, my very favorite beverage. I chose the three cheese & ham omelet with hash browns and extra crispy pecan smoked bacon.
Our meals were delicious. Amy said, "These grits are divine." Also, Amy, who described herself as a "coffee snob," said the coffee was great, too.
For dessert, we ordered the café beignets with chocolate and blueberry dipping sauces. We both agreed that the beignets were exquisite. I left two beignets because I wanted to avoid a diabetic coma. However, I, unfortunately, wore some powdered sugar home.
Brick & Spoon serves breakfast, brunch and lunch daily from 7 a.m. until 2 p.m. Besides our tasty selections, the restaurant offers Day Starters aka Appetizers; a few of which include:
Baked Brie Bruschetta, which is made of caramelized apples, golden raisins, pecans, Balsamic Reduction and Brie cheese; Bananas in Pajamas, which are crispy banana egg rolls and Foster sauce; Breakfast Fries, which include bacon, sausage gravy tomatoes, Hollandaise and one sunny egg.
Diners may also choose from a large variety of That's All, Yolks (omelets), Brunch Specialities & Bennys (poached eggs), and Sweet Eats such as pancakes and French toast.
In addition, for lunch, the restaurant has a big selection of salads, burgers and samiches (That's how it was spelled on the menu). Entrees include Chicken Florentine Chicken (That's how it was listed), Southwest Chicken and Shrimp, Crab Cake Dinner, Grilled Fish/Shrimp Tacos and Mardi Gras Pasta. A very definite do-over; Amy and I will be back, the Good Lord willing.
Brick & Spoon makes the grade with an A+ from this retired English teacher. Remember, "Pooh-sized" people NEVER lie about food. Enjoy!
Stacey Patton Wallace, who retired from teaching language arts for 30 years, is a professional diner. Her column, "Making the Grade," will appear each week in the Observer. Stacey may be reached at retiredlangartsteacher2020@gmail.com