Dadeville Shooting Survivor Focusing on the Future
———
BY KENDYL HOLLINGSWORTH
KENDYLH@
OPELIKAOBSERVER.COM
OPELIKA —
Life is a series of small steps, and Keaijah "Ciyah" Robinson is determined to keep putting one foot in front of the other.
The 16-year-old has been enjoying an early start to her summer, but already she is counting down the days until she can return to Opelika High School this fall.
"I love school," she said. "… I'd rather be in school than be at home."
Robinson's life was turned upside down April 15, 2023, when she was shot at a childhood friend's birthday party in Dadeville, Alabama. Four partygoers were killed in the mass shooting at Mahogany Dance Studio, and Robinson is one of 32 others who were injured. Now, about six weeks later, she is home from the hospital and continuing her recovery from her grandmother's house in Camp Hill, just 20 minutes from the site of the incident.
Some days are spent outside in the fresh, country air, enjoying some fruit and watching the cars drive by. Others are spent curled up on the couch, catching up on sleep — a common side effect of her medication. And then, some days are a little bit of both.
May 24 was a bit of a "curled up on the couch" day. But after some prodding from her aunt and grandmother, Robinson emerged from her blanket and got situated with her walker.
"She's a fighter," said Crystal Presley, Robinson's aunt. "She's wanted to push her independence since day one. She's just blessed."
The intermittent scooting of her walker could be heard down the hall from the living room, steadily growing louder until she appeared in the doorway, eyes focused on the few steps in front of her that led down into the living room.
Robinson was quick to turn down help from her family; instead, she hobbled down one step at a time in her cheetah-print Crocs, careful not to put weight on her right leg.
"I've got it," she insisted.
Robinson has come a long way since April 15. She remembers several details from that evening in Dadeville: the singing and dancing, the sound of shots being fired, the chaos that ensued as people tried to flee. She remembers the pain of being shot in her arm, falling to the ground and trying to play dead as the shooting continued. She remembers the blood — others' and her own.
"After I figured out that it was calm, I rolled and tried to get back up, but then I really couldn't because I was hurt," Robinson recalled. "Then, somebody came in and they, like, tried to figure out where my wounds and stuff were at — where I had been shot at — but I was so covered in blood, [they weren't] going to be able to find nothing."
The paramedics had to cut her clothes to find the bullet wounds, five in all. Robinson had also sustained wounds in her torso and hip. From there, she remembers being loaded onto a stretcher and rushed to the hospital. She ended up at Children's of Alabama, located nearly two hours northwest in Birmingham.
"A lot of hospitals was packed, so they found [space for me] at Children's," Robinson said. "… I couldn't be airlifted because of the weather."
Law enforcement questioned her about the incident and contacted her aunt to let her know what had happened. The last thing Robinson remembers from that night is getting an IV inserted.
"[The medical team] start trying to do an IV and stuff in me, they took my watch off and then I went to sleep," she said. "And then that's all I remember from then on."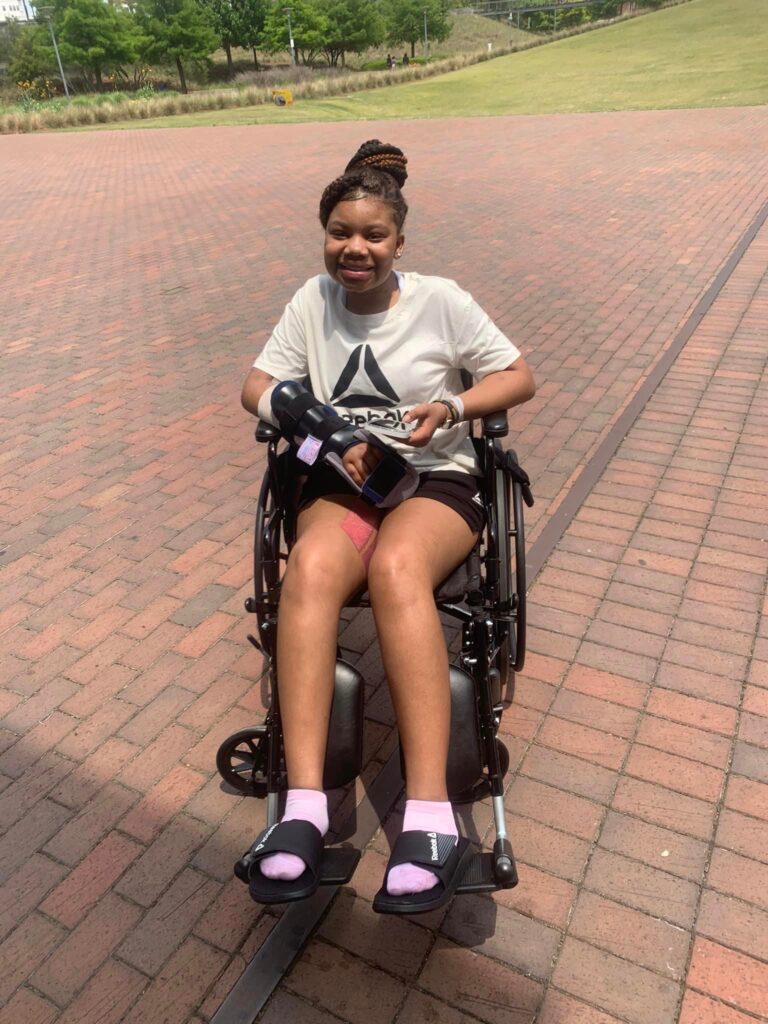 The next four weeks would be a long start to a long road to recovery for Robinson. According to Presley, she was put on a ventilator for a few days and underwent six surgeries on her right arm that first week. Robinson said she was ready to "get it over with" after the third surgery, but the swelling prolonged the process.
"She had so much scar tissue and swelling in her arm that they couldn't even finish the surgery," Presley said. "She was off the ventilator, and … she had a chest tube in, and when they tried to remove the chest tube … she got sick and stopped breathing, so they had to put her back on the ventilator."
"I was swollen for a good little minute before I started really trying to come back to myself," Robinson added.
The next few weeks consisted of plenty of physical therapy as well. Two physical therapists worked with Robinson often, helping her raise her legs and arm and practice walking around her hospital room with the walker.
There were several nurses that also helped, Robinson said, but one in particular made a lasting impression — a nurse named Lawanda.
"She was like my mama," Robinson said.
"She pushed her and motivate her because she had got to the point of giving up, like, saying she can't do this or she can't do that, and the nurse was like, 'No, you're going to do it,'" her aunt recalled.
But that tough love proved to be just what Robinson needed to keep moving forward — literally. Now, after four weeks in the hospital and two weeks back at home, Presley said her niece is as determined as ever, regaining her independence more and more each day.
"Starting in the hospital, she couldn't really do anything, but now that she's home, she tries to do everything on her own," Presley said.
Of course, it helps to have a legion of family, friends, classmates, teachers and even strangers cheering her on. Robinson said she received "cards for days," texts, visits and gifts while she was in the hospital, including a new iPhone, socks, beauty supplies and plenty of stuffed animals, which she calls her "kids."
Presley has also been selling T-shirts and wristbands with the hashtag #CiyahStrong to help cover the cost of Robinson's recovery.
But ultimately, it's Robinson's positive attitude and determination that has brought her to where she is now, her aunt said. Her quick thinking and knack for problem-solving may have also saved her that night at the party.
Earlier on May 24, Robinson had insisted on untying a knot by herself, even without the use of her right hand, which is still in a cast.
"If somebody can't figure something out, she'll find a way to do it to make it happen," Presley said. "She has that type of personality. She's going to make it work."
It may be that mindset that also helped Robinson become a good student and skilled dancer, having made captain for next year's danceline at Opelika High School. It's a position she won't be able to fill this fall due to her injuries, but she doesn't plan on missing the Friday night football games.
"I'm going to try to go to the games every Friday," she said. "… I'm still considered on the danceline team. It'll make me feel more at home. … My therapist said I can be active once I start walking, but as far as dancing, she said just wait until my senior year because you never know how my arm and my hand are going to heal."
Though Robinson was in a wheelchair, Presley said she was able to attend the end-of-the-year band banquet May 16, where she received the Outstanding Dance award.
Robinson said she was "promoted" to the 11th grade while she was in the hospital because of her good grades, meaning she would be able to move up with her classmates and spend the last few weeks of this school year focusing on her recovery. Robinson's mother is also working with her principal to make sure she'll have what she needs to succeed when she goes back to school.
"My biggest concern right now is just school — going back to school and how that's going to work out," she said. "But my mom talked to my principal and they're trying to find me, like, pens that you speak into and stuff … translate to a computer and stuff like that, so … it would help with the writing and typing process. … If it's not working within the first two weeks, we're thinking about just going and [doing] homeschool."
Despite what Robinson endured last month, it's more or less business as usual at her grandmother's house this summer: phone ringing, television going, children playing, siblings bickering. Life goes on.
And while Robinson awaits the start of her junior year, she'll spend the summer continuing her therapy a few days a week and otherwise doing what many other teenagers like to do: draw, watch TV, write stories, listen to music and spend time on TikTok — and argue a little bit with her family.
"We just be playing, but it's fun," she said, garnering a laugh from her aunt and grandmother.
Robinson said she hopes to be involved with student government next year, as well as join Future Business Leaders of America (FBLA).
She also has plans to become a civil litigation lawyer when she grows up.
"I've got to be a lawyer," she said. "I don't know — it's been stuck with me since second grade."
"She was a little-bitty something when she started that," added her Granny, Marga Presley. "I hope she stick with it, too."
Given everything that has happened these past few weeks, Presley said she has a new perspective on life.
"It's different when it hits home," she said. "It's very different. It's just eye-opening now for people since it's hit home so much — so close — that people now are just not taking anything for granted. That's how a lot of people are looking at things.
"… I just feel bad for all those kids. They just now started living their life, but they're not letting it stop them from doing what they're trying to do."
And Robinson has become a prime example of that. Despite the challenges she has faced and the challenges that still lay ahead of her, she has no plans to slow down. "Keep pushing and keep going" is her motto for now — and the advice she's quick to give to others.
"I feel good," she said. "Some days are worse than others … that's part of trauma, but besides that I feel good."