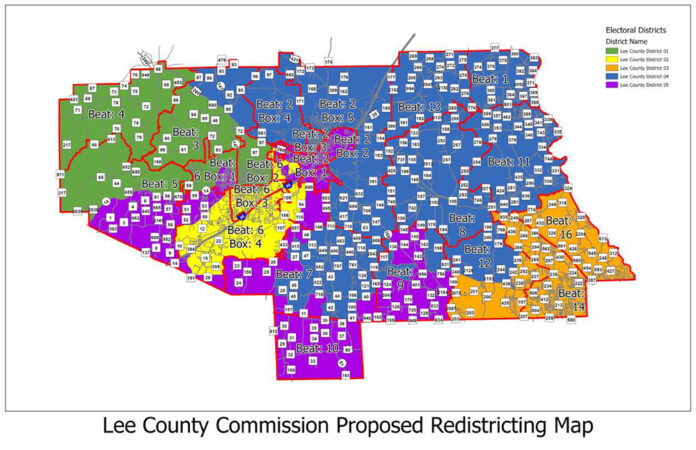 BY HANNAH LESTER
HLESTER@OPELIKAOBSERVER.COM
The Lee County Commission adopted a resolution for the redistricting plan Monday night following a public hearing.
Redistricting is the process of redrawing lines in the county for each district, of which the county has five.
"We are required by the constitution to consider whether or not redistricting is needed by the equal protection clause of the 14th amendment," said Probate Judge Bill English at the Oct. 12 commission meeting.
The commission looked at redistricting in 2011 but decided against it. In 2013, however, the commission decided redistricting was necessary, English said.
The county is currently divided into 22 precincts with 15 beats. Two of those beats are urban — Auburn and Opelika.
"We desperately need to increase the number of polling places in Auburn," English said.
Redistricting is completed after census data is released.
"The 2020 Census data for Lee County shows that Commission District One is overpopulated by 4.80%, and the other four commission districts are underpopulated by 0.90%, 2.77%, 0.71% and 0.41% respectively, compared to the ideal Commission district," said the resolution. "… The 2020 Census data, while showing that the current districts fall within the plus or minus five percent requirement of equal representation, also show that a more fair and equal distribution of the population would more equitably comply with the "one person-one vote" concept found in the Equal Protection clause of the Fourteenth Amendment to the United States Constitution."
Since English first presented redistricting information on Oct. 12, there has been public comment regarding the redistricting process, including at a public hearing on Nov. 8.
Billy Allen, president of the NAACP, requested copies of the redistricting map. He attended the public hearing, along with eight members of the NAACP.
"Our branch, 5038, plans to monitor, we plan to assist and we plan to support the redistricting efforts here in Lee County," Allen said. "We plan to ensure that these lines are drawn fairly and justly."
Another citizen, Joshua Lewis, said that the NAACP is seeking equitable redistricting with public help.
During the second public hearing on Nov. 22. NAACP members spoke again, affirming that they approved of the county's plan and additionally plan to continue working with the commission in the future.
OTHER BUSINESS:
– The commission voted to approve an intelligence analyst and media/community relations specialist for the sheriff's office.
– The commission voted to approve a lounge retail liquor license application for Beauregard Package Store.
– The commission voted to approve the 2022 holiday schedule and added dates for Jan. 3, June 20 and Dec. 23.
– The commission voted to approve a funding request for the Benefits Fair.