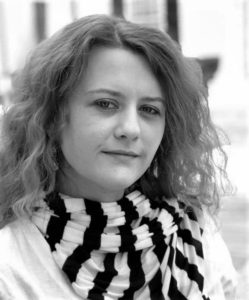 By Sarah West
The drowsy sound of an orchestra plays as Fred Astaire sings, "heaven, I'm in heaven…" Tousled blossoms sway outside my window. The branches swish and I take a closer look. A bird has return to its' nest, a nest that I photographed last year when vacant. The tangled little apartment is occupied once again. I wonder if this a new tenant. I stand still 'tempting not to startle the feather French gray neighbor.
I pour water from the red kettle. Steam rises and old window panes sweat. The early light breaks in cold hues. It's late March. Spring begins to bud. The air is cool and damp. First sips are savored as paper is scored by pen. A new journal holds notations, and begins again where the last volume abruptly ended.
Winds, fury, tragedy and then efforts towards recovery. Storm-torn remnants plagued my return to writing. The longing to paint weighed heavily, and for a while, would surrender to other things. In times like these, one might say less trivial things. Now, the brushes call. I pick them up one by one. I squeeze pigments from metal tubs, and mix them on cold ceramic. Defining moments aren't what they once were. Now, everything is different.
For a while, I've felt reluctant, questioning when is the right time to carry on. I reach for a new book, turn to the first page and begin to read as a new day dawns.
Sarah West serves the Opelika Observer as a contributing columnist, with written works of Cultural Arts relevance and prose. She is a preservation, and conservation advocate, activist, and visual artist of American Illustration with a focus on Regional Narrative Painting. She is founder of the Sarah West Gallery of Fine Art, A Center for Cultural Arts, Smiths Station, Alabama's premier fine arts destination. She is the appointed Official Artist to the City of Smiths Station, a Lee County syndicated columnist, the director of her art center's Cultural Arts Outreach Initiative which partners with local schools to make the arts accessible to all. She also serves a chief curator to the City of Smiths Station, City Hall Art Galleries. She is a founding member of the Smith Station Historic Commission. She is a member of the Women's Philanthropy Board- Cary Center, Auburn University College of Human Science. She is an elected member of the Society of Illustrators- NYC. She mentors art students of every age through weekly classes at her studio located in the heart of Smiths Station, Alabama. To learn more about her work and activism visit, www.thesarahwestgalleryoffineart.com.