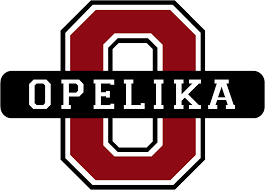 By D. Mark Mitchell
The month of July has numerous meanings for different people – Independence Day, high temperatures and humidity, all-star baseball and football season's return around the corner.
Opelika Dixie Youth's Pee Wee (7 to 8 year olds) All-Star team played in the State Tournament last weekend in Taylorville. At the time of writing this column, Opelika was 2-0. The ODY Minor All-Star team (9 to 10 year olds) will play in the state tournament on July 13 in Priceville. The all-stars beat Smiths Station 10-3, Auburn Orange 11-1, Auburn Blue 15-6 and Auburn Orange 11-6 in the championship. Opelika lost one game to Auburn Orange 1-0 in game three. The game went 10 innings thanks to strong pitching by both teams.
Opelika's Junior Dixie Boys (13U) head to Dothan for the State Tournament this weekend. Opening Ceremonies begin July 12 at the West Gate Miracle Complex. Opelika will open against Troy at 10 a.m. Saturday morning. The winner of the tournament advances to the World Series Aug. 2 to 7 in Aiken, South Carolina.
The AHSAA will hold All-Star week and summer conference July 14 to 20. This is considered "dead week" for all Alabama High School Athletic Association member schools. The only activities allowed are team's conditioning and weight lifting. The AHSAA will have all-star games made up of high school student-athletes throughout the week. The week closes with awards banquets Friday and Saturday at the Renaissance Montgomery Hotel and Spa at the Convention Center.
HIGH SCHOOL MEDIA DAYS
The second annual iHeartRadio "High School Media Days" presented by the Orthopaedic Clinic will take place July 23-24 in the Southern Room on Southern Union's Opelika campus. The two-day media blitz will feature 18 area high school football teams from East Alabama and will air live on FOX SPORTS the Game 910-1310 AM as well as www.foxsportsthegame.com .
The school's head coach and two players will be on hand to discuss the coming 2019 season and answer questions from the media. High schools from the AHSAA and AISA will be on hand, including Opelika, Beauregard, Beulah, Smiths Station and Lee-Scott Academy.
OHS SOFTBALL
Opelika High School softball Coach Randy Belyue, appearing "On the Mark" radio show, talked about the program's future. He mentioned upgrades to the West Ridge Softball Park, home of the Lady Bulldogs. One of the two softball fields will have new infield dirt and a new grass outfield.
Both fields will have new scoreboards prior to the 2020 season. Belyue believes the youth must get involved in softball and plans to support summer programs. He inherits a program with a good foundation left by Tina Deese.
The team has many players ranging from 7th-12th graders. Opelika Middle School Coach Angela Mills continues to provide a good feeder program. Belyue is committed and wants to continue to build the program and who knows … win a state title.
BEAUREGARD NEWS
Beauregard High School has two key positions to fill prior to of the school year in August.
Longtime Beauregard Principal Richard "Dickie" Brown announced his retirement the last day of school in May. His last official day is July 31.
Head baseball coach and assistant football coach Evan Braughn left for another job. Lee County Superintendent Dr. Mac McCoy is expected to nominate his choice as principal during last night's Board of Education meeting.
It appears that Beauregard will hire Randy Nolan as head baseball coach. Braughn resigned after guiding the Hornet baseball team to multiple state playoff appearances to take an assistant coaching job with Saraland. Beauregard Athletic Director and Head Football Coach Rob Carter is waiting on board approval during last night's board of education meeting.
D. Mark Mitchell is sports director for iHeart Media, Alabama Dixie Boys State Director and vice president of the A-O Sports Council.