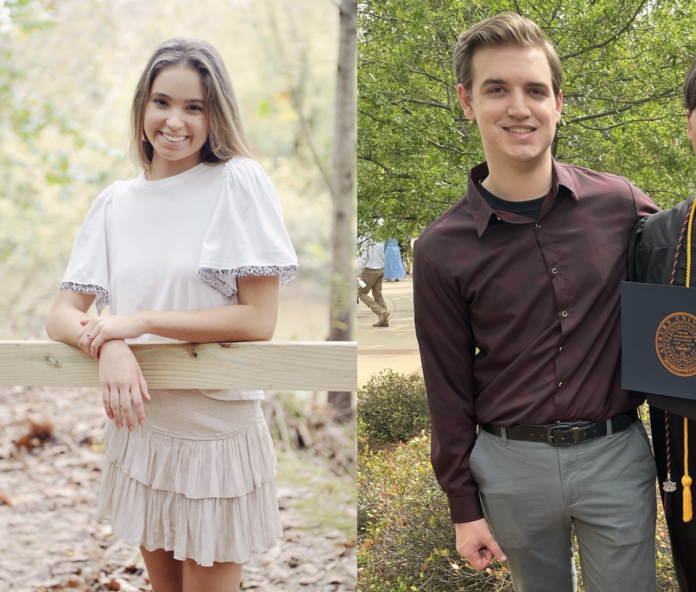 BY ETHAN STAMPER AND OLIVIA WELCH
FOR THE OBSERVER
OPELIKA —
The Observer welcomes two new interns for the summer semester.
OLIVIA WELCH
Olivia "Livi" Welch is one of two interns working with The Observer this summer. She is currently a junior studying creative writing and literature at Auburn University and will graduate in May 2025.
Welch grew up in Homewood, a small suburb of Birmingham, Alabama, and followed in her family's footsteps to study at Auburn University. However, she has still managed to blaze her own trail as she will be the first liberal arts major in her family, deviating from a long line of accountants and nurses.
She arrived at Auburn with her major undeclared but quickly found her way to creative writing after a lack of English courses her first semester left her feeling like something was missing, she said.
Welch said she has always had a love for reading and writing, so landing on creative writing and literature felt like the obvious choice. Besides reading and writing, some of her hobbies include basketball, painting and interior design.
She hopes to take her talents into publishing or reporting, she said, and is once again striving to forge her own path forward.
"I really want to bring a creative side to newspapers that is not as traditional," Welch said.
Her first experience writing news articles was during her time in high school when she wrote for GirlSpring, a local Birmingham paper that provides girls ages 13 to 18 with the opportunity to write monthly articles.
Welch said she is excited that her time at The Observer will allow her the chance to write stories again, and she looks forward to applying her unique, creative abilities to the world of newspapers.
ETHAN STAMPER
As the spring fades into a hot summer of sweltering humidity, The Observer welcomes two new interns, no longer burdened with the stress of the semester. Ethan Stamper, a senior studying journalism at Auburn University, said he is excited to join the team.
Hailing from Huntsville, Alabama, Stamper has fond memories of growing up in a budding city, he said.
"Growing up, I liked the small-town feel, but it was neat to see the whole place build up as I was there," he said. "Now, I keep seeing Huntsville in all these articles about being one of the best cities to live in."
Stamper said he remembered going to Monte Sano State Park nearby and looking up at the sea of mountains.
"Those are some of my best memories."
When Stamper was considering colleges, he said he decided to follow his brother to The Plains, though his brother has since graduated.
Now, Stamper serves as a campus reporter for The Auburn Plainsman but said he didn't always know he wanted to be a journalist.
"I actually started as a computer science major," he said.
Stamper grew up enjoying computers and was interested in pursuing a career in the tech industry, he said.
"After freshman year, I found out that I hated it," Stamper recalled. "My parents said, 'Well, you've always liked writing.'"
He said that a "switch flipped," and he changed his major.
"I started writing for The Plainsman and I've enjoyed doing it ever since," he said. "… That was the first thing I told my mom — that I wanted to be an author."
However, he "wrote off" a career in it, choosing to leave writing "in the background," he said.
Now, Stamper said he feels that it is more important to love your work than let doubt get in the way.
Though Stamper prefers writing now, his interest in technology remains the same. In his spare time, he enjoys playing video games, primarily "Destiny 2." Recently, he has been exploring a new game, "The Legend of Zelda: Tears of the Kingdom."
He also enjoys riding his bike on nature trails, an activity he shares with his father, along with playing Frisbee and reading, Stamper said.
Though in the process of "figuring out" the areas of interest he would like to report on after graduating, Stamper said he has a few ideas.
"I'm interested in anything in the tech scene or game-related," he said.
Still, Stamper affirmed that he would be content "wherever [he] lands" and would find joy in the work.