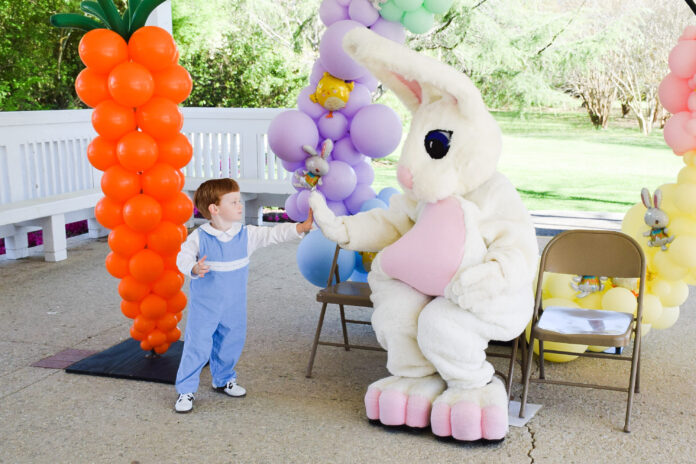 CONTRIBUTED BY THE CITY OF AUBURN
BY GABRIELLE FILGO, COMMUNITY & SPC PROGRAMS ADMIN
AUBURN — Mark your calendar to register for Auburn Parks and Recreation's 2023 Easter events beginning Wednesday, March 1, at 8 a.m. Anyone interested in registering must have an online account. The links to create an account and register for each event can be found at auburnalabama.org/easter-egg-hunt. It is recommended that you create an account prior to the March 1 registration date.
Breakfast with the Bunny – April 1
The second annual Breakfast with the Bunny will take place on Saturday, April 1, from 8 to 11 a.m. at Kiesel Park. Tickets will be $5 per person to attend the buffet-style breakfast and participate in activities. This event is for ages 3 and under, and all children must be accompanied by an adult. Everyone in attendance must have a ticket. Guests are welcome to grab breakfast any time between 8 and 11 a.m. The Easter Egg Hunt will take place at 9:30 a.m. for all attendees. Additional activities include balloon animals, face painting, a petting zoo, inflatables and a train. Don't forget to hop on over to take a picture with the Easter Bunny!
Easter Egg Hunt – April 8
The 43rd annual Easter Egg Hunt will take place at Kiesel Park on Saturday, April 8, at 10 a.m. This event is free; however, pre-registration is required, and walk-ups will not be accepted. Thousands of eggs filled with candy and toys will be hidden throughout the park. Participants who find a grand prize egg will win a prize basket containing gift cards, toys and Easter goodies. Registrants will receive an email with a map of the hunting grounds prior to the event. Please check in with Parks and Recreation staff at the event to receive a wristband that will indicate the participant's age group and hunt time. The schedule is as follows:
Ages 0-3 will hunt at 10:15 a.m.
Ages 4-6 will hunt at 10:30 a.m.
Ages 7-8 will hunt at 10:45 a.m.
Ages 9-10 will hunt at 11 a.m.
Throughout the event, guests are welcome to enjoy face painting, balloon animals and inflatables, as well as take pictures with the Easter Bunny. In the case of inclement weather, the Easter Egg Hunt will be rescheduled for Sunday, April 9, starting at 2 p.m.
For more information, or to register for either event on March 1, visit auburnalabama.org/easter-egg-hunt. Businesses interested in sponsoring one or both Easter events can contact Gabby Filgo at gfilgo@auburnalabama.org or 334-501-2946.