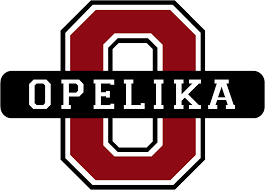 By D. Mark Mitchell
Opelika High School's Wrestling team participated in the "Suede Umbach Invitational" at Auburn High School last weekend. Twenty-three teams from Alabama, Florida and Georgia participated in 30-year-old tournament.
The Bulldogs sent only eight wrestlers to the tournament because of conflicts with other team members. Heavyweight James Dawson finished 5-0 to earn the championship in his division. Dawson pinned three wrestlers and won the finals with a 3-2 score. Julian Flavors went 5-2 with five pins for a ninth-place finish in the heavyweight class. Christopher Willet finished 4-4 with three pins, earning a 10th-place finish. The five other OHS student-athletes gave great effort but did not finish in the top-10.
Opelika returns to the Mainstreet Gym Thursday on Dec. 19 for a tri-match with Beauregard and Chelsea. Opelika will wrestle Chelsea at 2:30 p.m., Beauregard v. Chelsea in Round 2 followed by Opelika and Beauregard.
BASKETBALL
The Opelika girls basketball team (10-3) defeated Central and Smiths Station last week, extending their win streak to seven games. The Lady Bulldogs opened the week with a 51-45 win over Central in Phenix City. Coach Devin Booth's team was down four points heading to the fourth period, but outscored the Lady Red Devils by 10 points to pull away for the win. Ananda Hughley led Opelika with 15 points and teammate Haley Sanders added 10 points.
The girls thumped Smiths Station 68-16 last Friday in the OHS Mainstreet Gym. Kaitlyn Bryant led the scoring with 17 points and Claire Worth added 10 points. The Lady Bulldogs are 3-0 against 7A teams Smiths Station (two wins) and Central.
The OHS Lady Bulldogs will participate in the Spain Park Invitational on Thursday and Friday.
The Opelika boys basketball team split games last week, losing at Central and beating Smiths Station. The Bulldogs lost a close 49-43 game at Central last Tuesday night. Brandon Howard continued to play consistent basketball, leading the team with 11 points. Ja Carr and Grady Bynum added eight and nine points, respectively.
Opelika defeated Smiths Station 86-70 behind 25 points from Brandon Howard and 20-points from Grady Bynum. Coach John Wadsworth will take his team to the "Handley High Christmas Tournament" Thursday and Friday.
FRESHMAN
BASKETBALL
Opelika's freshman basketball team beat Auburn 49-44 last week at Auburn. Carr scored 15 points, and Alijiah Hicks and Isiah Knight scored nine and eight points, respectively.
TIDBITS
Opelika's Offensive Coordinator Jonathan Chandler was named the 6A Assistant Coach of the Year by the Alabama Coaches Association. Chandler is in his seventh year as a teacher/coach and his third as the offensive coordinator. The OHS offense averaged 32 points per game and saw quarterback Brody Davis throw for 1,600 yards and 14 touchdowns. Chandler will receive his award January 25 at the ALFCA Coach of Year banquet in Montgomery. Congratulations, Jonathan!
PURDUE SIGNEE
Jaylen Stinson is expected to sign with Purdue this week during the early signing period, Dec. 18 through 20. Congratulations Jaylen and Mr. and Mrs. Brian Stinson!
MERRY
CHRISTMAS!
I look forward to seeing my grandsons John-Mark and Gaines Jackson, and of course my daughters Mallory and Madison.
D. Mark Mitchell is sports director for iHeart Media, Alabama Dixie Boys State Director and vice president of the A-O Sports Council.