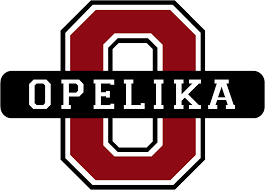 By D. Mark Mitchell
The Opelika Middle and High school cross country teams hosted the annual "Opelika Invitational" last Saturday at the SportsPlex. A total of 16 schools participated in the meet, including middle school mixed, and the boys and girls varsity teams.
Central High won the girls meet with an average time of 22:33.47, followed by Auburn, Beauregard, Dothan and Booker T. Washington. Opelika's Breckin Gould continues to lead the Lady Bulldog runners, finishing second with a time of 20:36.46. Phaola Torres placed sixth and Jhenny Hoover finished 26th.
The boys meet was dominated by Auburn High, which placed five runners in the top- 11. Central, Stanhope Elmore, Smiths Station and Opelika rounded out the top-5.
The Opelika boys were led by Chas Baker, who finished seventh (18:08.31), Michael Hart (21st), Winston Tufts (41st) Evan Goodman (53rd), Kadri Gates (55th), Benjamin Estes (60th), Jake Walters (62nd), Zalen Shaw (64th), Trey White (67th), Jack O'Quinn (75th), Walker Norrell (97th) and Landon Grace (98th).
The middle school teams competed together in the last of the three races. Connor Mullins finished seventh to lead Opelika Middle School. Peyton Weston was a close eighth, Sam Kemp (15th) Aiden Stephens (26th) Amari Bynum placed (31th), Ben Bell (35th), Zane Sexton (37th) Mason McCullough (48th) and Cooper Phurrough (51st).
Leslie Duran finished third to lead the Opelika Middle School Lady Bulldogs. Jullicia Beard (12th), Carlie Moates (15th), Mary Evans Cooper (16th), Susan Gaston (18th), Violett Alcorn (20th), Heidi Perealta (26th), Anita Duncan (30th), Kiley Brooks (31st), Jada Frazier (36th) Jasmine Jordan (40th), Ellie Kendrick (42nd), Kaitlyn Brown (44th), Allyson Cole (49th) and Chyanne Eufracio (50th).
The Opelika Invitational helps fund the cross country teams at the middle and high schools. The teams are preparing for the sectional meet and state in October.
OHS FOOTBALL
Opelika (4-1 overall, 2-0 in region play) will host region foe Benjamin Russell Friday night at Bulldog Stadium in the annual "Pink Out." The Wildcats, 3-3 overall and 0-2 in region play, beat Chilton County 55-7 last Friday. Benjamin Russell beat Beauregard 31-0 and Demopolis 17-8 while losing to Central Clay County 38-14, Stanhope Elmore 12-7 and Selma 28-0.
This is the 74th meeting between the Opelika and Benjamin Russell, with the Wildcats holding a slim 37-33-3 edge in the series. Selma is the only common opponent thus far, with both teams shutting out the Saints.
Opelika and Stanhope Elmore are tied for the region lead with 2-0 records. A win by the Bulldogs moves them one step closer to locking down the region championship.
Kickoff is set for 7 p.m. at Bulldog Stadium. Tickets are on sell at Bubba's Medicine Shop and Victory Design. The game is a "PINK OUT" in honor of those with breast cancer.
Opelika's final three region teams, Benjamin Russell (3-3), Stanhope Elmore (5-1) and Calera (1-4), have not played a schedule as tough as the Bulldogs have played. The top-heavy schedule will help Opelika down the stretch. The playoff picture will clear up during the next four weeks. it is important Opelika stay away from having to travel to Mobile. It appears that Saraland is the one of the best teams in class 6A down south. Opelika has a few more "W's" to record before worrying Saraland or the playoffs.
VOLLEYBALL
The Opelika volleyball team has won seven of the last nine matches, including wins over Central, Smiths Station and Handley. The girls improved to 8-6 and will host Beauregard on Wednesday (1-2) at 4:30 p.m.
FRESHMAN TEAM
The Central High School (Phenix City) freshman football team defeated the Opelika High School freshman team 22-15 on Wayne Trawick Field at Garrett-Harrison Stadium on Monday night.
Both teams scored first-half touchdowns, however, Central led 8-7 at halftime after converting a 2-point play instead of going for the PAT.
The Freshman Red Devils added a TD in the third quarter but missed the two-point conversation, leading 14-7.
Opelika's Tremael Almacen scores a TD with four minutes left in the game. The Bulldogs took a 15-14 lead after George Meyers caught a pass from Bryce Speakman on the two-point conversion.
Central answered with a TD to win 22-15.
Opelika returns home next Monday for a 5:30 p.m. start against Wetumpka at Bulldog Stadium.
PRAYER PRIOR TO OPELIKA GAMES
Opelika's game against Benjamin Russell Friday night will be the second game at Bulldog Stadium since Opelika City Schools announced that pregame prayer over the public address system is not allowed.
Members of the OHS student body prayed at the last home game during the moment of silence. I commend the students who exercised their "RIGHT" to pray!
Friday night, I urge all in attendance to be quiet during the moment of silence! Listen during the moment of silence, you will hear prayer.
D. Mark Mitchell is sports director for iHeart Media, Alabama Dixie Boys State Director and vice president of the A-O Sports Council.