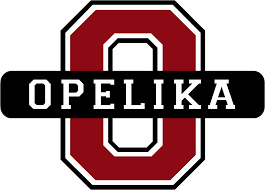 By D. Mark Mitchell
Opelika High School senior wrestler James Dawson finished the season 51-0 after winning the state title in the heavyweight division at the Alabama High School Athletic Association Wrestling State Championships last week. Dawson pinned Clay-Chalkville's Izziah Williams in the finals.
The 300-pound Dawson was so pumped, that after the win, he jumped in the arms of Coach Jim Davis causing both to fall onto the mat with smiling faces.
"I was so happy. Adrenaline kicked in. I didn't realize I jumped that high and we both went down," Dawson said after the match.
Congratulations James! I know your mother, family and all those that love you are thrilled.
(OHS wrestler Ben Daughtry was unable to wrestle in the sectional because of injury or else he would have qualified for the state meet)
OHS GIRLS
BASKETBALL, FINAL 8
The Opelika Lady Bulldog Basketball team (26-6) defeated Eufaula (27-5) 61-48 in the regional semifinals last Friday at Montgomery's Garrett Coliseum.
With Opelika holding a three-point lead with 2:55 left in the game, the Lady Bulldogs decided it was time to put the finishing touches on the Lady Tigers. Kaitlyn Bryant and Claire Worth hit several key free throws along with teammate Ananda Hughley to pull away.
Offensively, Haley Sanders led with 19 points, 8 rebounds and 3 steals. Bryant added 17 points and 8 rebounds while Worth scored 8 points, pulled down 15 rebounds and notched 5 assists.
Opelika played Dothan Tuesday in Montgomery, winning 67-51 in their Elite Eight matchup.
OHS BOYS
BASKETBALL
SEASON ENDS IN STATE PLAYOFFS
The OHS boys basketball team lost 76-61 at Calera in the sub-regional of the AHSAA State Playoffs. Despite having one of the best players transfer to Huntsville, Coach John Wadsworth's team tied for the area title. OHS lost a coin flip to Russell County to determine the area tournament host. The Bulldogs beat Benjamin Russell before losing in double overtime against Russell County. The loss cost Opelika a home game, forcing them to travel to Calera.
SOCCER
The boys and girls soccer teams opened the 2020 season with wins over Eufaula. The Opelika girls team shutout the Tigers 10-0 behind three goals from Abby Noon and Erica Mathews. The following scored single goals: Kaitlyn Goodman, Scarlet Posadas, Amiya Brown and Rebecca Goodman. The following players recorded assists: Morgan Watts, Eleanor Wilson, Kaitlyn Goodman, Ashley Hilyer (2), Amiee Alcantara and Gisselle Roberlero.
Opelika's boys team beat Eufaula 4-2 at the W. James Samford Soccer Complex in Opelika. Caleb Rujana scored two goals and one assist while Charlie Garcia scored a goal and added an assist.
Both teams traveled to LaGrange Tuesday night, but results were not available at press time. The two teams hosted Brookstone on Feb. 20. The girls start at 5 p.m. followed by the boys at 7 p.m.
TENNIS
The OHS boys tennis team stands at 2-2. The Netters beat BEHS in the opener and finished 1-3 at the "Panther Frost Bite Invitational." The boys beat Etowah 4-2 and lost two matches to Spain Park and Hewitt Trussville.
The Lady Bulldogs tennis team is 2-3 with wins over Mortimer Jordan and Pelham. The losses were to Bob Jones, Helena and Ben Russell.
BASEBALL
Opelika opened the 2020 season, splitting two games at Beauregard last Saturday.
Game 1- The Bulldogs took a 1-0 lead in the fourth inning after Andrew Parr scored on a Braden Thomas grounder. Opelika added runs in the sixth and seventh inning to win 3-2.
Parr started on the mound, pitching 5 scoreless innings while allowing one hit. Jase Rhodes and Hunter Weston combined to finish the game in relief. Offensively, Jackson Harris, Andrew Parr, Brayden Thomas, Jase Rhodes and Julian Duke recoded hits. Kory McCoy and Duke recorded RBIs.
Game 2 – The Hornets jumped out to a 3-0 after two innings and held on for a 3-2 win over Opelika. The Bulldogs added a run in the fourth and fifth inning to close within a run, but could not score again.
Opelika used three pitchers, Jackson Harris, Kydylian Ligon and Dozier Smith T during the course of the game. Smith T pitched four innings, allowed no runs while striking out four. Andrew Parr recorded two hits while teammates Jake Smith and Latrell Gullatte added singles.
The two teams combined for 17 strikeouts, with Opelika recording 9 to Beauregard's 8.
D. Mark Mitchell is sports director for iHeart Media, Alabama Dixie Boys State Director and vice president of the A-O Sports Council.